Ann Marie's Travel Diaries
---
July 2013

Bay of Fundy, Rita's Tea Room, Gaelic College,
Margaree, Glace Bay & Louisbourg
---
Day 1 - Bay of Fundy
I decided that my first day in Nova Scotia would be devoted to the Bay of Fundy and the Glooscap Trail. I left Amherst quite early and it looked like it was going to be a rainy day. 
Regardless, I went forward with my plans........remembering that one of my tips for Nova Scotia travellers is to NEVER EVER let the weather stop you from doing anything.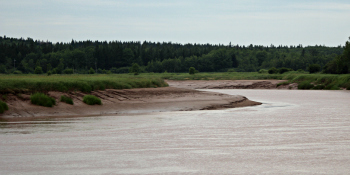 Bay of Fundy at the Maccan River
---
My first stop was Maccan which is not far from Amherst. This is a quiet little place with a viewing area for the Bay of Fundy tidal bore.  Unfortunately, my timing was not very good so I didn't see the tidal bore.  It was very calm and resting here.  The tide was coming in when I was there.  I learned later that this is one of the best places to view the tidal bore.
I continued on to Joggins. I had visited the cliffs a couple of summers ago so I didn't go again but I did walk around a bit and snapped some pictures.  This is a great place to visit if you love roaming the beach and looking for treasures.  The continual erosion of the cliffs means that new fossils are being discovered all of the time.
My next stop was Cape Chignecto Provincial park for a little hike.  It is raining quite heavy now but I am trying to stay optimistic.  I arrive and it is still raining.  I go inside the information building to chat with the folks who work there.  
I ask about the camping......only tents and you need to walk into the sites!  They also have some wilderness cabins.  I asked about making reservations and she said that it was a must for weekends and holidays.
It is still raining so I make my way down to the shores of the Bay of Fundy on a very short trail. It is called Red Rocks.  The name certainly suits the place.
I ask about the 3 Sisters rock formation not realizing that I missed the turn-off.  I would have needed to exit off of route 209 toward Apple River Road.  Next time!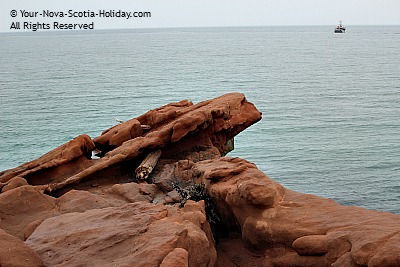 Red Rocks at Cape Chignecto Provincial Park
---
Next stop is the lighthouse at Cape D'Or. I debate with myself whether to bother with the steep downhill walk to see the lighthouse since it is still raining.  I decide to go for it and get my gear together to make the trek in the hope that I will be able to see something and take some pictures.
I am so glad that I did.  The rain eased a bit and it was fabulous.  After all, this is one of the reasons why lighthouses were used.....to guide mariners in the fog and rain.  This is a beautiful place whether in the sun, rain or fog.  There is even a place to stay and have a bite to eat.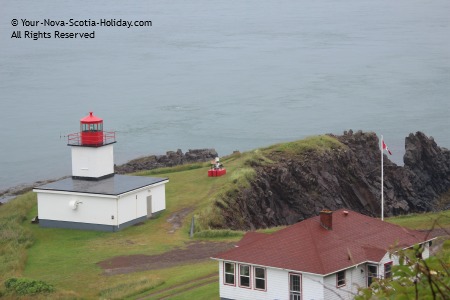 Cap d'Or Lighthouse on the Bay of Fundy
---
Next stop is the Fundy Geological Museum in Parrsboro.  This is a great museum and a great place to take the kids. There are lots of buttons to push and hands-on displays. 
I loved the model of the dinosaur.  They do an excellent job of explaining the geology of the Bay of Fundy and how it has changed over thousands of years.
A dinasour skelton at the Fundy Geological Museum
---
I had lunch next to the beach at a restaurant called Harbour View Restaurant.  Of course, I ordered a lobster sandwich.  Fabulous!  I would definitely recommend a stop here if you are in Parrsboro.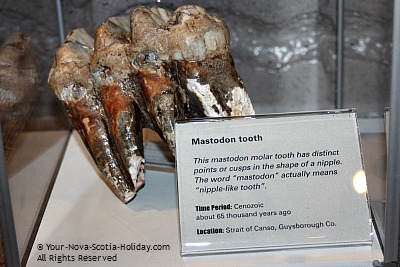 A dinasour tooth found in Nova Scotia
---
My plan was to drive directly to my parents place in Cape Breton after this visit but I then came across the Five Islands Provincial park.  It is located on the shores of the Bay of Fundy and it was low tide. 
It is called 'Five Islands' for a reason.  This is a great picnic park and you have great access to the beach.  A wonderful little gem!
After that, I saw a sign for Old Wharf Road and thought....must be some great views of the Bay of Fundy from here.  I was not mistaken.  This is definitely off the beaten track.  Low tide and great photos!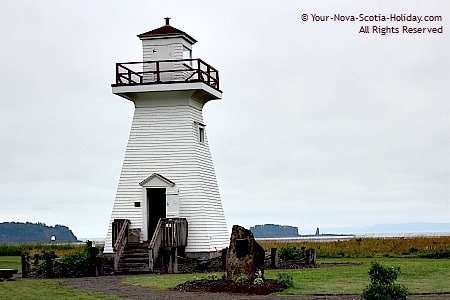 Five Islands Provincial Park on Bay of Fundy
---
Day 2 - Rita's Tea Room & St. Peter's
A visit to Rita's Tea Room in Big Pond is on the agenda for today. My mom and I are big fans so we wanted to visit and pay our respects.  Rita passed away at the age of 68 in April of this year. 
It has been several years since my last visit to the Tea Room so I was looking forward to seeing the improvements. I must say that I was impressed and very happy with my visit.  We were welcomed with open arms, had a lovely lunch and took some nice pictures. 
If you are in the area I would definitely suggest a visit.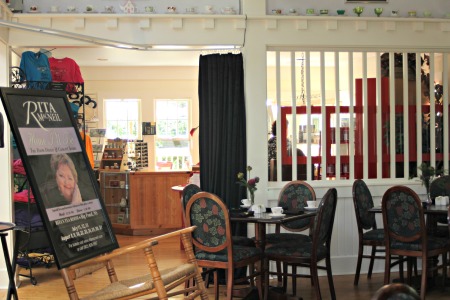 The Dining Room in Rita's Tea Room
---
I had seafood chowder and fish cakes for my lunch and it was great.
It is quite impressive to see all of her awards. The tea room is filled with momentos and pictures.  This place is in good hands and is a real tribute to Rita.
We continued on to St.Peter's after our visit to the Tea Room.  We made our way to St.Peter's Canal and we were just in time to see a sail boat and 2 kayaks going through the locks.  This is a very picturesque place and is considered the gateway to the Bras d'Or lakes.
---
Day 3 - Margaree
I haven't been through the Margaree area in years so I thought that it was time.  It was a beautiful day so off we went. We got a late start so we needed to stop for some lunch! 
No better place than the Cedar House which is close to the Seal Island bridge.  I stop here as much as I can.  The food is always good!  We continued on after more chowder and a lobster sandwich.  The chowder is one of the best that I have had.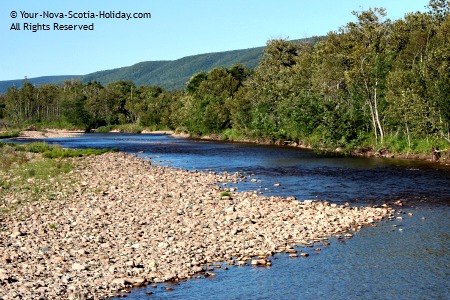 The Margaree River
---
The Margaree is a lovely area and the Margaree River is world-renowed for salmon fishing.  There are a couple of viewpoints but probably the best way to get close is to go fishing!  Drive slowly when you are here because you never know when the view is going to pop-out at you.
I made a little excursion to the Fish Hatchery was I was there. Unfortunately, I was past the opening hours so the buildings were closed but I was able to walk around the grounds and check out the outdoor tanks. 
The hatchery is the oldest in the province.  This place really is impressive and another visit is definitely needed.
---
Day 4 - Tour of a Coal Mine 
I have never made a visit to the Cape Breton Miners Museum in Glace Bay nor have I gone for an underground tour of the mine.  My 2 nephews were in town and I knew this was my chance. 
My grandfather, their great grandfather, and their Dad's dad were coal miners so this was perfect.  I am sure they did not know what expect and to be honest, neither did I!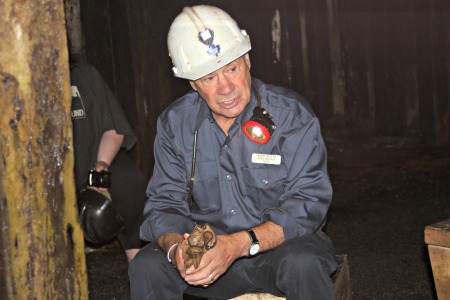 Our Tour Guide, a retired Coal Miner, to the Ocean Deeps Colliery
---
Before we knew it we had miners helmets on and a cape and we were walking down into a coal mine being led by a 76-year old retired miner.  He told us stories of working in the mine and he was fabulous. 
My nephews (Cody, age 11 and Jason, 16) seemed to hang on to his every word especially when he talked about boys as young as 9 working in the mine. 
It was the same when he talked of the ponies that basically lived in the mines.  Their job was to pull the wagons used to haul the coal to the top.
I think they were especially impressed when I told them that some mines not only went underground but also under the ocean floor.  This is hard to imagine but it is indeed true!
The museum is situated on the cliffs overlooking the Atlantic Ocean.  We walked for a bit after our visit and I pointed out the coal seams that were clearly visibly in the cliffs.  This is what the miners were mining!
If you are near Glace Bay or Springhill (there is a mine there too) take the time to go underground for a tour.  it is an unbelievable experience. 
Have you heard of the Men of the Deeps? 
They are North America's only choir composed of coal miners.  They were formed in 1967 to mark Canada's centennial.  They perform through the summer at the Cape Breton Miners Museum.  Seeing the Men of the Deeps is an experience. 
Big tip:  definitely see them perform if you ever have the chance.
What is a Coal Face?
---
Day 5 - Louisbourg Lighthouse
My visit to Cape Breton was a short one and I was running out of time!  I had some free time on this particular day and on a whim decided to drive to Louisbourg to check out Louisbourg Point.  There is a great view of the fortress from here.
View of the Fortress of Louisbourg from Lighthouse Point
---
The sun was shining and the view was awesome.  This is the site of the first lighthouse in Canada which dates to 1734.  The remains of the original are still visible.  There is also a great hiking trail here which takes you along the coast. 
The Louisbourg Lighthouse
---
I'll be adding many new pages based on these most recent adventures.  Please sign up for my monthly newsletter and/or my 'what's new' blog and get all of the latest news regarding my site.
Subscribe to my newsletter right here!
---
---
Do you have a story to share about your Nova Scotia holiday?  I would love to hear about it!  You'll get your own page right here on Your Nova Scotia Holiday.com.
---
Return from July 2013 Diary to Ann Marie's Travel Diaries
Return from July 2013 Diary to Your Nova Scotia Holiday
---