Issue #007, October 31, 2014


Hi folks,
I hope everyone enjoyed the beautiful fall colours!
I recently got back from a week at the Celtic Colours International Music Festival in Cape Breton. It was absolutely amazing.
Imagine this…..46 concerts in 9 days in 32 communities across Cape Breton Island. The concerts are in theatres, school gymnasiums, community centres, parish halls, churches and large entertainment complexes.
---
The Fretless performing at the Gaelic College
---
We were entertained by some of the best Celtic Artists in the world: fiddlers Natalie MacMaster, Ashley MacIsaac & Alasdair Fraser; celtic guitarist Tony McManus; accordionist Sharon Shannon; and songstress Laura Smith, just to name a few!
Add to that 200 community cultural experiences:
learning opportunities like fiddle lessons and celtic knot quilting;
participatory events like square dances and milling frolics;
outdoor events like hikes and whale tours;
visual arts like exhibitions and watercolour workshops;
community meals like a traditional seafood dinner; thanksgiving turkey dinner and an Acadian kitchen party
and finally farmers markets with plenty of local produce.
There are countless ways to take in this awesome festival.
---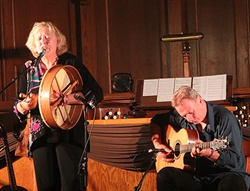 Laura Smith & Tony McManus performing at St. Andrew's Presbyterian Church in Sydney Mines
---
This was my first time attending the festival. I took my Mom along for several of the concerts and she was in awe of the talent before her. She was not the only one in awe!
There were fiddles, pianos, guitars, cellos, bagpipes, penny whistles, dancers, and gaelic singers.
Performers came from Scotland, Ireland, Sweden, Australia, USA, Western Canada and, of course, Nova Scotia & Cape Breton.
This festival is a celebration of Celtic Culture in Cape Breton and, indeed, the world. The beautiful fall colours, which are so plentiful in Cape Breton, are the backdrop for this spectacular event.
The leaves seemed to get brighter and brighter as the week progressed!
I am so excited to start working on a series of pages about the festival for my website, Your Nova Scotia Holiday.
It might take a while since I have a lot to say. I have hundreds of pictures to go through and pick the best ones. Stay tuned and I'll let you know when the pages start to appear on my site.
If you can, I strongly encourage you to put the dates on your agenda for your next vacation. It is well worth it. Next year's dates are October 9 – 17, 2015.
And so comes to a close the vacation and travel season in Nova Scotia. The season is slowing down in Nova Scotia and folks are taking a well-deserved rest.
A great time for me to get writing again!
---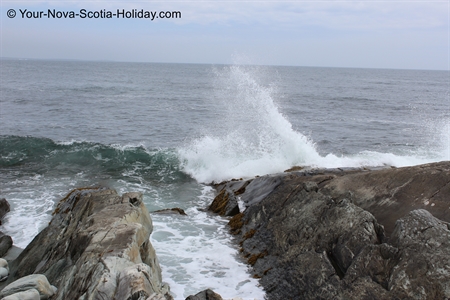 ---
Did you or someone you know spend some vacation time in Nova Scotia this year? I'd love to hear about it.
You can submit your vacation story right on my website. It is very easy! You can add pictures too.
Your story will get its very own page on my site!
Check out Your Nova Scotia Holiday to see where you can add a story or send me an email at
That's it for now. Best to everyone,
Ann Marie
ps. I also want to let you know that I have over 1500 pictures of Nova Scotia on my pinterest pages.
Check it out & be sure to follow me!