Issue #010, July 31, 2015


hi folks,
---
This month's newsletter focuses on travel tips that I have accumulated for you just after my recent trip to the Digby area and the Bay of Fundy.

The Bay of Fundy is an awesome place. The entire bay covers almost 275 kilometres (170 mi) of coastline. It has the highest tides in the world and is home to 12 types of whales. 115 billion tonnes of water flow in and out of the Bay every 12 hour tidal cycle.

This is hard to imagine. The highest tides, 17 meters (56 ft) were recorded at Burntcoat Head.

We had a fantastic time with camping, whale watching, hiking, site seeing and eating fresh seafood!!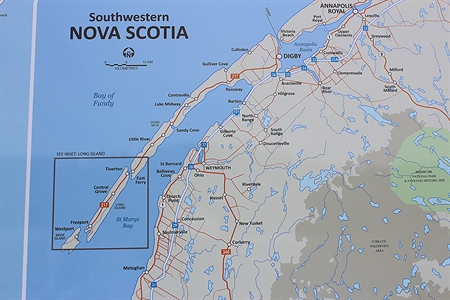 A map of the area that we visited
I encourage everyone to put a visit along the bay in their vacation plans. If not this year, next year!
I will be building a series of pages for my website about the Bay of Fundy. I have lots to write about and will let you know as each page is published. But for the moment take a peek at some of my tips!!
What are your plans? Feel free to write a note on my facebook page and share it!
I hope everyone has a chance to enjoy some Nova Scotia salt air this summer!
---
First and foremost
Have you ordered your FREE copy of the 2015 Nova Scotia Doers and Dreamers Guide Book yet? I get one every year. Call 1-800-565-0000 and they will send one. Don't forget to ask for a travel map as well.

You can also download FREE copies. Just go to the Nova Scotia Department of Tourism website at NovaScotia.com.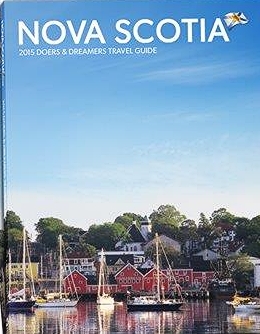 ---
Facebook
I finally got a facebook page up and running for Your Nova Scotia Holiday. Please pop in to 'like' my page and share it with your family and friends! I think it looks great and I hope you 'like' it!
---
Tips just for YOU!
---
Tip #1:
If you are travelling to Nova Scotia via New Brunswick I suggest you take a shortcut. The ferry from Saint John, New Brunswick to Digby, Nova Scotia crosses the amazing Bay of Fundy and is fabulous.
There is actually a new ferry and the trip takes less than 3 hours. This trip is a lot of fun. We explored every inch of the ferry and every possible view of the bay.
Be sure to make reservations since it can be pretty busy during the summer!
Have the camera ready as you may see whales on the bay.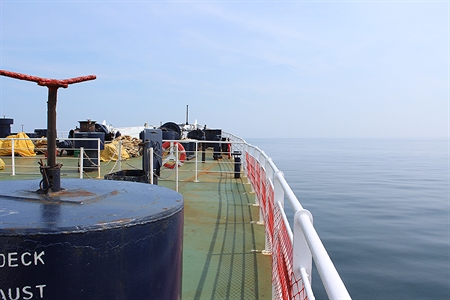 A view of the bay from the ferry
Tip #2:
While there are a variety of accommodations in the Digby area we wanted to camp close to Long Island and Brier Island. Well, I could only find 1 campground located on Digby Neck which is just before Long Island.
It is a small family run campground called the Whale Cove Campground and is only 5 minutes from the Long Island Ferry.
The folks here are awesome and they'll answer any questions you may have about the area. They'll also give you a little information package about things you can do on Digby Neck, Long Island and Brier Island. It was a perfect location for us!
---
Tip #3:
Make sure you understand the ferry schedules for Long Island and Brier Island. The ferry from Digby Neck to Long Island leaves on the half hour and the ferry from Long Island to Brier Island leaves on the hour.
The ferry rides are only about 10 minutes. There is a charge for the ferries so make sure you have cash on hand.
---
Tip #4:
There are several whale watching tours in the area and they are all well-organized. However, we did have our little dog, Oscar, with us and didn't want to leave him for the day.
We were lucky enough to find Marina Cruises who allowed us to bring our dog onboard. They were super nice and had no issues with our little guy!
So, if you bring along your little furry friend, Marina cruises might be for you. I would check with them first just to be sure!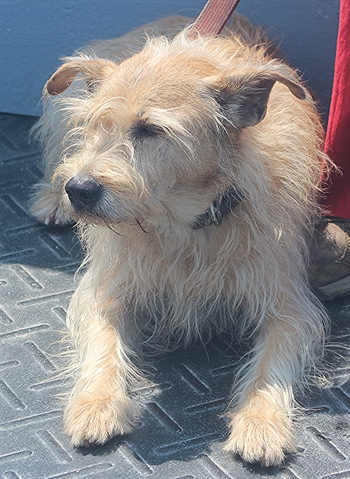 Oscar had a great whale-watching adventure
---
Tip #5:
Make reservations for your whale watching tour. You cannot possibly come to this area and not go whale watching.
My whalewatching pages will give all of the details of what is available for whale watching options.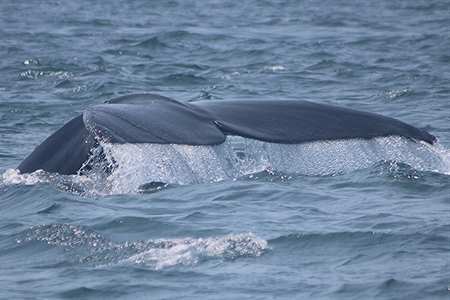 We saw a Right Whale during our cruise
---
Tip #6:
Make sure you take time to do a tour of Brier Island before or after your whale watch. It is a great little island with lots to explore.
The visitor information centre in the middle of Westport can give you a little brochure that shows you the island.
We visited the Joshua Slocum monument, the Brier Island Lighthouse, the Northern Lighthouse and the waterfront area. We had great walks along the coast and loved it!
We didn't want to leave.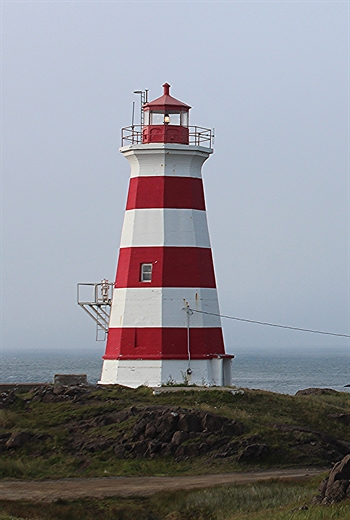 The Brier Island Lighthouse
---
Tip #7:
Don't forget Long Island! The Balancing Rock is a must see. It is only 10 minutes from the ferry.
The trail itself is only 1 kilometer long but be warned of the wooden stairs that you need to descend to see the Balancing Rock. The construction of the stairs is quite impressive and they are very solid and safe.
You basically find yourself on a cliff overlooking the Bay of Fundy. Magnificent!
It is well-worth it!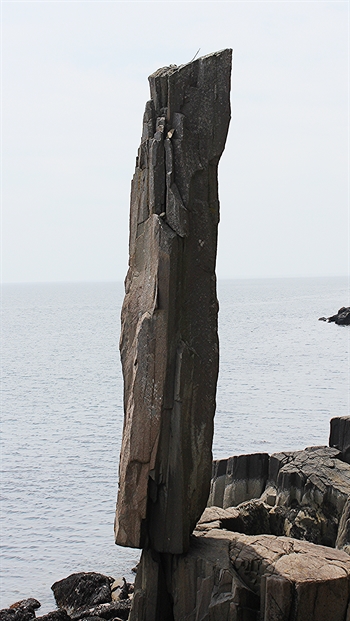 The Balancing Rock
---
Tip #8:
Stop at the Petit Passage Restaurant on Long Island for a bite to eat. A great little place!
This is located right beside the ferry that goes to Brier Island but make sure you get there in plenty of time before your ferry because they might not have enough time to prepare your order.
We tried their haddock burger! Absolutely delicious!
---
Tip #9:
If you want to camp in a different spot and see the Bay of Fundy from your campsite then I suggest Blomidon Provincial Park. This park is fabulous!
You can have a great view of the Bay if you camp in the open area of the campground. Blomidon is far from everything so it is very quiet and is definitely one of the best campgrounds I have visited.
There are no serviced sites in this campground which makes it even better.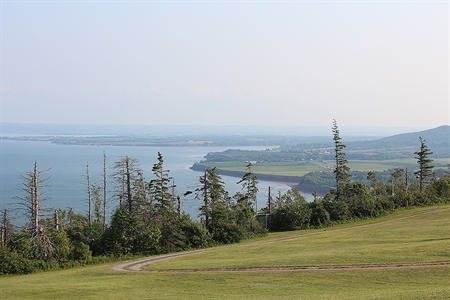 A view of the Bay of Fundy from Blomidon Park
---
Tip #10:
Are you ready for an unbelievable hike? Cape Split is one of the best hiking trails in Nova Scotia. It is about 20 minutes from Blomidon Provincial Park so it is perfect to do if you are camping at Blomidon.
The hike is 4-5 hours long and takes you through the woods to a peninsula jetting out into the Bay of Fundy. Try to go on a clear day because the view is unbelievable.
It can be windy and chilly here so bring warm clothing. You'll also need good boots, lots of water and a lunch. DON'T FORGET THE CAMERA.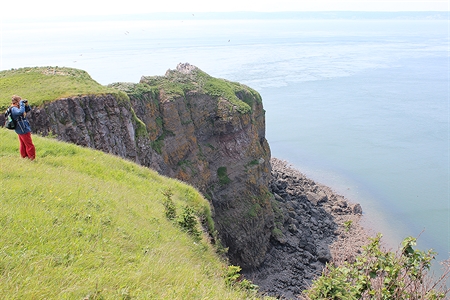 One of the magnificent views at Cape Split
---
eDining in Nova Scotia
Have you heard of Nova Scotia eDining? This website is a great resource to find restaurants in Nova Scotia. I try to write reviews when I try a restaurant.

The more reviews there are the better resource eDining will be for everyone. Check it out!
---
Trip Advisor & Halifax
Trip Advisor says that Halifax is one of Canada's top destinations. Well, I didn't need Trip Advisor to tell me this!! LOL!

Seriously, Trip Advisor is a great tool when planning a trip. I use it all the time and try to write reviews when I can.

Use this Trip Advisor link to make your accommodations booking. I earn a small commission with each reservation made via my site and this helps me pay my expenses.

I would really appreciate it!! Cheers!!
---
Did you or someone you know spend some vacation time in Nova Scotia recently? I'd love to hear about it.
You can submit your vacation story right on my website. It is very easy! You can add pictures too.
Your story will get its very own page on my site!
Check out Your Nova Scotia Holiday to see where you can add a story or send me an email at yournovascotia@gmail.com
That's it for now. Best to everyone,
Ann Marie
---
Stay connected with us!
Your Nova Scotia Holiday
I also want to let you know that I have over 2000 pictures of Nova Scotia on my pinterest pages.
Check it out & be sure to follow me!