Whale Watching Season
in Nova Scotia
When is whale watching season?  This is a question that I get a lot when I speak with folks visiting Nova Scotia.  Everyone loves whales!  The Bay of Fundy and Northern Cape Breton are great spots for this great adventure.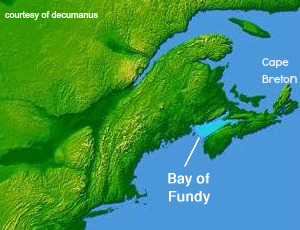 So, when does whale watching season actually begin?  Well, the whales start to arrive in the spring and stay until late fall.  The humpbacks don't start to arrive until June and by mid-June that are very abundant.  The Northern Right whale is usually only seen in late summer to the fall.
Tour operators can differ in their seasons.  Your best bet is to contact the one you prefer to see their specific schedules.
Whales visiting the Bay of Fundy include fin, humpback, minke and the northern right whale.  Whales visiting Cape Breton include blue, fin, minke, humpback, pilot and the sei whale.  You may see other types but these are the most common. 
You'll also see lots of seabirds as well as dolphins and porpoises.  My experience has always been that the tour guides will be able to tell exactly what you are seeing.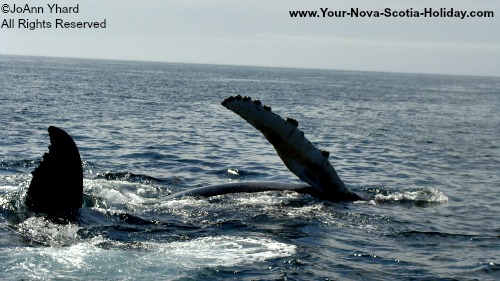 While I was writing this page I learned some very interesting things about whales that travel to Nova Scotia.  The Blue Whale which can mostly be seen in Cape Breton is the largest living animal measuring 98 feet and 400,000 lbs!!  I read that it is probably the largest animal to have ever lived on earth.

The Fin Whale is the second largest at 79 feet and 265,000 lbs!!  The fin whale can be seen in the Bay of Fundy and Cape Breton.

The Northern Right Whale is the most endangered whale with only about 300-350 known.  This whale measures 57 feet and weighs 90,000 lbs.  This whale can be found in the Bay of Fundy.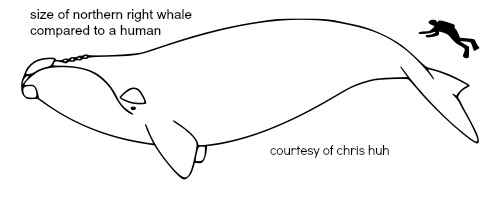 The Humpback whale measures 57 feet and weighs 90,000 lbs.  The humpback is most regularly seen in the Bay of Fundy but has also been seen in Cape Breton.

It is really hard to imagine that we can come so close to these gigantic animals.  I was especially impressed to learn that the Northern Right Whale, the most endangered whale, visits our shores!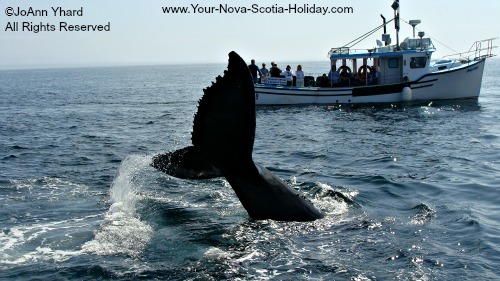 I have a list of places below where you can go on a whale watching tour.  They are separated by the two most popular areas:  Bay of Fundy and Northern Cape Breton. 
I created a google map for the Bay of Fundy and a second for Cape Breton so you can see where the tours are located within the province of Nova Scotia.  This might help in your planning!
I suggest that you consider a couple of things before you decide which tour you want.
Location – The Bay of Fundy and Cape Breton are 2 different areas in Nova Scotia.  So the first question is where are you spending your vacation?
Type of whale – There is a difference in the types of whales that visit each area.  I have included the types for each area just above so this might be an important thing for you to consider.
Type of boat – This may not seem important but I can tell you that some tours use bigger boats and others smaller ones.  There are some that even use a zodiac.  You will need to decide if the type/size of the boat is important to you because you want to make sure that you enjoy the adventure.
Hydrophone – In reviewing the tours that are available I noticed that some boats are equipped with hydrophone equipment.  This allows to actually hear the whales!
Weather is also a big factor!  It can change quickly especially when you are on the coast.  I advise that you make sure you have a sweater and a rain jacket (just in case)!!

The other important thing to remember is the need to make reservations! It is always a good idea and be sure to ask about what happens when a tour needs to be cancelled due to the weather.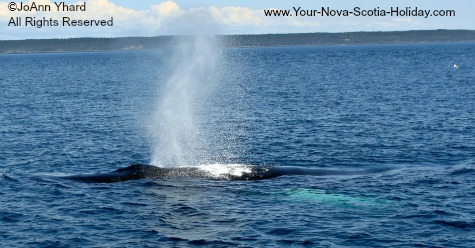 Bay of Fundy Whale Watching Tours 
Brier Island Whale & Seabird Cruises
Westport – Brier Island
2 boats:  15-m (50-ft) Mega Nova AND a zodiac
Excursions are 2-5 hours
Charters are available; Family rates!
www.brierislandwhalewatch.com
Freeport Whale & Seabird Tours
Freeport – Long Island
1 boat: 12-m (40-ft) Cape Island Gorgie Porgie
Excursions are 3-4 hours
www.whalewatchersnovascotia.ca
Mariner Cruises Whale & Seabird Tours
Westport – Brier Island
2 boats
Excursions are 2.5 - 4 hours
Group rates are available
www.novascotiawhalewatching.ca

---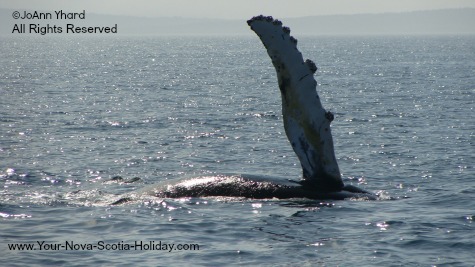 Ocean Explorations Zodiac Whale Cruises
Tiverton – Long Island
1 boat – zodiac
www.oceanexplorations.ca
Petit Passage Whale Watch
East Ferry, Digby Neck
1 boat:  14-m (45-ft) Cape Islander
Bus Tours Welcome
www.ppww.ca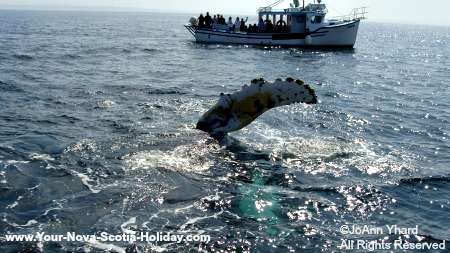 Cape Breton Whale Watching Tours
Snorkel with Whales
15283 Cabot Trail, Cheticamp
2 28 foot - 12- passenger fiberglass hull zodiac boats
http://novascotiawhales.com/home

Seaside Whale & Nature Cruises
Cheticamp
2 boats:  30-passenger & 40-passenger
www.loveboatwhalecruises.com
Capt. Cox's Whale & Bird Watch
Bay St. Lawrence (on the wharf)
1 Boat:  7.5m (24-ft) Zodiac with hydrophone
www.whalewatching-novascotia.com
Oshan Whale Watch
Bay St. Lawrence (on the wharf)
1 boat:  13-m (42-ft) Northumberland Strait-style boat with hydrophone
www.oshan.ca
Capt. Mark's Whale & Seal Cruise
Pleasant Bay
3 boats:  13-m (42-ft) research vessel; covered Zodiac Toastmaster; and, Zodiac style vessel North Star; hydrophone to hear whales
www.whaleandsealcruise.com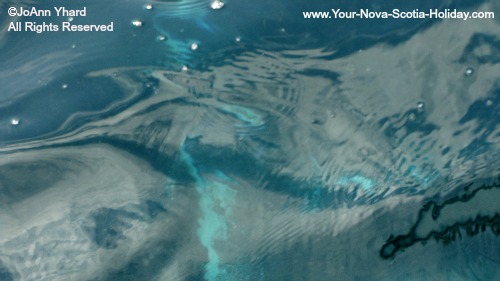 Guaranteed Whales
Pleasant Bay harbourfront
1 boat: 38 foot Cape Island vessel; carries 35  passengers
www.guaranteedwhales.com
Dixon's Zodiac Safari
29 Lighthouse Rd, Neil's Harbour
1 boat: 12-passenger zodiac, hydrophone equipped
www.dixonszodiacseafari.com
Keltic Express Zodiac Adventures
North Bay Wharf, Ingonish
1 boat:  12-passenger high speed zodiac
http://www.capebretonwhalewatching.com/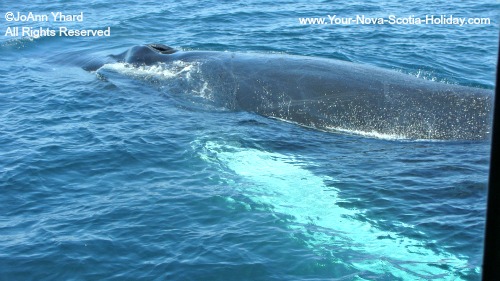 ---
Check out Karen's story about whale watching in the fog!

---
Have you gone whale watching in Nova Scotia?
Do you have a great story about it? Please share it with us!
What Other Folks Have Said
Click below to see contributions from other visitors to this page...


Whale Watching in the Fog

The best whale watching trip thus far was on a foggy day and we had to shut off the boat engine and listen for the whale's breathing. He was very close …

Whale Watching on Brier Island Not rated yet
When I heard we were going to Brier Island to see whales, I was excited, but concerned about taking 3 ferries. I had nothing to worry about! We had …
---
Nova Scotia

›
Bay of Fundy
› Whalewatching
---