Issue #012, July 14, 2016


hi folks,
---
First and foremost
Have you ordered your FREE copy of the 2016 Nova Scotia Doers and Dreamers Guide Book yet? I get one every year. Call 1-800-565-0000 and they will send one. Don't forget to ask for a travel map as well.

This guide is filled with loads of information about Nova Scotia.

You can also download FREE copies. Just go to the Nova Scotia Department of Tourism website at NovaScotia.com.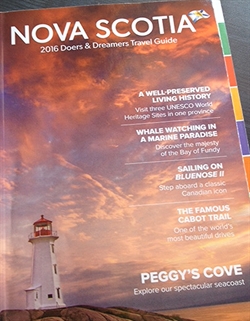 ---
Facebook
Check out my facebook page for Your Nova Scotia Holiday. Please pop in to 'like' my page and share it with your family and friends! I think it looks great and I hope you 'like' it!

I want to be over 1000 likes by the end of the summer so help me out if you can!
---
Outdoor Adventures in Nova Scotia
Would you like some outdoor adventures this summer in Nova Scotia? Well, there are plenty in this beautiful province.

Take a look at my list!
---
Kayaking on the Bay of Fundy
The Three Sisters is very well known along the Bay of Fundy. It is a rock formation at the tip of Cape Chignecto Park and is a destination for many kayakers. But this is not a place for the meek and mild! The weather can be unpredictable here so be prepared.

The folks at NovaShores will provide everything you need for this adventure. And I promise you it will be an adventure kayaking near the Three Sisters!
---
Not Since Moses Run on Bay of Fundy
Have you heard of this very unique event?

You can run on the ocean floor at low tide on the Bay of Fundy! Yes, you can! Over 1000 runners of all ages will gather at Five Islands Provincial Park on August 21, 2016 to do just that.

The Not Since Moses run is one of a kind. Where else can you run on the ocean floor?
---
Whale watching off of Brier Island
I finally got the chance to visit Brier Island last summer. It was amazing and we loved it. We went whalewatching with Mariner Whale Cruises on their vessel, Chad & Sisters Two. It was a beauty of a day.

The biggest thrill was seeing a Right Whale which is an endangered species. It was unbelievable.

There is no adventure bigger than being only feet from these magnificent creatures.
---
Riding the Harbour Hopper in Halifax
This is a great way to experience Halifax. The fun part is that you get to see Halifax from the harbour and from land on the same vehicle. It is called the Harbour Hopper and it is an amphibious vehicle.

It actually has some history attached to it from another part of the world. The Halifax Harbour Hopper is a renovated Vietnam war vehicle.
---
Coastal Camping at Fishing Cove
If we want to get close to the elements and far away from people then this is the place. I hiked to Fishing Cove located in the Cape Breton Highlands National Park several years ago and loved it.

The best part is that you can spend the night as well. There are wilderness camping sites right on the beach. However, you need to bring everything you need and take everything back with you. And a permit is required so contact the park beforehand.
---
Sailing on the Bras'dor Lake
If you love to sail then you need to experience the Bras d'Or Lake on Cape Breton Island. This lake is known as Canada's Inland Sea so it is not to be taken lightly.

The waves on this lake can become just as dangerous and thrilling as on the Atlantic Ocean.

You can go for a sail on the Amoeba in Baddeck Bay which would be a relatively calm adventure.

Or you can venture out onto the wide-open lake with Cape Breton Sailing Charters. Cape Breton Sailing offers several choices. You can even practice your sailing skills and take the helm and handle the sails.
---
Camping at the Fortress of Louisbourg
Some would say that the Fortress of Louisbourg on Cape Breton Island is full of ghosts from battles long ago and, of course, they come alive at night.

Just being at the fortress at night would be fabulous. Can you imagine camping there! That would be special and, perhaps, a little spooky. But Fortress of Louisbourg camping would certainly be an adventure.
---
Nova Scotia Festivals - still going strong
Halifax International Busker Festival, Halifax Jul 27 - Aug 1

Festival de L'Escaouette, Cheticamp Aug 3 - 7

Lunenburg Folk Harbour Festival, Lunenburg Aug 4 - 7

Seaport Beerfest, Halifax Aug 5 - 6

Festival acadian de Clare, Clare Aug 7 - 15

Chester Race Week, Chester Aug 10 - 13

Shelburne Kayak Festival, Shelburne Aug 19 - 21

Canadian Deep Roots Music Festival, Wolfville Sep 23 - 25

Celtic Colours International Music Festival, Various Locations around Cape Breton Oct 7 - 15
---
44 Awesome Things on the Cabot Trail
Are you planning to visit the Cabot Trail?

44 Awesome Things on the Cabot Trail is filled with great information about what to see and do during your tour of the Cabot Trail. It also has 17 awesome tips for along the way.

This will certainly be a great companion to have during your visit.

I guarantee it!! ONLY $2.99US

44 Awesome Things on the Cabot Trail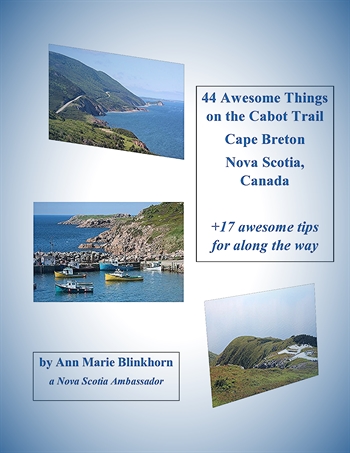 ---
Trip Advisor & Halifax
Trip Advisor says that Halifax is one of Canada's top destinations. Well, I didn't need Trip Advisor to tell me this!! LOL!

Seriously, Trip Advisor is a great tool when planning a trip. I use it all the time and try to write reviews when I can.

Use this Trip Advisor link to make your accommodations booking. I earn a small commission with each reservation made via my site and this helps me pay my expenses.

I would really appreciate it!! Cheers!!
---
Did you or someone you know spend some vacation time in Nova Scotia recently? I'd love to hear about it.
You can submit your vacation story right on my website. It is very easy! You can add pictures too.
Your story will get its very own page on my site!
Check out Your Nova Scotia Holiday to see where you can add a story or send me an email at yournovascotia@gmail.com
That's it for now. Best to everyone,
Ann Marie
---
Stay connected with us!
Your Nova Scotia Holiday
I also want to let you know that I have over 2000 pictures of Nova Scotia on my pinterest pages.
Check it out & be sure to follow me!