Tips for Planning Your Perfect
Nova Scotia Vacation
Welcome to the complete guide for planning your Nova Scotia vacation.
I am about to share with you all that you will need to know for planning your best coastal vacation ever to Halifax, Cape Breton, Peggys Cove, the Bay of Fundy and the Cabot Trail!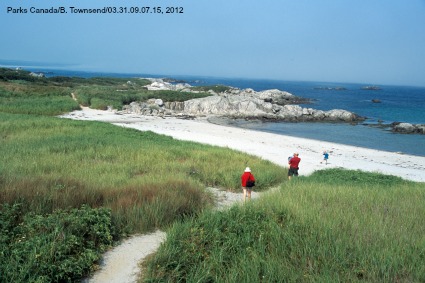 The Beautiful Nova Scotia Coastline
This site is definitely a work-in-progress!  I really didn't realize how much there was to write about until I started.  But I am loving it!! 
Be sure to subscribe to my site blog (that's the box at the bottom of the navigation bar) to get all of the updates AND don't forget my newsletter on my best tips for traveling in Nova Scotia! 
You can also follow me on facebook, pinterest and twitter!
I have been giving tips and advice to my friends and colleagues for their Nova Scotia vacation for years and finally decided to share my knowledge of Nova Scotia with friends that I have yet to meet.
Have you been to the Fortress of Louisbourg, the Cape Breton Highlands and Kejimkujik National Parks or Lunenburg?
Join me and learn about Alexander Graham Bell and the history of the telephone. Did you know that Bell spent his last years in Baddeck, Cape Breton and that the Alexander Graham Bell Museum is in Baddeck?
What do you know about Halifax and its connection to the Titanic? When the Titanic sank in 1912, Halifax was the closest major seaport and became the base for the recovery operations.
The Maritime Museum of the Atlantic, located in Halifax, has one of the best collections that tells the Titanic story. You will not see this collection anywhere else!

The Cabot Trail in Cape Breton

I have been vacationing in Nova Scotia every summer for 20 years.
I grew up in a small Nova Scotia town and I am drawn back summer after summer.
One of my best memories of a vacation in Nova Scotia was hiking in the northern part of Cape Breton. We hiked the Skyline Trail on the Cabot Trail which basically reaches out into the Atlantic Ocean.
It was foggy when we started but the sky cleared and turned blue once we reached the view of the ocean. We could see Cheticamp to the south. The open space of the ocean and the surrounding highlands was unbelievable.
Do you like celtic music? On another vacation trip we went to a ceilidh in Margaree, Cape Breton. 3 fiddlers were entertaining the crowd. One of the fiddlers was an old-timer and had never performed with the younger fiddler that was with him. You could feel the excitement in the air.
Experience this and more in Nova Scotia, Canada's Ocean Playground!
Let me help you in your planning and I promise that your Nova Scotia vacation will be the best ever!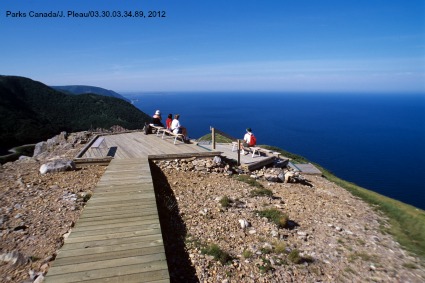 The Skyline Hiking Trail in Cape Breton

This is a picture of the Skyline Hiking trail in the Cape Breton Highlands National Park.....have I got your attention yet?? Witnessing this view will absolutely bring you to your knees!!  This is also part of the Cabot Trail.
This is a unique website...as you explore the pages you'll see that you will have lots of chances to share your Nova Scotia holiday with us!! That's right......your Nova Scotia vacation stories can become part of this site!!
Browse the pages and you'll see what I mean!!
I am on a mission:  not only to share Nova Scotia with visitors from 'away' but also to share Nova Scotia with folks who live here!  A lot of times we simply don't know what there is to see and do in our own backyards!  I want to change that!
And don't forget....don't be shy.....I want to hear about your Nova Scotia holiday!!
all the best,
Ann Marie
---
---