Where to Eat in Nova Scotia
Nova Scotia has great restaurants!  You can find pubs, 5-star restaurants, coffee shops, steaks, seafood, hamburgers, sushi and just about anything else. The choice is really great.  I have never been disappointed in a Nova Scotia restaurant.
The locals usually know the best places.....I'll try to give you as much information as I can.

One thing that NS is famous for is community dinners so check the local visitor info centre.

I was in Margaree when there was a salmon dinner at the local community center.  It was packed & it was great!
You will find my inside information on the best restaurants in particular areas of the province as you go through my pages.  I can't say that I have tried them all but I can give you some tips of where to find the best fish & chips, the best coffee, and the best seafood chowder!
As a teaser.........you will find great fish and chips at the Battered Fish on the Halifax Waterfront.  The best coffee that I have ever had is at the Hydrostone Cafe in Halifax and the best crab that I have had is at the Chowder House in Neil's Harbour in Cape Breton!
This is me enjoying a crab dinner at the Chowder House in Neil's Harbour on the Cabot Trail in Cape Breton.

This is a real treat after hiking the Coastal Trail!!
I have included a special page about Halifax restaurants in my Halifax pages.

I have tried many of them and enjoyed them all! This page is constantly being updated!
And where I can't help you there are 2 resources that will come to your aid.  The Taste of Nova Scotia and eDining.
The Taste of Nova Scotia is a collection of restaurants, producers and processors in the province.  Their website is a great listing of the best places to eat in the province.  Just click on their members tab and select the area and you will get a great list.
They do publish a brochure with all of their members listed. Just visit one of the many Visitor Information Centres scattered throughout the province and they should have one for you.
Another great thing about their website: recipes. They have a great collection of Nova Scotia recipes..........ENJOY!!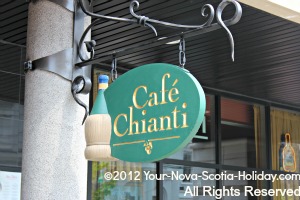 Trip Advisor is a great resource for finding restaurants in Nova Scotia.  The information is organized by area and then by type of food. A great resource with lots of customer comments.
Do you have a Nova Scotia
restaurant to recommend?
Do you have a great story about it? Please share it with us!
Return from Where to Eat to Your Nova Scotia Holiday