Bay of Fundy
...the world's highest tides...
The Bay of Fundy in Nova Scotia is a natural phenomenon that you won't see anywhere else in the world!! Imagine this:
1 billion tons of water flowing in and out of a body of water every 12 hours
a tidal range that can be as high as 50 feet (15 metres) which is about 5 times more than a regular tide on the Atlantic coast
walking on the ocean floor where only 12 hours previously fishing boats floated 
| | |
| --- | --- |
| | Harbourville at high tide |
| | Harbourville at low tide |
This is where you'll see the highest tides in the world!  And I invite you to come and experience it in beautiful Nova Scotia. 
The outdoor adventures along the bay are countless:  whale watching, kayaking, camping, tidal bore rafting, hiking, fossil hunting and digging for clams on the ocean floor.
You and the kids will not get bored here.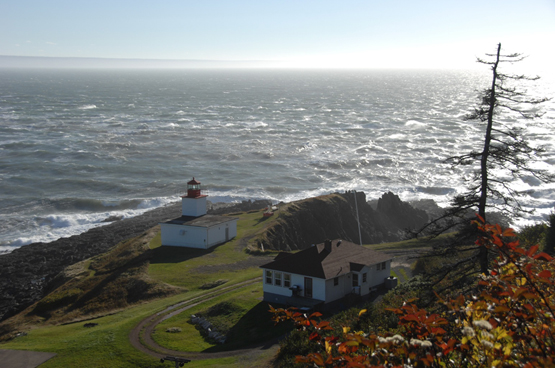 Cape d'Or overlooking the bay
Where is the Bay of Fundy?
Fundy is on the western side of Nova Scotia and is nestled between the Canadian provinces of New Brunswick and Nova Scotia.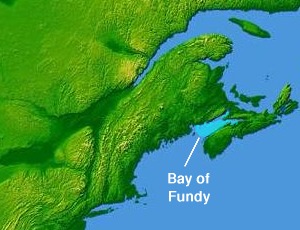 Getting to the Bay of Fundy
The Bay covers a large area so you can view it in many different places in Nova Scotia.  Getting to the bay depends on where you are in Nova Scotia and what exactly you want to see on the bay.  Check out the map below and it will help you with directions.
Attractions & Activities
My Bay of Fundy map also shows you the location of the many different things to see and do along the bay. There are a wide variety of attractions and activities along the bay.  I have listed many below so have a look and check out the different pages.
Whale watching
Whales visiting the bay include fin, humpback, minke & the northern right whale.  Brier Island & Digby Neck are the best places for whale watching. 

Tour operators can differ in their seasons so check out my page for whale-watching in Nova Scotia.

Whalewatching on Bay of Fundy
Tidal Bore & the Changing Tides
Can you believe that the bay's incoming tide is so forceful that it temporarily reverses the flow of several rivers.  When the tide and rivers collide a wave called a 'tidal bore' is created as the incoming water moves upriver. 

A spectacular sight that you can experience on a unique tour. Check it out on my Tidal Bore page.

Riding the Tidal Bore
Sightseeing
Hiking
There are dozens of hiking options along the Bay of Fundy.  From high above on the cliffs overlooking the bay to the beach looking for fossils and dinosaur bones.

Wasson Bluff and Partridge Island are located near Parrsboro and the Fundy Geological Museum.  Both give great views of the bay.

View from Patridge Island
Cape Split which is high above the Bay of Fundy cliffs is one of the best hiking trails in Nova Scotia. 

I would classify it as a moderate hike but it can take up to 5 hours.  So, plan accordingly.


Cape Split
If you want to see something really unique check out the Balancing Rock on Long Island on Digby Neck. 

The hiking trail is not long. But there plenty of steep stairs.  The Balancing Rock is at the end where it sits precariously on the edge of the cliffs.

Balancing Rock
Brier Island is a hiker's paradise.  This is an awesome place to spend some vacation time. 

This little island will help you to get away from everything.....you won't want to leave.


Brier Island
The Five Islands Lighthouse Park & the nearby Five Islands Provincial Park Campground are excellent spots for hiking. 

Either on the beach at low tide or at the campground for a 3-hour hike overlooking the bay.

Five Islands
Cape Chignecto provincial park offers some of the best unspoiled wilderness in Nova Scotia. 

If you love the outdoors I guarantee you will love this awesome corner of the province.

Cape Chignecto
Fossils
The steep cliffs along the Bay of Fundy are constantly exposing new fossils from 300 million years ago.  The changing tides give the professional and amateur fossil hunting ample opportunity to make the next 'big' find.
Joggins Fossil Cliffs are a UNESCO World Heritage Site and offer one of the richest areas for fossils in Nova Scotia. 

Their tours are a fantastic way to learn about the cliffs and what can be found.


Joggins Fossil Cliffs
The Fundy Geological Museum is a wonderful place to visit if you love dinosaurs.  This is an especially great place for the kids. 

Beach and zodiac tours are also available.

Fundy Geological Museum
The world's smallest fossilized dinosaur prints were found not far from the Fundy Geological  Museum at Wasson Bluff.

An awesome spot to roam for fossils.

Dinosaur Prints
There are literally dozens of things to see and do along the Bay of Fundy.  I suggest you decide on your preferred activities and make a plan.  Spend at least 3-4 days along the bay and experience it as much as you can.
Accommodations
There are many places to stay along the Bay of Fundy.  Once you decide on your planned activities I suggest that you check their location on my Bay of Fundy map.  Then you can check the closet town and its accommodation options on Trip Advisor.
Some major spots along the bay include Truro, Wolfville, Windsor, Parrsboro and Digby.
The Bay of Fundy can also be considered a great day trip if you are in the Halifax, Windsor or Truro areas.  These links will lead you to Trip Advisor which is my 'go to' place for accommodations.  
Restaurants
Nova Scotia has a wide variety of places to eat.  From fine dining, family restaurants, pubs and pizza spots.  There is something for everyone.  I suggest you check my Where to Eat page for some tips on how to find a restaurant in your location.
---
Nova Scotia

› Bay of Fundy
---
Have you visited the Bay of Fundy?
Do you have a great story about your visit? Do you want to become a part of Your Nova Scotia Holiday?
---
---