Explore Beautiful
Cape Breton Island
Cape Breton Island is one of the most beautiful places to visit in Nova Scotia. The scenery is rugged and dramatic! It will bring you to your knees.  
This piece of paradise is an island, so, it is surrounded by the Atlantic Ocean.  The views of the ocean are incredible.  You do not want to miss it.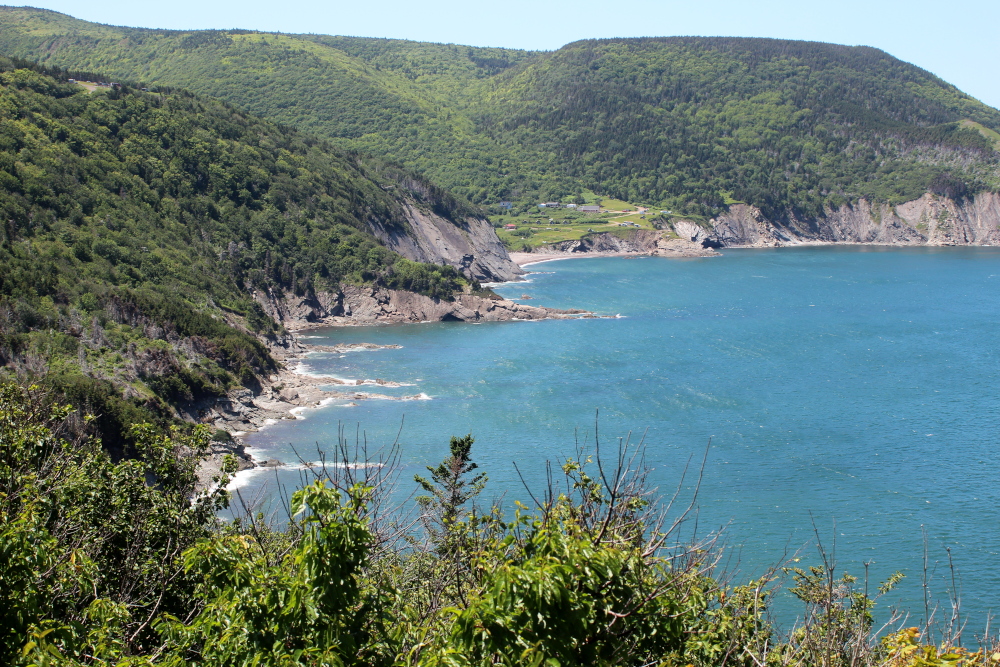 Meat Cove in Northern Cape Breton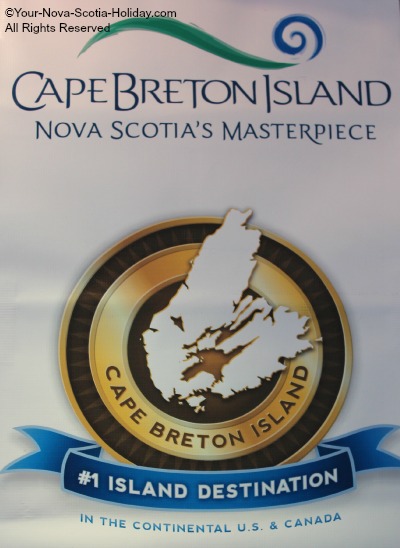 National Geographic has called Cape Breton the prize of Nova Scotia.  It is most definitely Nova Scotia's Masterpiece.

I have explored almost every corner of this island and I keep discovering breathtaking scenery. I was born here and I love telling folks about it!
The warmth and welcoming nature of the people is something that you will love on vacation. They will make you feel welcome every step of the way.
Getting here is part of the vacation adventure.  Be sure to check out my 'travel to' page to get all of the information that you'll need.  Most people get here by car but there are other options.
Cape Breton Attractions
Ceilidh Trail
The Ceilidh Trail starts when you arrive on the island. Once you cross the Canso Causeway, follow Route 19 to your left and then follow the signs marking the Ceilidh Trail. 
This side of Cape Breton is the sunset side of the island and is know as Canada's Musical Coast.  There is a ceilidh or square dance almost every night of the week along this trail.  Check out my page on the Ceilidh Trail for everything there is to see and do!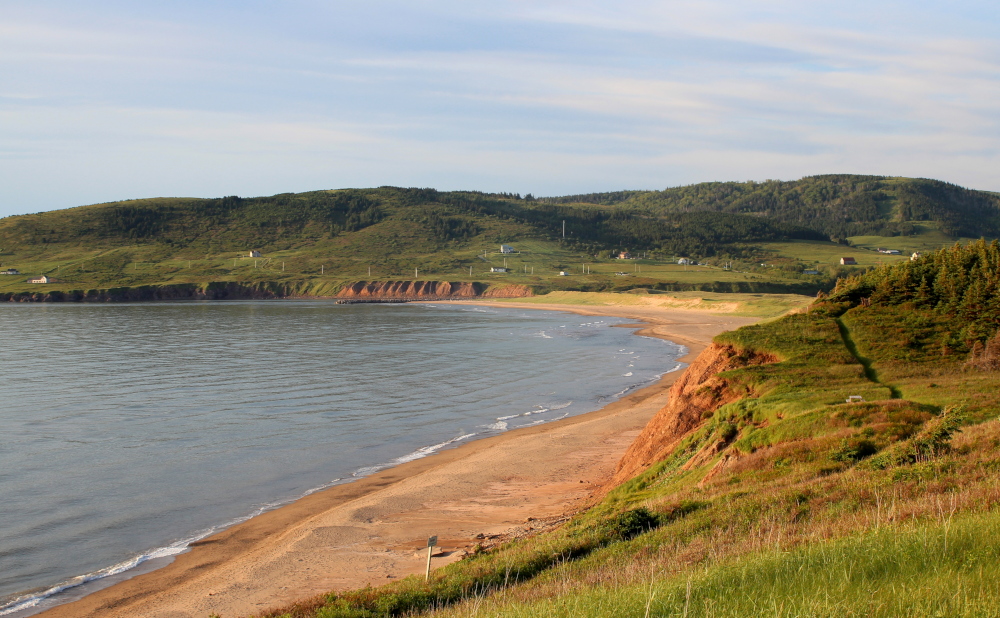 West Mabou Beach
Cabot Trail
The Cabot Trail is the most scenic route on the island. Indeed, it is one of the most beautiful drives in North America.  Skirting along the Atlantic coastline you'll see some of the most gorgeous scenery anywhere.
Many people drive around the Cabot Trail in one day.
PLEASE DO NOT DO THIS! I strongly encourage you (actually, I am begging you) to take a couple of days to a week to explore the Cabot Trail. Trust me it will be worth it! Check out my pages on the Cabot Trail and I'm sure you will see what I mean.  
Skyline hiking trail & the Cabot Trail
Cape Breton Highlands National Park

The Cape Breton Highlands National Park is a mecca for the outdoor enthusiast.  If you love hiking, camping, exploring waterfalls and getting in touch with nature this is the place for you.
This national park is a large protected wilderness area (950 square km) located in northern Cape Breton.  It is bordered on the east side by the Atlantic Ocean and the west side by the Gulf of St. Lawrence.  The ocean views are outstanding!! 
The world-famous Cabot Trail goes through the park and the vistas that you will see will bring you to your knees!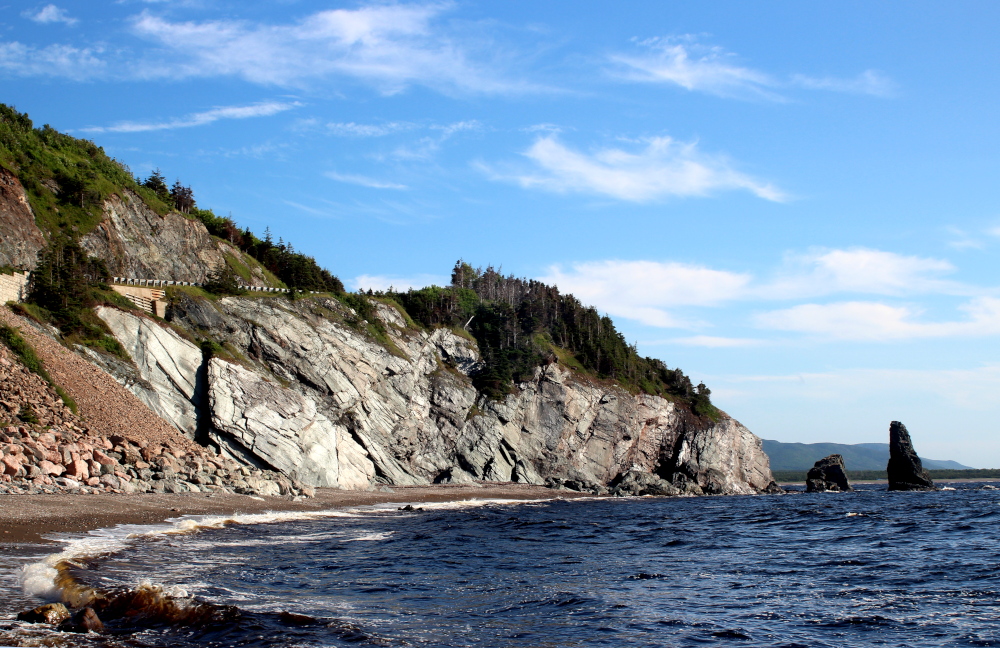 La Bloc in the Cape Breton Highlands Park
Alexander Graham Bell Museum
The Alexander Graham Bell Museum is located in Baddeck.  Bell spent the last years of his life here and you can see his summer home, Beinn Bhreagh, from the grounds of the museum.
This museum is the center point of the village and folks are very proud of the history they share with this great inventor. 
Alexander Graham Bell first visited here in 1885.  He was on his way to Newfoundland and was diverted to Baddeck.  He loved it and eventually built a summer home here.  His descendants still live in the house.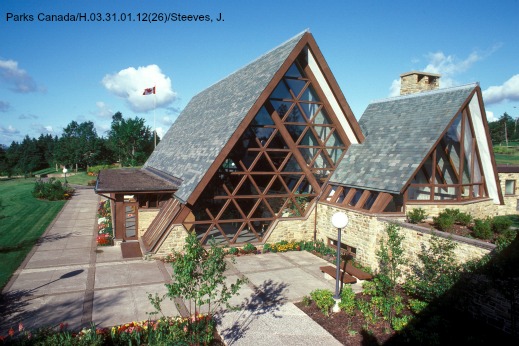 Alexander Graham Bell Museum
Fortress of Louisbourg

The Fortress of Louisbourg is North America's largest 18th Century Re-construction. This is quite something when you realize that only about 25% of the original fortress has been re-constructed. There are over 50 buildings spread over 12 acres at the fortress so there is a lot to see.
Inside this little seaport you will find costumed animators living life as it was in 1744. You'll see soldiers, fishermen, servants, tradespeople, town officials and the Mi'k maq going about their daily business.
Fortress of Louisbourg
Cape Breton Miners Museum
A visit to the Cape Breton Miners Museum in Glace Bay and a trip underground to a real coal mine is a MUST DO activity for all visitors to Cape Breton AND for folks who live in Cape Breton as well.  
The Ocean Deeps Colliery at the Miners Museum in Glace Bay is a real coal mine.  It depicts what it was like to work there in 1932.  It is very safe now but back in 1932 it was not.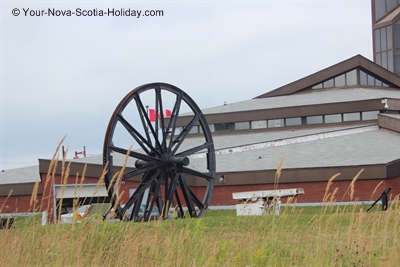 Miners Museum
Highland Village
The Highland Village (Baile nan Gàidheal) in Iona is the perfect place to learn about the history of the Gaelic culture and heritage in Nova Scotia.  Nestled on 45-acres overlooking the gorgeous Bras d'Or lake, the Highland Village features a living museum where costumed animators will tell you the story of the Gaelic Scots that came to Nova Scotia and how they adapted and flourished in their new home.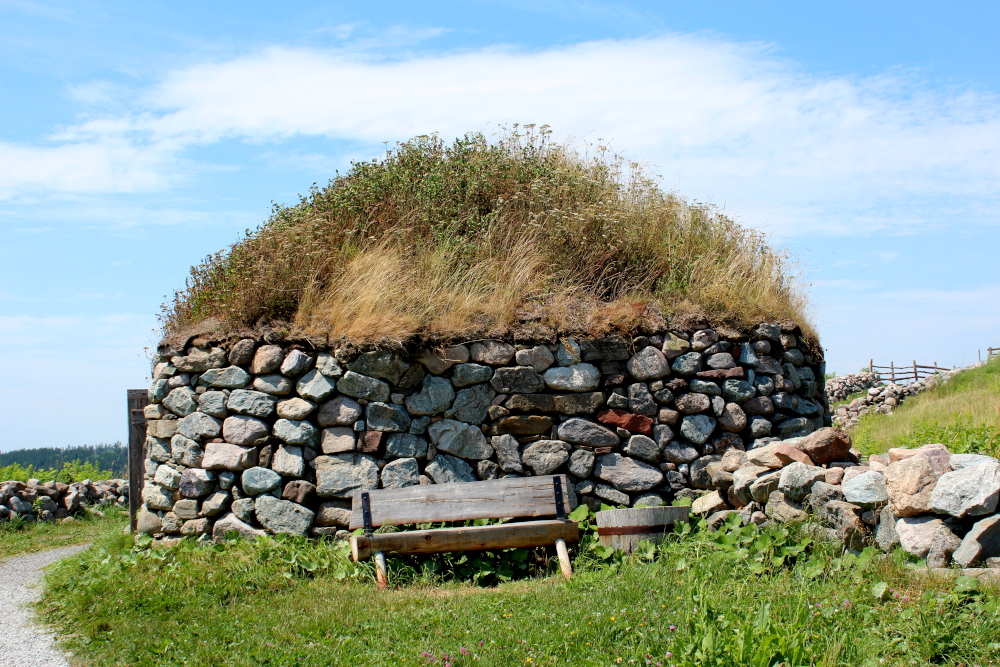 Hebridean-style Blackhouse at Highland Village
Hiking Trails
If you love to get outdoors and hike, Cape Breton is the place to be.  There are trails for everyone here.  Mountain hikes, coastal hikes, forest hikes, river hikes and everything in between.  
Check out my page on Nova Scotia hiking and you'll see sections for hiking in different parts of the island.  This is by no means an exhaustive list so stop by any VIC that you might see and ask about local trails.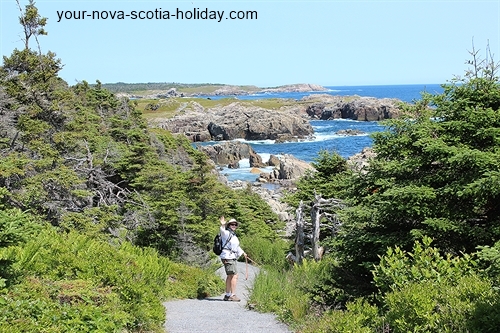 Louisbourg Lighthouse hiking trail
Whalewatching
Northern Cape Breton is a great place for a whale-watching tour.  The whales come every summer and are absolutely incredible to watch.  They seem to love it too!
Visit my whalewatching page which lists all of the tours.  
Cycling
If you love cycling then you can cycle anywhere.  Cape Breton is a fabulous spot for some cycling.  I cycled the Cabot Trail a couple of years ago.  It was amazing.  Check out my Cabot Trail cycling tour!
You can also do a great cycling tour on the Celtic Shores Coastal Trail.  This multi-use recreational trail is over 90 kilometres long.  You'll have views of St. Georges Bay, the Northumberland Strait and the South Eastern section of the Gulf of St. Lawrence as you cycle along this coast.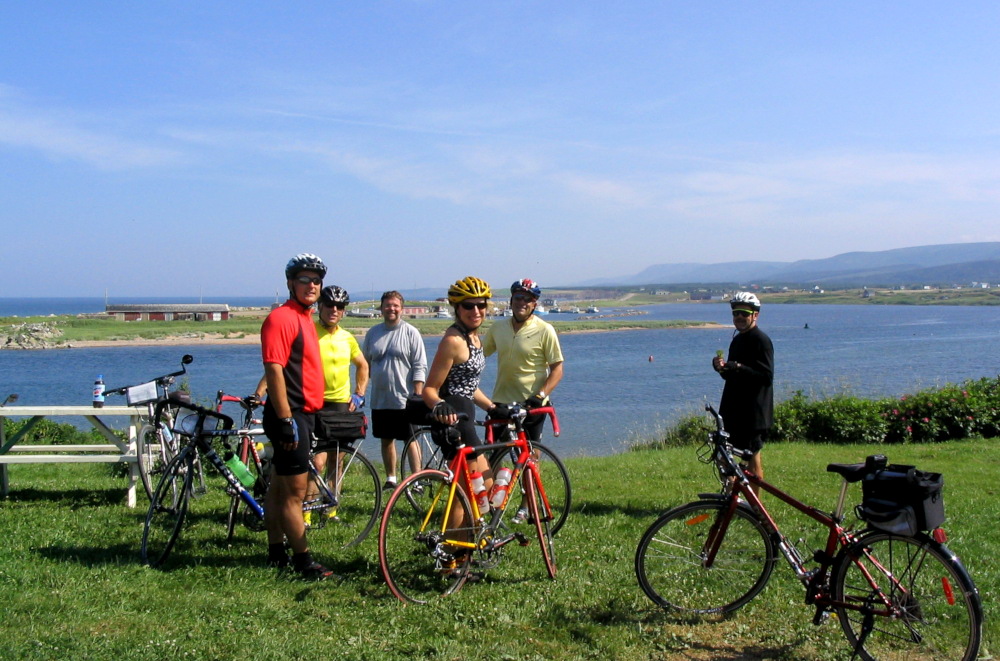 Cycling the Cabot Trail
44 Awesome Things on the Cabot Trail
I have a great e-book called 44 Awesome Things to see on the Cabot Trail (+ 17 tips for along the way) that might interest you.  This book is an awesome reference for touring the Cabot Trail.  I include all of my favorite spots plus much more!
Cape Breton Accommodations
There are many possibilities when it comes to picking a place to stay on the island. There is a wide range of pricing and standards to choose from.

I always try to start with what I want to visit. Whether that be a couple of days around the Cabot Trail, a night in Baddeck or a few nights in Louisbourg.
There is a mix of small luxury hotels, resorts, inns, cottages, motels, bed & breadfasts, hostels and campgrounds. There is really something to fit everyone's pocketbook and need.
I wish I could say that I have visited them all and can make a good recommendation for each one but I can't!
I have partnered with Trip Advisor to help you find the best accommodations on the island. 
Find the best deal, compare prices, and read what other travelers have to say at TripAdvisor about Cape Breton accommodations.
Where to eat
Like accommodations, there is a wide choice of restaurants in Nova Scotia that will fit every budget.  I love seafood and I am pleased to report that Nova Scotia has some of the best.   Would you prefer a steak, pasta, french cuisine, a cheeseburger or a pizza?  You can find all choices here. 
My 'where to eat' page offers several resources where you can find the best restaurants no matter where you are in the province.
Visitor Information Centres
There are 9 visitor information centres scattered throughout the island.   These centres are a great source of information especially about events that are happening locally.  Make sure you ask for a map of Cape Breton!
Port Hastings - 96 Highway 4, Port Hastings; you will see it on you right as drive onto the island via the Canso Causeway; Tel 902-625-4201
St. Peter's - 10259 Granville St., St. Peters; Tel 902-535-2185
Sydney - 74 Esplanade, Sydney; Tel 902-304-1392
Inverness - 15756 Central Avenue; Tel 902-258-3740
Baddeck - 454 Chebucto St., Tel 902-295-1911
Cheticamp - Les Trois Pignons - 15584 Cabot Trail; Tel 902- 224-2642
Louisbourg - 7495 Main St., Tel 902-733-4636
Margaree - 7972 Cabot Trail, Margaree Forks; Tel 902-248-2356

North Sydney - 355 Purves St., Tel 902-794-2524
---
---
Have you visited Cape Breton?
Do you have a great story about your visit to Cape Breton? Do you want to become a part of Your Nova Scotia Holiday?
Please share this page with your friends.