Cape Chignecto
...awesome coastal views...
Cape Chignecto provincial park offers some of the best unspoiled wilderness in Nova Scotia.  If you love the outdoors I guarantee you will love this awesome corner of the province.
Explore sea cliffs that rise 180 metres (600 ft) above the shoreline.  Enjoy a superb picture of the Bay of Fundy coastline far below.  You'll have an armchair view of the changing tides.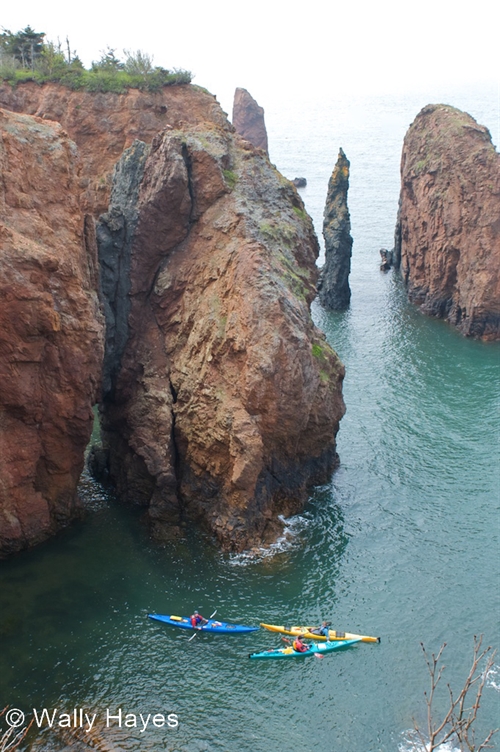 This is a special place where experienced hikers can venture into the back-country for several days.  Day hikes are also possible at Cape Chignecto for avid hikers.  The day-use area has two short trails that allows folks to view the cliffs and the bay without going too far.
Are you a camper?  This park has dozens of walk-in sites.  There are no drive-in sites here but I guess this is what makes Cape Chignecto so special.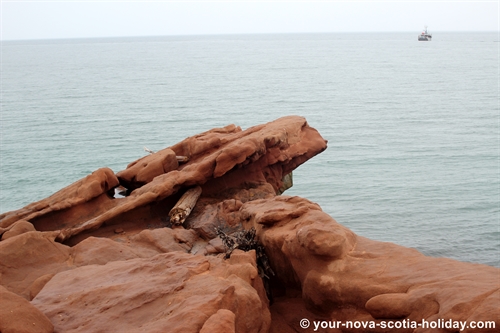 Where is Cape Chignecto?
Cape Chignecto is located on the Bay of Fundy near the small community of West Advocate Harbour.  It is actually a peninsula jutting out into the bay with the Minas Basin on one side and Chignecto Bay on the other.
Check out this map to see its exact location in Nova Scotia.
Getting to Cape Chignecto
Cape Chignecto is about 45 km (28 mi) west of Parrsboro; 80 km (50 mi) from Amherst; and, 233 km (144 mi) from Halifax.
From Amherst take Highway 104, then exit 4 to hwy 302, then the 242 and finally the 209 which will take to the park.  From Halifax take Highway 102 toward Truro, then take highway 104 West. Exit 12 will take you to #2 highway and Parrsboro.  Once at Parrsboro follow highway 209 to the park.
Visitor Services
The main visitor center is at the entrance to the park at West Advocate Harbour.  This is known as the Red Rocks trailhead.  You can make reservations here if you haven't done so beforehand online at the Parks Nova Scotia website.  The visitor information building is quite nice here where you read about the park and its history.
Visitors wishing to hike the multi-day trail must enter the park at West Advocate.
The second centre is for day-use visitors.  Take the Eatonville Road from West Advocate and follow it to Eatonville.  You'll see the signs. This day-use area offers folks short hikes to see fantastic views of the Three Sisters sea stacks and the Bay of Fundy. 
Reservations
I would definitely recommend that you make reservations if you plan some time at the Cape Chigneco provincial park.  Call 1-888-544-3434.
Activities
The park brochure has a great map that indicates the location of the hikes, camping areas, parking, visitors centre, picnic area and so forth.  It is a great resource to read before you head to Cape Chignecto.
Wilderness Hiking
Hikers love Cape Chignecto.  The 52km Coastal hiking loop is one of the best in the province.  If you love back-country wilderness hiking over a couple of days this is the place for you.  There are also back-country campsites, a cabin and a bunkhouse.
I have never done this particular hike but have read that it is challenging.  Only experienced hikers should attempt it!
I definitely recommend reservations if you plan to use a cabin or bunkhouse.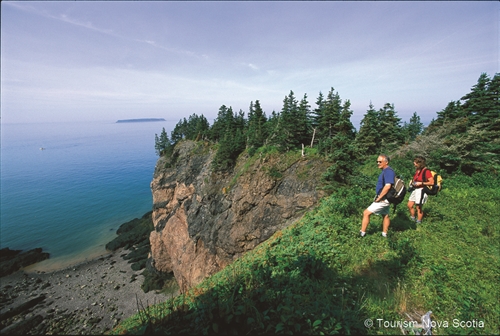 Day Hiking
There are several day hiking options in Cape Chignecto.  But they also appear challenging.  The views of the Bay of Fundy will be well worth your efforts.
Some of these are the beginning sections of the longer multi-day wilderness hike.  They can be accessed at the West Advocate visitor entrance.  The hikes range from a short 15-minute trek to the beach to a challenging 24 km (15 mi) hike.
There are some less challenging options at the day-use area at the Eatonville Harbour entrance.  From there you can hike a short distance on an accessible trail and get a great view of the Three Sisters sea stacks.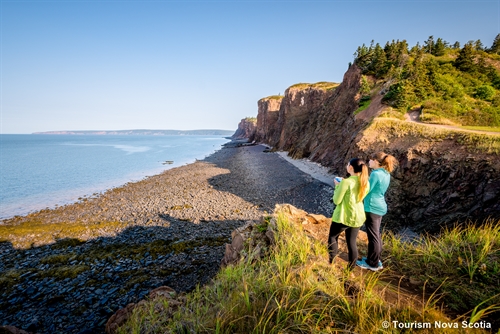 Camping
There are no drive-in camping sites at Cape Chignecto.  There are dozens of walk-in or hike-in sites throughout the park.  Best to organize yourself so you don't have too much to carry to your site.
The main entrance at Advocate and the day-use area at Eatonville have camping areas.
There are several camping sites along the multi-day Coastal trail.  Cabins and bunkhouses are also available to reserve.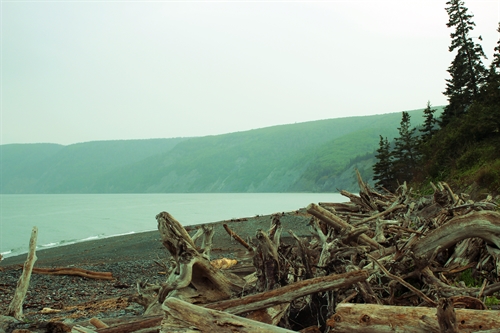 Sea Kayaking
The sea kayaking adventures available at Cape Chignecto are spectacular.  Beach camping is possible for those folks who want a multi-adventure and are well-versed in sea kayaking.
Day trips are also available through local suppliers.  Nova Shores Sea Kayaking has a great day tour that gives you a chance to kayak to the Three Sisters sea stacks and then have a picnic on the beach.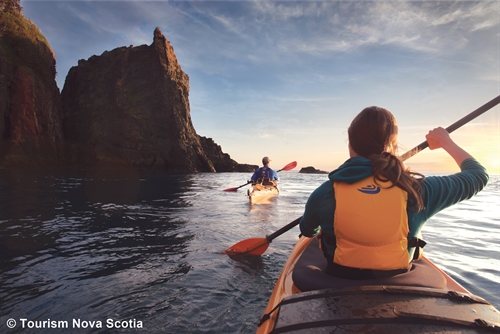 Tides Schedule
Make sure you are aware of the tide schedule before venturing close to the waters on the bay. The tides come in quite quickly so it is very important to be aware of the tides schedule.
To check the tides for your area of interest go to this Tides Schedule link.  Enter the location in the search box at the top corner of the map.
Accommodations
The Cape Chignecto and Advocate Harbour areas are quite remote so you won't find a lot of choices regarding accommodations. That is, if you don't want to camp in the park.  However, there are some.  Check out this listing on Trip Advisor.  
There are many places to stay along the Bay of Fundy.  Once you decide on your planned activities I suggest that you check their location on my map that I include just above.  Then you can check the closest town and its accommodation options on Trip Advisor.  
Some major spots along the bay include Truro, Wolfville, Windsor, and Digby.
The Bay of Fundy can also be considered a great day trip if you are in the Halifax, Windsor or Truro areas.  These links will lead you to Trip Advisor which is my 'go to' place for accommodations.  

Restaurants
As with accommodations there are few restaurants in this area.  But you are in luck.  There are a couple!  Check this out on Trip Advisor!  The Wild Caraway and the Lighthouse at Cape D'Or are two of the best in the province.
Nova Scotia has a wide variety of places to eat.  From fine dining, family restaurants, pubs and pizza spots.  There is something for everyone.  I suggest you check my Where to Eat page for some tips on how to find a restaurant in your location.
---
---
Have you visited Cape Chignecto?
Do you have a great story about your visit? Do you want to become a part of Your Nova Scotia Holiday?
---
---
---
Please share this page with your friends.