Celtic Colours
International Festival
I was so happy to spend a week at the Celtic Colours International Music Festival in Cape Breton in October.  It was absolutely amazing. 
Imagine this - 52 concerts in 9 days in 35 communities across Cape Breton Island. 
This awesome festival is a unique celebration of Celtic & Gaelic Music & Culture in Cape Breton and, indeed, the world.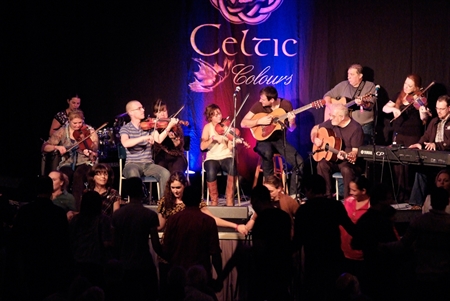 A typical session at Celtic Colours
There were fiddles, pianos, guitars, cellos, bagpipes, penny whistles, dancers, and gaelic singers.

The beautiful fall colours, which are everywhere in Cape Breton in October, are the backdrop for this spectacular event.  The leaves seem to get brighter and brighter as the week goes on!

You will be entertained by some of the best Celtic Artists in the world:  fiddlers Natalie MacMaster, Ashley MacIsaac & Alasdair Fraser; celtic guitarist Tony McManus; accordionist Sharon Shannon; and songstress Laura Smith, just to name a few! 
Groups such as The Fretless from British Columbia, Dàimh from Scotland, We Banjo 3 from Ireland and Beòlach from Cape Breton will keep the crowd stamping their feet.

The festival which was first started in 1997 continues to grow each year.  It is truly is a world-class event. 

Why is Celtic Colours special?
Artists come to Cape Breton from all over the world.  The festival has attracted musicians from Scotland, Ireland, England, Germany, Spain, Sweden, Norway, Brittany, Cuba and the U.S. 
They are dozens of concerts over a 9-day period and they are hosted by community groups all over the island.  You can visit all corners of Cape Breton Island while you attend these concerts.

The communities themselves are a big part of the uniqueness of the festival.  These communities have nurtured celtic & gaelic music, dancing, story-telling and song for hundreds of years. 
The autumn colours are simply beautiful.   It has been a long time since I was actually in Cape Breton during the fall colours and I was amazed. 

The venues are quite special.  The concerts are in theatres, school gymnasiums, community centres, parish halls, churches & large entertainment complexes.  

This festival is more than music!  You can take fiddle & step-dancing lessons; attend a square dance & a milling frolic; and, enjoy a community meal such as a traditional seafood dinner.

The casual and down home feel of the concerts is one of the most special things about this festival.  It's like a Cape Breton kitchen party. 

I hope my pages on the Celtic Colours International Music Festival will inspire you to make it a part of your vacation plans.  It is a great time to be in Cape Breton and the music is pretty good too!

I have several pages about the different concerts that I have attended the last couple of years.  Have a look and let me know what you think!

---
15 TIPS

 

 Be sure to check my

15 Tips page.

It'll help with planning your

trip to Celtic Colours!
---
---
---
Have you attended Celtic Colours?
Do you have a great story about it? Please share it with us!
---
---
---
Please share this page with your friends.
---