Explore the Best
Nova Scotia Hiking Trails
Nova Scotia Hiking Trails are some of the best that I have ever explored. With over 7600 km (4750 mi) of coastline and much of it offering superb trails, Nova Scotia is yours to discover!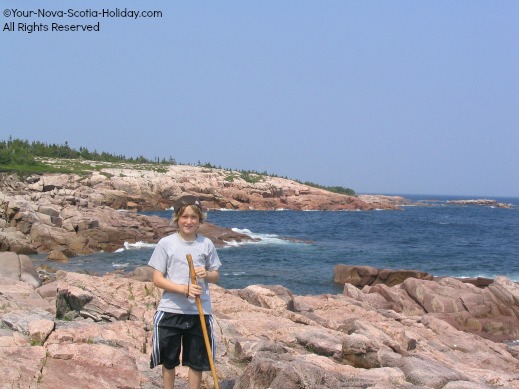 What I want for the hiking pages in Your Nova Scotia holiday is simple: to encourage you to get outdoors and enjoy the most beautiful hiking excursions you will see anywhere.
Nova Scotia is loved for its raw beauty and dramatic scenery! I promise you will not be disappointed. You have my personal guarantee!!

Why Hiking?
I believe that the best way to see any new place is to get outside, walk and experience it firsthand. Smell the fresh air, the salt water and listen for small (and sometimes big) animals skimper through the woods.
Enjoy a picnic lunch at the top of a mountain overlooking the Atlantic Ocean. Experience the thought of being at the end of the world and maybe, you won't want to come back to reality. This explains the Nova Scotia hiking experience perfectly.
Hiking is what takes us to nature and to be with nature. It provides us with a closeness that cannot be reached in any other way. To me, exploring the Nova Scotia coastline is part of my human existence!
When did it start?

I experienced hiking for the first time in Nova Scotia in 1992.

I was living in Montréal and needed a break to go back to my roots and to experience the openness and rawness of the ocean.

I hiked the Skyline Trail which is located north of Cheticamp on the Cabot Trail.

I was so overwhelmed by the sheer beauty before me that I did not quite know how to express my impression of the scenery.

I guess the only word to describe it is - MAGNIFICENT!!
I return summer after summer to hike new trails and to return to others which I had especially enjoyed. Hiking to me is simply humanity and nature at their best coming together as one.
---
Cabot Trail & Northern Cape Breton
---
---
Ceilidh Trail - Cape Breton
---
---
Central & Eastern Cape Breton
---
---
Halifax & Area
---
---
Bay of Fundy
---
---
Have you hiked in Nova Scotia?
Do you have a great story about it? Please share it with us!
---
---
---