Cycling the Cabot Trail
...an adventure worth the challenge...
Cycling the Cabot Trail is one of the best outdoor adventures I have ever had in Nova Scotia.  I really didn't think that I was physically able to do it but I did!  It was exhilarating, it was challenging, it was scary and it was amazing.  It is 300 km (185mi) of breathtaking beauty.
If you love cycling then I would strongly encourage you to cycle the Cabot Trail.
Cycling the Cabot Trail
I was with a tour group and we took 5 days to do the trip.  Our luggage was transported in a van so we only needed to carry our day packs.  I know there are some folks who would carry all of their stuff on their bikes and even camp along the way.  I admire these people but I don't think I could ever to do it!  I like comfort especially after being on my bike all day!
I love cycling and I love camping........to be done separately!
Anyway, back to my story!
We started by meeting in Baddeck.  I was nervous, very nervous!  We were about 10 people with 2 tour guides and we spent the evening getting to know each other and talking about the challenge ahead.
Our adventure called 'Cycling the Cabot Trail' started the next day as we headed from Baddeck to Margaree.  Only 53 km (33 mi) and the route was not difficult with only a few hills.  The Margaree area is beautiful and the river is world-renowned for salmon fishing.  I had driven through the area many times but this was the first time on a bike. 
It was a sunny warm day and it was wonderful.   We even stopped along the shores of Lake O'Law and our tour guides prepared us a lovely picnic.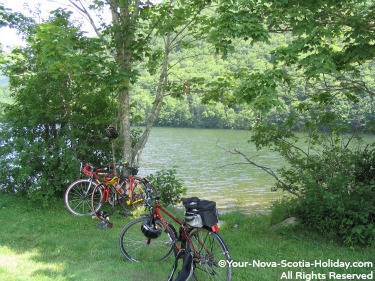 Time for a picnic at Lake O'Law
We probably could have biked all the way to Cheticamp on that first day but we weren't in a hurry so we spent the night in Margaree. We stayed at the Normaway Inn.
We were there in the early evening so while one member of the group went salmon fishing the others sat outside on the beautiful grounds. We enjoyed a great evening meal. Good wine and good company. The Normaway knows what Cycling the Cabot Trail is like so they fed us very well.
The next day we biked to Cheticamp (35 km/28 mi). We biked along the coast of the Gulf of St. Lawrence.  It was another beautiful day and I enjoyed every minute.  My cycling colleagues were getting ahead of me because I was stopping to take so many pictures. 
But I didn't care I was having fun.  We stopped to snap some pictures at the Scarecrow Theatre.  It will be on your right!  You can't miss it.
The acadian village of Cheticamp is special. We arrived at the same time as the World Acadian Congress.  There were several thousand more people than usual in Cheticamp.  We were there in time for lunch and I wanted to take my fellow cyclists for some authentic acadian food. Restaurant Acadien was my choice! 
They were quite impressed when I was able to speak with the waitress in french and get us a table even though there was a long line-up.  My buddies were not disappointed with our meal.  And the waitress was very impressed that we were cycling the Cabot Trail.
My fellow cyclists now depended on me to get them into the good places.  I felt the pressure!
Not to disappoint....that evening we enjoyed a great meal of fresh crab at a local pub and grill.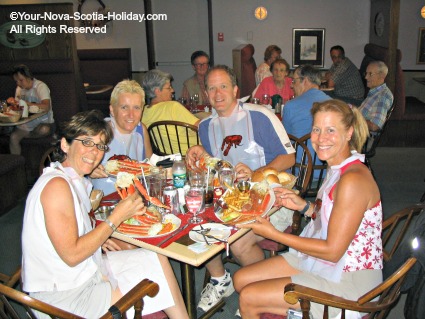 Crab Dinner in Cheticamp for the cyclists
The next day was our biggest day. 75 km (47 mi) over 3 mountains. We were climbing French Mountain, MacKenzie Mountain and North Mountain as we crossed over the plateau to the east side of the Cabot Trail and the Cape Breton Highlands Park.  It was an awesome day and yes, we all made it! 
Even saw a moose!!
There is a short boardwalk on French Mountain that you might want to check.  This little detour is 15-20 minutes.  The boardwalk is called The Bog (hike#8 in the park).  It guides you through a section of the plateau to see rare flowers (pitcher plants, orchids) and fauna.  It is quite special.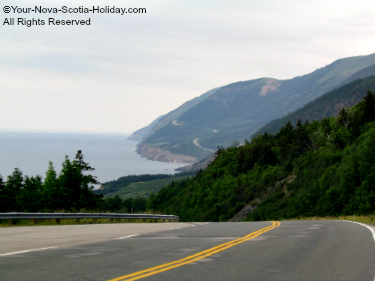 Cycling the Cabot Trail....the challenge ahead!
You'll be in Pleasant Bay when you descend MacKenzie Mountain.  This is a small place but there is a convenience store and a restaurant if you need more water or a snack.  Catch your breath as North Mountain is the next climb!!  Conquering North Mountain is the very essence of Cycling the Cabot Trail.
North Mountain is a challenge at 457 metres (1500 feet).  Honestly, I couldn't make it all the way so I had to push my bike.  Truth be told......pushing your bike up the side of a mountain is probably just as hard as being on your bike!!  Anyway, I made it!!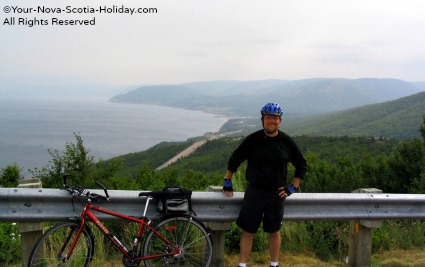 Getting ready to descend MacKenzie Mountain toward Pleasant Bay
One of my best memories of this day is when a couple of us stopped at the top of one of the mountains to share tylenol for the pain that we were now feeling in our muscles  You know, the little red ones that are easy to swallow.
Cars were watching us as they drove by so I am sure they were wondering what we were sharing!!  They certainly must have thought we were crazy for cycling the Cabot Trail!
We were all exhausted when we finally arrived at the Markham Resort in Dingwall for the night.  The Markham is on Aspy Bay and the view from our cottages was gorgeous. 
We were able to easily walk to the beach and enjoy the breeze coming off the ocean.  It was an evening with another great meal with great food, great wine and great company.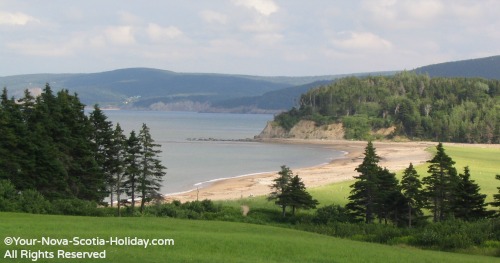 View of Aspy Bay from the Markland Resort in Dingwall, Cape Breton
Next day, on to Ingonish to stay at the Keltic Lodge.  I was having the time of my life.  I was in my element, in the wind, in the breeze, biking on the coast.......cycling the Cabot Trail!
Oops I almost forgot, we stopped at Neil's Harbour for lunch.  This is a must stop for everyone.  The Chowder House is a shack on the edge of the cliff not far from the lighthouse in Neil's Harbour.  My biking buddies were by my side asking what to order.  Easy.....the seafood chowder or crab dinner or lobster dinner.  We were a happy bunch of cyclists!!
It was a beautiful day with a clear blue sky and an easy bike ride to Ingonish.  Once we arrived some went golfing and the others headed to Ingonish beach which was a short walk from our rooms.
That evening was my first meal at the Keltic Lodge.  It was fancy but we were all relaxed and had a great time.  Our 2 guides even did some presentations with a special gift for each of us and how our uniqueness contributed to our trip.
The rain finally caught up with us the next day as we headed down the coast toward Baddeck which is about 85km (53mi) from Ingonish.  This would complete the loop. Cycling the Cabot Trail is not really complete until you get caught in the rain! 
The descent on Cape Smokey with the rain was a little scary but we made it.  Smokey is steep so biking down it in the rain is not to be taken lightly!  Our van support was great and we were all safe!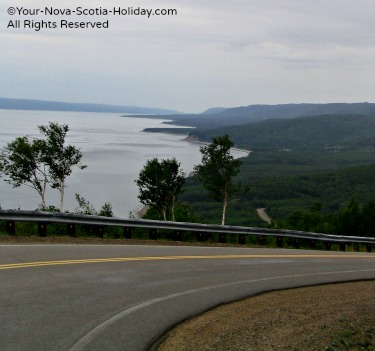 Partial view of the descent on Cape Smokey
You'll come across Wreck Cove a couple of kilometres from Cape Smokey.  There is a great general store there called the Wreck Cove General Store.  There is everything there including really great sandwiches.  This is the last store before Baddeck so be sure to get anything that you might need.
You'll bike along St. Ann's Bay as you cycle south.  There really aren't any look-off spots along here.  You have already exited the park but you are still on the Cabot Trail. 
The Clucking Hen restaurant is in North Shore. I seem to recall that their homemade pies were very good!  They had a neat weather stone out front.  It is really cute and worth a look especially if the restaurant is still there and you need a little rest.
You'll see a fork in the road after cycling about 60km (37mi).  If you turn right you'll continue on the Cabot Trail and go toward the St. Ann's Loop.  Our cycling group continued straight toward Jersey Cove (route 312) and the Englishtown Ferry. 
This area is very beautiful.  You are now biking on a sand bar into St. Ann's Bay.  The ferry is a 10-minute ride across the bay.
You now have about 30 km (19mi) before you arrive in Baddeck.  It was pouring rain by the time we arrived.  There were dozens of sailing boats in the bay and even in the rain it was quite beautiful. 
We met at the High Wheeler cafe for a great lunch and a great coffee.  I loaded my bike (in the pouring rain) on the back of my car and headed to my parents place for the night. 
Guess what I had for supper that night........you got it......lobster!!
My dream of Cycling the Cabot Trail had come true!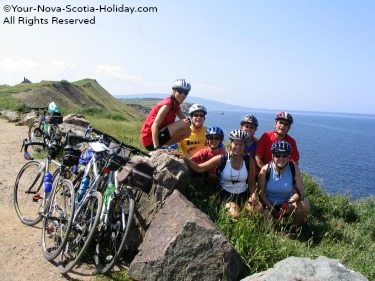 Cycling the Cabot Trail
---
---
Have you cycled the Cabot Trail
or other places in Nova Scotia?
Do you have a great story about it? Please share it with us!
---
---
Please share this page with your friends.
---