Mahone Bay & Chester
The Mahone Bay & Chester communities, located on the South Shore of Nova Scotia, are lovely areas to visit.  You'll find them on the coast where sailing and spending time on the water are part of everyday life.
Mahone Bay
Chester has a long tradition of yachting and sailing.  You'll find dozens of boats in the waters off this little corner of the province. 
Mahone Bay sits on a bay of more than 100 islands. A beautiful area to explore local waters.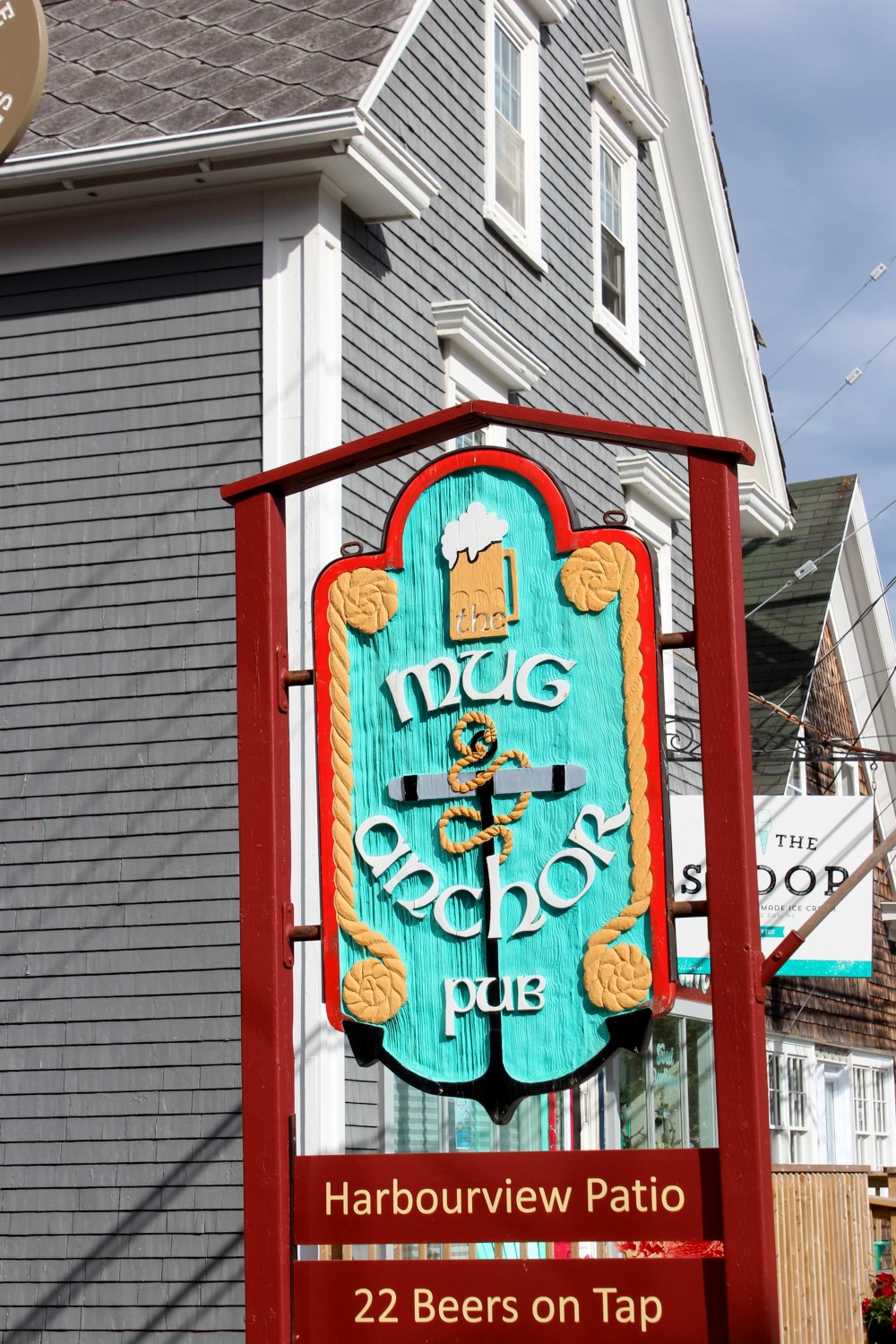 Mug & Anchor Pub
Both villages are filled with shops, pubs and restaurants.  If you love to explore by walking around you'll love these gorgeous areas.
You'll find the Mug & Anchor Pub in Mahone Bay with a Harbour View patio.  The view of the water and the boats is perfect from this patio.
Getting to Mahone Bay & Chester
Mahone Bay and Chester are located on the South Shore in Nova Scotia along the Lighthouse Route.  Chester is almost 1 hour southwest of Halifax.  Mahone Bay is 25 minutes from Chester.
Take highway 103 from Halifax or if you prefer a more scenic drive take route 3 west which is the Lighthouse Route.

Attractions & Activities
Marinas
The Chester Yacht Club and the Mahone Bay Civic Marina are full service marinas.  They welcome new members and visitors to their docks.  Sailing and boating in general are a way of life here.
Chester hosts Canada's largest Keel Boat Regatta every August.  Both club host races throughout the spring, summer and fall.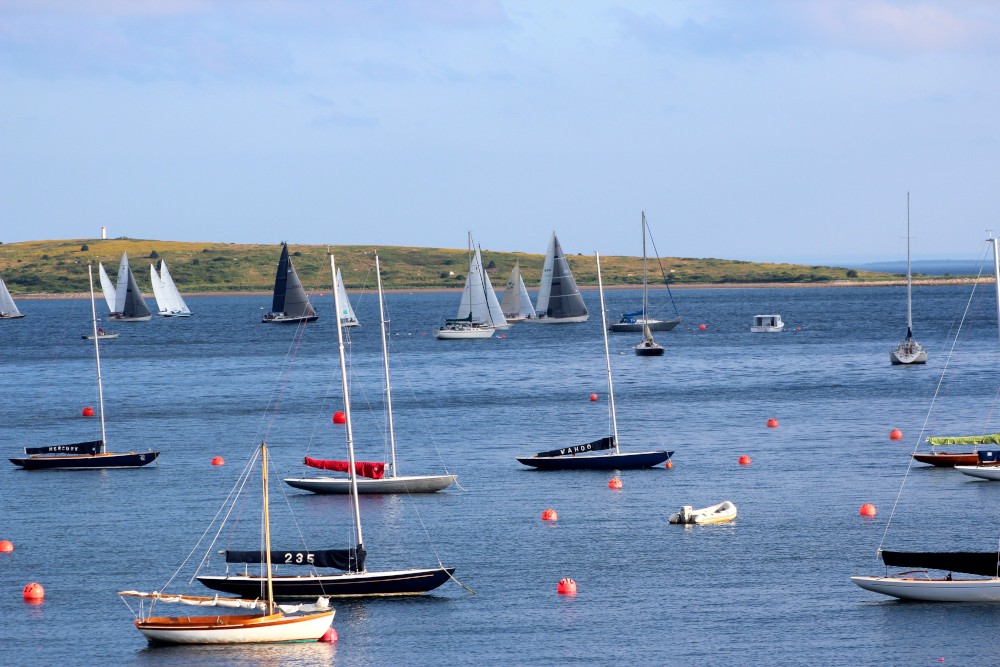 Chester Races
The 3 Churches
Mahone Bay is famous for the Three Churches positioned side-by-side along the shore of the bay.  A beautiful site year-round and a photographer's dream.

Mahone Bay's Three Churches
Shops & Museums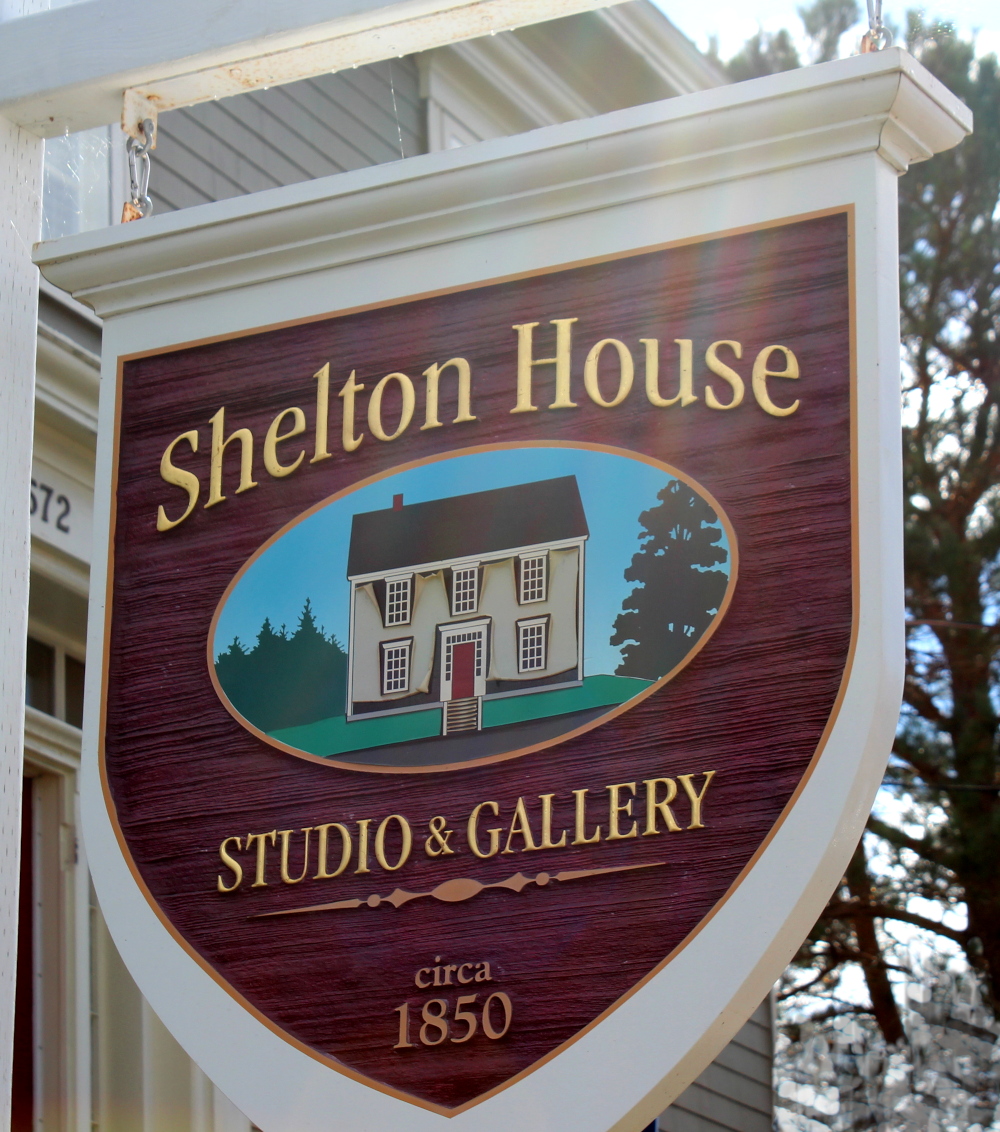 There is a vast array of shops for you to explore.  You'll find pewter, pottery, quilts, artwork, whirlygigs, fused glass, soaps and beyond. 
There are also museums, an arts centre and playhouse theatre.

The Fo'c'sle Pub
The Fo'c'sle Pub is the oldest in Nova Scotia so is a must to visit when in Chester.  It offers a full service menu and the atmosphere is great.  It dates to 1764.  I loved it!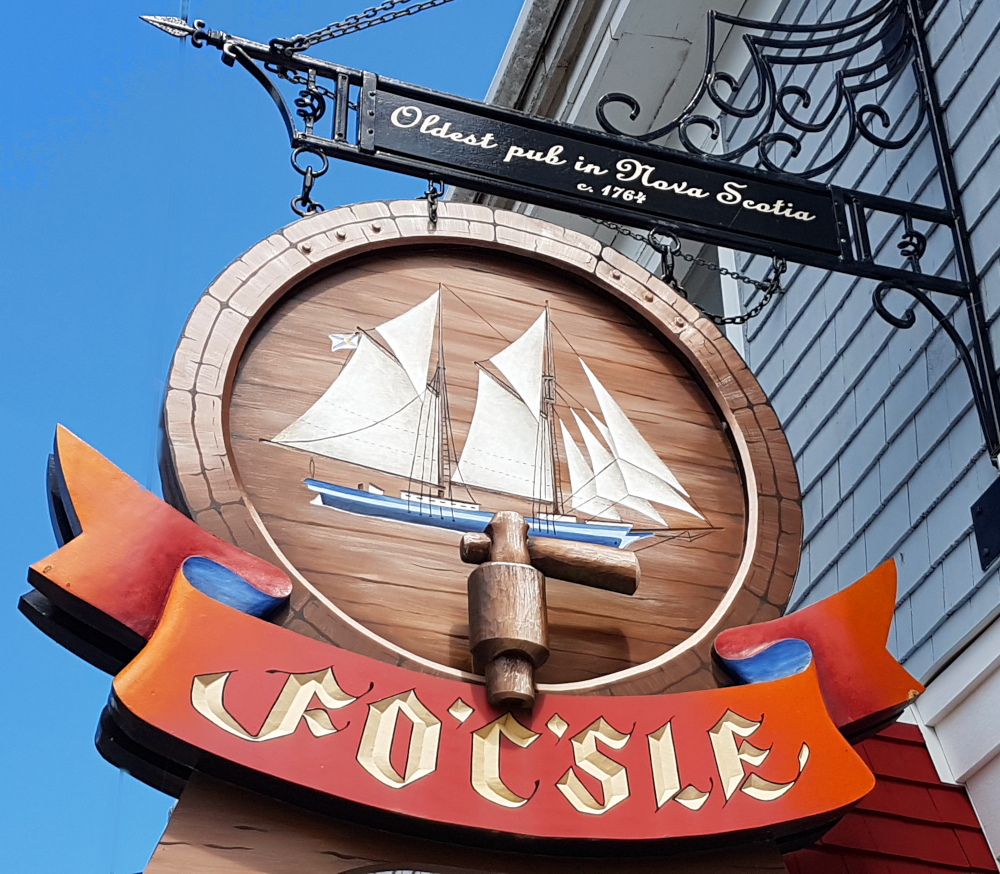 Oldest Pub in Nova Scotia
Oak Island
Oak Island is located between Chester and Mahone Bay.  It is connected to the mainland by a causeway.  It is a privately owned island so one cannot simply go and did for the treasure.
However, there is a small interpretative centre once you cross the causeway.  I visited it a couple of years ago and it was very interesting.
No, the hidden treasure has not yet been found!
Big Tancook Island
Big Tancook Island is small but it is the largest of all the islands in Mahone Bay.  Measuring only 4km long and almost 2km in width, it has become a haven for visitors looking for peaceful surroundings.
Only 150 people live year-round on the island. A passenger-only ferry travels from Chester to the island everyday. I received a great story about visiting this little gem.  I really need to visit!!
Festivals & Events
Chester and Mahone Bay host many festivals and events throughout the year.  The VIC in each community will be able to give you information on events during your visit.
Some events to watch for are the Parade of Sail, Bandstand Concert Series, South Shore Lobster Crawl, Savour & Cycle Tour, Chester Race Week, and the Annual Gingerbread Competition Display.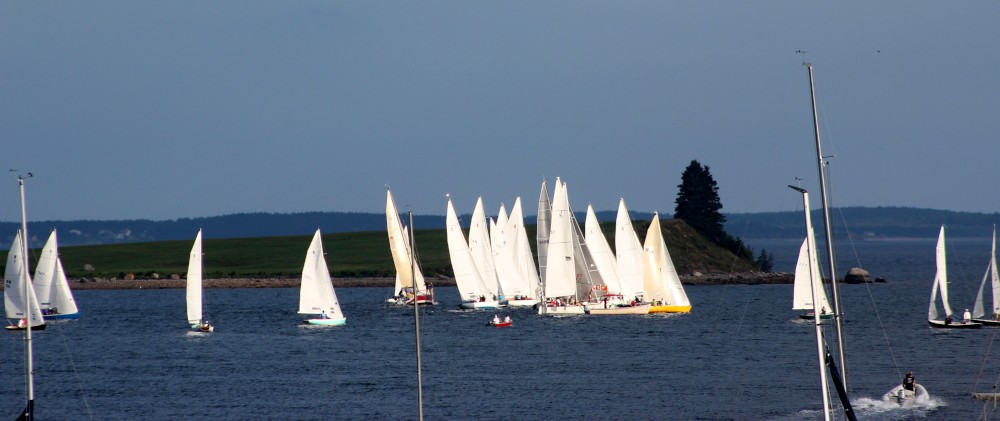 Chester Races
Hiking/Cycling/Golfing/Boating
The 119km long Rum Runners trail extends from Halifax to Lunenburg. This trail is awesome for hiking & cycling. 
Chester is located on the Chester Connection Section. This eventually becomes the Dynamite Trail at Martins River and continues into Mahone Bay.
I am looking for stories from folks who have done this trail so please contact me if you have a story to tell (plus pics).
There are many opportunities to enjoy boating in this area.  Head down to the local marinas and ask about local tours.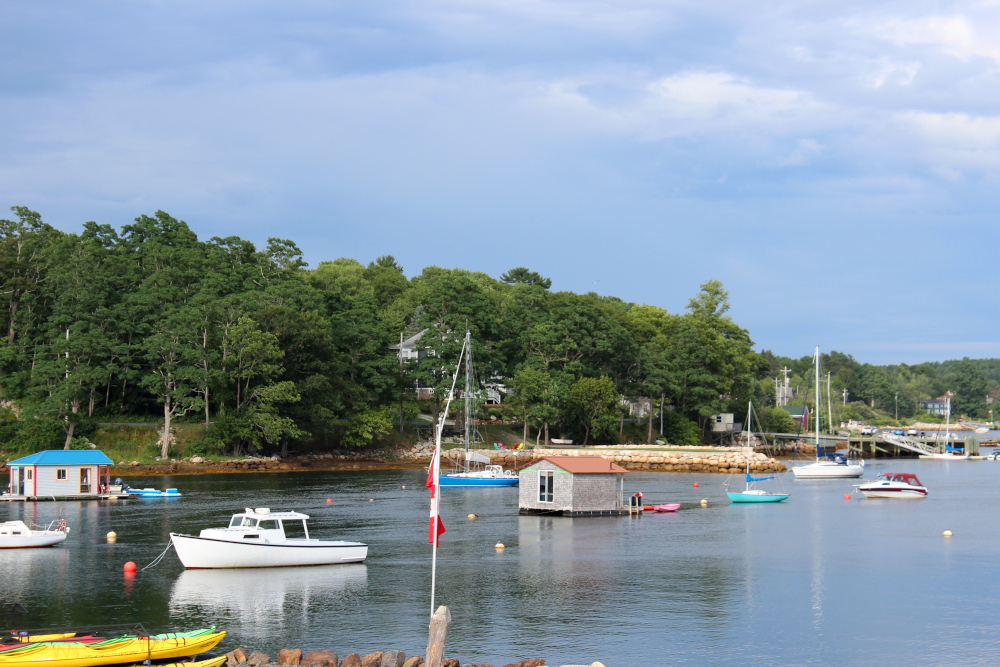 Mahone Bay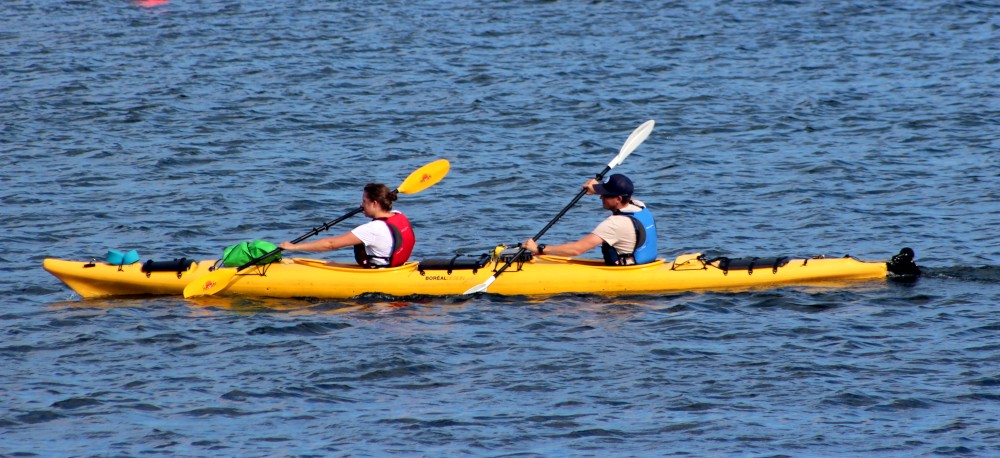 Chester
There are several options for golfing along the South Shore and Lighthouse Route.  The Chester Golf Club is located in Chester and Lunenburg (35 minutes west along route 3) has the Bluenose Golf Club.  Both have gorgeous views of the coast.
Day Trips
Chester and Mahone Bay's location along the south shore makes them a great place to use as a base and explore the surrounding region. 
Day trips to Lunenburg, Tancook Island, Peggy's Cove, Halifax, LaHavre, and Blue Rocks are excellent options.
Visitor Services
Chester and Mahone Bay are full service communities with a post office, hospital, banks, gas stations, grocery store, marina, shops, Nova Scotia Liquor Commission, restaurants and accommodations.
The Mahone Bay VIC is located at at 165 Edgewater Street as you enter the village.  It is just before the Three Churches.
The Chester Visitor Information Centre (VIC) is a mobile unit that visits different events during the year.  
There are also 12 Tourism Ambassadors scattered throughout the businesses in the area that can offer travel information.
Look for their logo!
Accommodations
There are many great accommodations to be found on the South Shore - Lighthouse Route in Nova Scotia.  Check hotels, motels, B & Bs and Inns in Lunenburg, Mahone Bay, Chester, Bridgewater and Liverpool.
There are also lovely vacation rentals in the same areas: Lunenburg, Mahone Bay, Chester, Bridgewater and Liverpool.
These links will also give you choices in smaller communities in the vacinity.
Restaurants
| | |
| --- | --- |
| Nova Scotia has a wide variety of places to eat.  From fine dining, family restaurants, pubs and pizza spots.  There is something for everyone.  I suggest you check my Where to Eat page for some tips on how to find a restaurant in your location. | Seafood Chowder |
Where to Next?
Wondering what to visit after your exploration of the Chester & Mahone Bay area?  There is still lots to see and do in Nova Scotia.
Halifax, Peggy's Cove and the Bay of Fundy are not far.  Continue on the Lighthouse Route west and you'll find Lunenburg.  Check them out and enjoy all that Nova Scotia has to offer.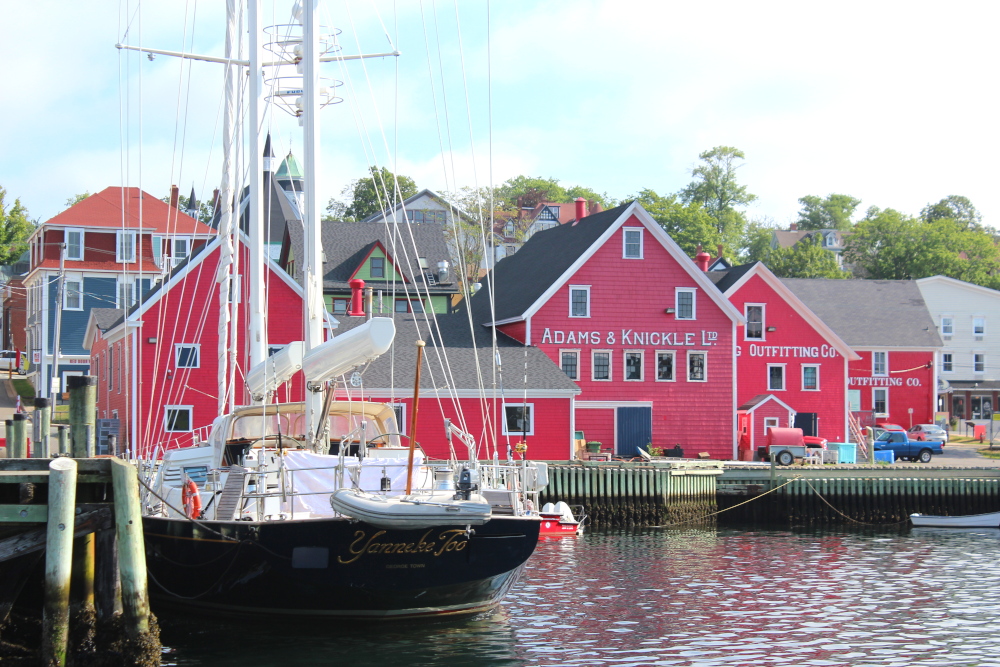 Lunenburg
If you want to do some coastal hiking I strongly suggest Gaff Point and The Ovens.  The Ovens has, as a bonus, sea caves that you can enter.  Both of these hikes are fabulous.
---
---
Have you visited Mahone Bay & Chester?
Do you have a great story about it? Please share it with us!
---
---
Please share this page with your friends.