Cape Split Hiking Trail


..awesome coastal views..



Cape Split is one of the best hiking trails in Nova Scotia.  It is basically a headland that has separated itself from the mainland due to the forces of the incoming and outgoing tides of the Bay of Fundy.
The hiking trail leads you to a large field at the edge of 200 foot (60 m) cliffs dropping vertically to the bay.  Unbelievable scenery!!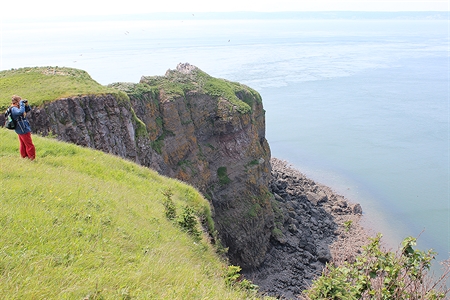 Cape Split overlooking the Bay of Fundy
The Bay of Fundy has the highest tides in the world and these cliffs are a clear indication of the forces of the water flowing in and out.  600 billion tons of water flow in and out of this wondrous place every 12 hours.

I had tried to hike Cape Split several years ago but it was incredibly foggy the day that I drove there.  I knew that there were steep cliffs at the end of the trail so I decided that it probably wasn't a good idea to hike an unknown place in the fog. 

So, it would be several more years before I had the chance to hike this Nova Scotia gem.  I was lucky because it was sunny and warm the day we decided to venture out.  It was the perfect day!

Before we go:
Directions:  Cape Split is located near the community of Scots Bay which is on the beautiful Bay of Fundy.  It is 126 km (78 mi) from Halifax.  Follow Highway 101, take Exit 11 to the 358 North & then to Scots Bay.  Follow the signs for Cape Split.
We were camping at Blomidon Provincial Park when we ventured out on this hike.  It only took 25 minutes to get to the trailhead from the campground. 
To get to Cape Split from Blomidon follow Pereau Road out of the park, turn right at Stewart Mountain Green Bridge and then another right on Stewart Mountain Road and then another right on 358 North.

GPS at the trailhead:  N45 18.880 W64 25.755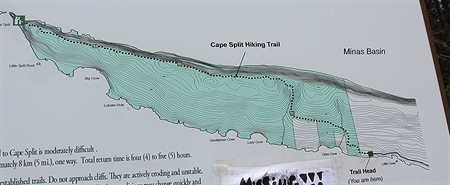 Check out my map of the Bay of Fundy to see the location of Cape Split.
Level of difficulty:  Moderate hike with some uphills. 
Length & time required:  16 km (10 mi) return trip; about 5 hours.
Clothes/Accessories:  The weather along the Bay of Fundy can be very unpredictable.  Check the weather forecast beforehand. A sweater or light jacket and raingear are always a good idea.  It can be very windy here and the clouds can move in very quickly. 
Sturdy walking shoes or hiking boots are a must; I always take a walking stick; and, don't forget the binoculars and camera. Lots of water and some food are also necessary.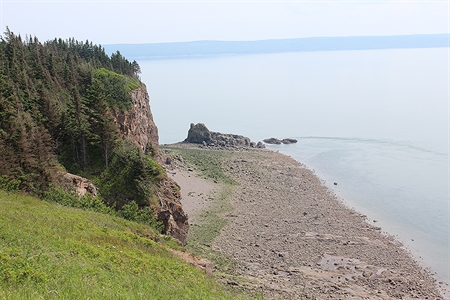 Facilities:  There is a large parking lot at the trailhead and vault toilets.  There is also a large map of the trail.  Many folks leave walking sticks that they found along the trail nearby.  Feel at ease to grab one if you forgot yours.
Caution:  Stay on the main trail as the cliffs can be unstable.  Dogs should be on a leash.  There are no guardrails once you reach headland itself.  BE CAREFUL!

Tides Schedule
Make sure you are aware of the tide schedule before venturing close to the waters on the bay. The tides come in quite quickly so it is very important to be aware of the tides schedule.
To check the tides for your area of interest go to this Tides Schedule link.  Enter the location in the search box at the top corner of the map.
Ok!  let's get hiking to Cape Split
There were lots of cars in the parking lot when we arrived. I took this as an indication that this was a great hiking trail and worthy of its reputation as being was of the best trails in the province. 
This is also comforting when hiking because knowing others are on the trail means that there is help available if you get into trouble.
However, I know that not everyone likes to hike where there are other people on the trail.  If you are one then I suggest you go early in the morning.  The evening is also an option but make sure you give yourself lots of time to get back to the trailhead before dark.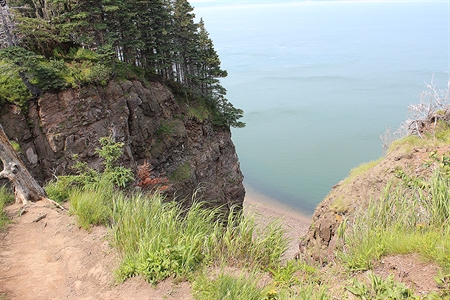 The hike through the woods was very pleasant.  At times, the trail was clear of all tree roots and large rocks.  Other times we were watching our footing and I was very glad to have worn my hiking boots.  There were some hills but nothing difficult.  The trail was also quite wet at times.  Indicative of the rough weather that often happens along the Bay of Fundy.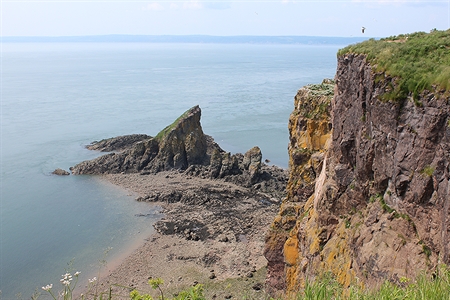 At a certain point you start to see the bay through the woods and hope that the headland is near.  And then you run into other hikers and they break the news that there is still quite a ways to go.  But that the views and scenery at the end are well worth the trek.

Once you reach the headland you'll get a great surprise!  At least I did!  I have to admit that my legs felt a little shaky when I realized how close we were to the cliffs.  It was unbelievably beautiful.  The sun was still shining so we took our time.  Wondered around a bit and took lots of pictures.
The view at Cape Split is one of the most beautiful that I have seen anywhere!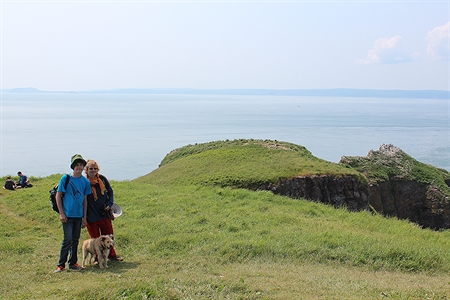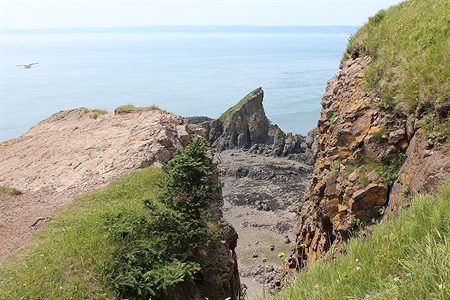 I have read in different places there is more than 1 trail at Cape Split.  I was there in Summer 2015 and did not see any indications of another trail to get to the headland.  There weren't any guard rails near any of the cliffs. I would not recommend straying off of the official trail.
This is a super day hike! It could take you 5 hours to do the entire hike but that really depends on how long you roam around on the headland.  We were there a long time!!

Accommodations
There are many places to stay along the Bay of Fundy.  Once you decide on your planned activities I suggest that you check their location on my map that I include just above.  Then you can check the closest town and its accommodation options on Trip Advisor.  
Some major spots along the bay include Truro, Wolfville, Windsor, and Digby.
The Bay of Fundy can also be considered a great day trip if you are in the Halifax, Windsor or Truro areas.  These links will lead you to Trip Advisor which is my 'go to' place for accommodations.  

Restaurants
Nova Scotia has a wide variety of places to eat.  From fine dining, family restaurants, pubs and pizza spots.  There is something for everyone.  I suggest you check my Where to Eat page for some tips on how to find a restaurant in your location.
---
---
Have you hiked to Cape Split?
Do you have a great story about your hike? Do you want to become a part of Your Nova Scotia Holiday?
---
---
Please share this page with your friends.
---