Celtic Colours Festival

'Masters of Melody'
Kimberley Fraser & Mac Morin
It is a magical moment at Celtic Colours when you see a musician perform in front of their hometown.  You can feel the pride of the performer and of the audience in the air.
This was the case when Kimberley Fraser played before her hometown, Sydney Mines, during this Masters of Melody concert.  Kimberley was visibly moved and her enthusiasm was bursting through as she played the fiddle with Mac Morin on the piano accompanying her.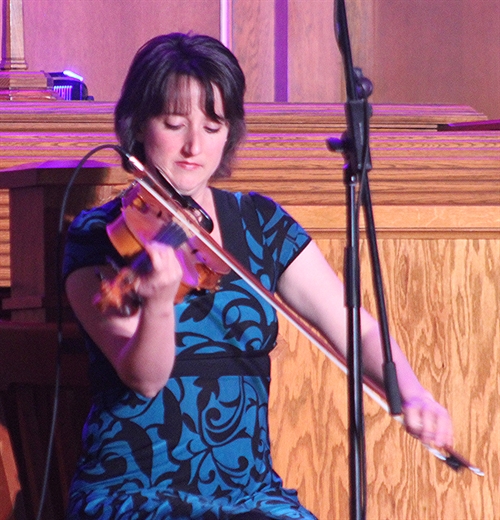 Kimberley Fraser
To say that she is a seasoned performer is an understatement.  She has played since she was 3 years old and has toured across Canada and has performed in Scotland and Afghanistan.
She was a pure joy to watch on the fiddle.  Kimberley was also quite ecstatic to be playing with Mac Morin, a stellar piano player.  Mac has toured extensively with Natalie MacMaster and Beòlach.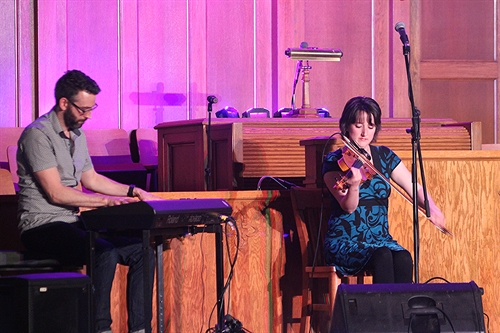 Kimberley Fraser & Mac Morin
Allan MacDonald & Dave MacIsaac
Celtic Colours is always happy to have Scottish performers join in for the festival.  Allan MacDonald has played at the festival several times and brings along a wealth of talent and knowledge about Gaelic tradition.
Allan is a piper and is also an internationally sought-after composer, musical director, singer and lecturer on Gaelic music.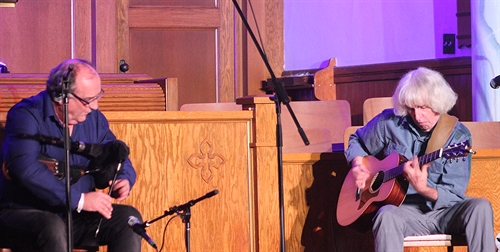 Allan MacDonald & Dave MacIsaac
Dave MacIsaac is a master of the fiddle and the guitar.  Dave is also a master of traditional Cape Breton music and is often called upon to name a long forgotten tune!  Apparently, he has a collection of thousands of recordings of Cape Breton music.
Dave toured with Natalie MacMaster for years.  I recently chatted with him at The Old Triangle pub in Halifax.  You'll find him either playing or sitting back and enjoying the music.
It was a treat to see Allan and Dave play together.
Rum Ragged
The four lads that comprise Rum Ragged hail from Newfoundland & Labrador.  This year was their first at Celtic Colours and it certainly won't be their last.  They had the audience in the palm of their hands with a great selection of sea shanties, ballads, lively instrumentals and good ole newfie music.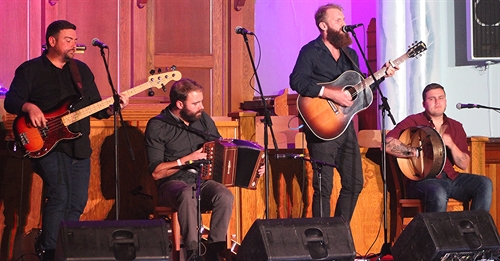 Rum Ragged
The crowd loved them. Haunting and heartfelt lyrics with lots of emotion.  You could tell they were having a good time.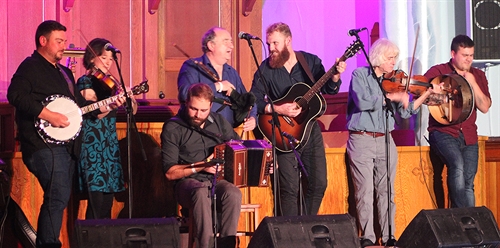 The Grand Finale
Of course, what is a Celtic Colours concert without a Grand Finale with all performers onstage.  These folks did not disappoint...the crowd did not want to let them go!
---
---
Have you attended Celtic Colours?
Do you have a great story about it? Please share it with us!
---
---
Please share this page with your friends.