Celtic Music Interpretive Centre
Visit the Celtic Music
Interpretive Centre &
the Soul of Cape Breton Music 
The Celtic Music Interpretive Centre is special, very special! It was built by musicians, for musicians and is run by musicians. There are regular ceilidhs, along with demonstrations, and workshops all-year round.
You can find the centre in Judique on the Ceilidh Trail in Cape Breton.  Take Route 19 as you land on Cape Breton Island by way of the Canso Causeway.  Judique is about 30 kilometers (19 mi) from the causeway.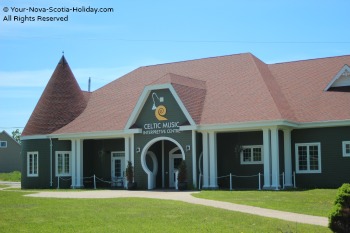 The centre has a display room, a dining room with a stage for performances, a gift shop, an outdoor terrace and an archives room.  I felt really comfortable there and you can easily see how the community loves this great addition to the area.
Display Room:
There is loads of information about celtic and Scottish music and how it has thrived in Cape Breton. The display room is very well done and will give you a very good idea of how scottish music has continued to flourish in Cape Breton.  From the old-timers to current players!
The room is filled with pictures, biographies, stories, instruments, vinyl records. It is like walking into a time warp.
| | |
| --- | --- |
| | Tributes to a vast array of past & present Cape Breton fiddlers |
---
I visited the centre early in the summer and was lucky enough to have the display room to myself. There is even a section with a video where you can take a fiddle lesson.

Fiddles are available for you to practice.

You can play it over and over if you wish....which is what I did......I was thankful to be alone.

A similar demonstration is available for step-dancing.

The fiddles are ready & waiting for the next students.
---
Live Music:
There is live music all summer long at the Celtic Music Interpretive Centre!  Monday through to Saturday there is a lunchtime ceilidh from 11:30-1pm. 
And there is a ceilidh every Sunday afternoon from 3-6:30pm.  I was lucky enough to catch one. 
It was wonderful and we were even lucky enough to see the locals do a couple of square sets.  There is an entrance fee for these ceilidhs and there is also food and bar service.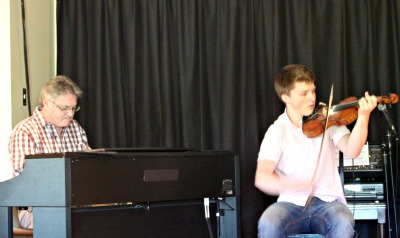 Howie MacDonald & Douglas Cameron at a Sunday Ceilidh
---
*

*

*

*

a little tip from Ann Marie...

The food here is excellent! I had traditional crab cakes with beans when I was there and it was delicious. 

The kitchen is open for lunch from Mon-Sat 1130-3pm & there is FREE live music from 1130-1pm.

*

*

*

*
---
Fiddle Workshops:
There are also fiddle workshops all summer long.  Every Thursday you can get a lesson from some of the best fiddlers in Cape Breton.  Check out the centre's website for more information.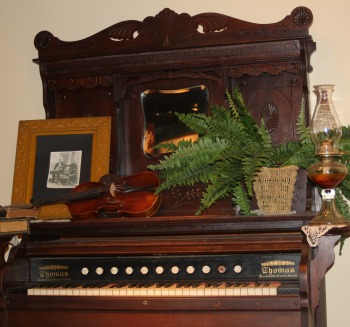 Buddy MacMaster School of Fiddling:
Have you attended the Celtic Colours International Music Festival held in October of each year in Cape Breton?  Well, the Buddy MacMaster School of Fiddling is part of this festival.  Take lessons for 1 day, 2 days or for the full 5 days from masters of the fiddle. 
As a beginner fiddler, the thought of attending this overwhelming.  You can get more details at the centre's website.
Research Area:
This is also a major research and archival centre.  The centre is amassing old video and audio clips in order to create an archival library.  You can access their holdings by appointment by calling 902-787-2708 or send an email to archives(at)celticmusiccentre.com.
The Celtic Music Interpretive Centre is a great place to visit while on the Ceilidh Trail.  It brings you closer to celtic and scottish music and how it is loved in Cape Breton.
---
Celtic Music Interpretive Centre
---
Please share this page with your friends.