Kauzmann Trail


'a hidden gem'
The Kauzmann trail is a secret so don't tell anyone.  Some call it the Cape Breton Highlands 'hidden gem' or 'best kept secret'.  This spectacular hiking trail is getting known.
This short trail leads you to a ridge with the Atlantic ocean 1000 feet below on one side and a gorge 1000 feet below on the other. 
It is a trail like no other. Many people do not even know it exists but word is getting out.  

Before you go to the Kauzmann trail
Directions: This trail is located in north eastern Cape Breton and not far from the world-famous Cabot Trail. Driving north from Ingonish on the Cabot Trail turn right on Bay St. Lawrence Road.  Turn left if you are driving from Cheticamp.  You'll see the junction for Bay St. Lawrence when you enter Cape North.  Drive 18km (about 20 minutes) down Bay St. Lawrence Road until 6014 Road. It will be on your right.
This dirt road is a quarry road and is fairly rough going and steep with many large rocks.  I suggest only driving it in a SUV or truck.  Drive about 5.6 km until you see a buoy and flagging tape hanging from a tree on your right.  This is the start of the trail.  You might see other vehicles parked along the road.
GPS at trailhead: 46°59'58.1"N 60°25'58.1"W
Distance:  4 km (round trip)
Elevation:  Most of the elevation is done via the drive on 6014 Road.  You'll be about 1000 feet above the Atlantic ocean once you arrive on the ridge.
Time:    1.5 - 2 hours
Level of Difficulty:  Easy
Food/Water:  Water is always necessary on any hike.  Lights snacks are also a good idea. 
Clothes/Accessories:  A sweater or light jacket as it will be very windy once you reach the ridge overlooking the Atlantic Ocean; sturdy walking shoes or hiking boots; insect repellent; binoculars and a camera.
Facilities: There are no facilities on this trail.
Okay - Let's Get Hiking

The first section of this trail is along a foot trail through a very wooded area.  The trail is somewhat worn so you shouldn't have any trouble following it. It is not wide and may be overgrown in some sections. At one point you'll start to see the ridge and the ocean in the distance.
It is quite pleasant to walk this trail as there are no huge boulders or fallen trees to navigate.
You may see lots of blueberries if your timing is good.
You'll probably walk about 1.5 km through the woods before you arrive at the ridge.  A spectacular view is awaiting you!
It is going to be very windy once you step onto the ridge.  There will be a 1000 foot drop to the Atlantic ocean on your right and a 1000 foot drop to a gorge on your left. Stay in the middle of the ridge as you hike across it.
You can hike across the ridge for a fair bit.  I did not go very far as it was very very windy when I was there.  Do be careful as it is very steep on both sides.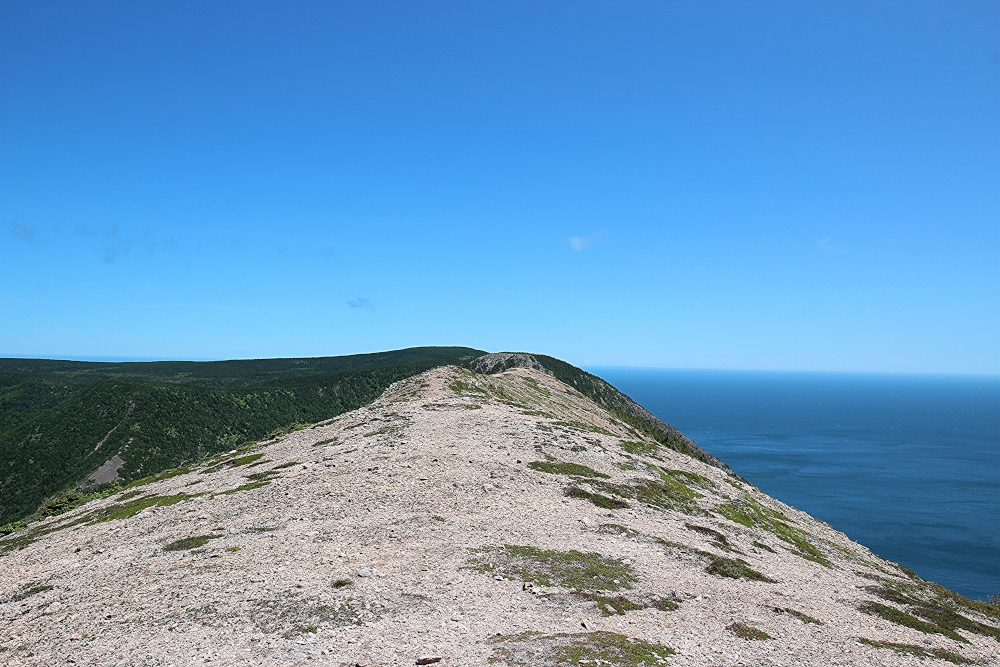 The top of the Kauzmann trail
After the Kauzmann trail
Northern Cape Breton and the Cape Breton Highlands National Park have much to offer in terms of hiking.  Check my hiking page for other ideas for hikes. 
The Money Point and Mica Hill trails are not far from the Kauzmann and are definitely work it.
Cabot Trail & Cape Breton Highlands
You are not far from the Cabot Trail so I would definitely recommend you explore it.  You would have driven on the Cabot Trail as you made your way to the Kauzmann.
You are in the Cape Breton Highlands so check out the park information as well.
44 Awesome Things on the Cabot Trail
I have a great e-book called 44 Awesome Things to see on the Cabot Trail (+ 17 tips for along the way) that might interest you.  This book is an awesome reference for touring the Cabot Trail.  I include all of my favorite spots plus much more!
---
---
---
Have you hiked the Kauzmann Hiking Trail?
Do you have a great story about it? Please share it with us!
What Other Folks Have Said
Click below to see contributions from other visitors to this page...

Local yocal

We were lost trying to find this trail about 6 years ago, a local man stopped us on a 4 wheeler and drove us to the trail head. It was so windy we could …
---
Please share this page with your friends.