How to get to Peggys Cove
Getting to Peggys Cove is quite easy. Simply find highway 333 and drive until you come across this quaint little fishing village with a beautiful lighthouse that you are sure you have seen in pictures!
Yip....it is that easy! Okay...let's get serious and I'll give you more directions! LOL!
I'll give you a couple of options if you are coming by car and from different locations.
The village is located on the South Shore of Nova Scotia along the scenic travelway called the Lighthouse Route.  The cove is 45km (28 miles) from Halifax and 115km (72 miles) from Mahone Bay.  The images below will give you an idea of the location vis-à-vis the south shore and the Halifax area.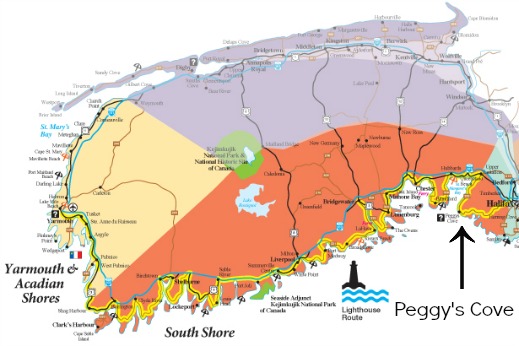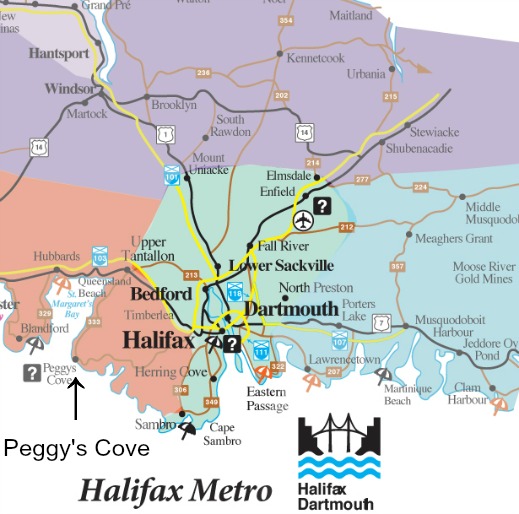 The google map below will give the details and you can use the zoom in and out buttons to get more or less detail.
If you are in Halifax take highway 102 south off of Bayers Road, then exit 1A onto highway 103 west and then another exit onto highway 333.  You should see signs.  Highway 333 is actually Prospect Road.  This will take you directly to Peggy's Cove.
If you are in the Mahone Bay area take highway 103 east towards Halifax.  You should see an exit for highway 213 south near Upper Tantallon.  Once on the 213 turn right at St. Margaret's Bay Road then left on Peggys Cove Road (this is actually the 333).  Once again, you should see signs for your destination.
---
---
Please share this page with your friends.