Whale Watching on Brier Island
by Kate
(Ontario)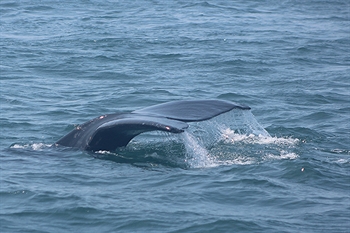 Right Whale on the Bay of Fundy
When I heard we were going to Brier Island to see whales, I was excited, but concerned about taking 3 ferries. I had nothing to worry about!

We had a fabulous time getting there and once we we're there we had a very exciting time whale watching off of Brier Island.

After finding a great, quiet campsite( Whale Cove), we went with Mariner Cruises - they were friendly, professional and helpful. Our guide, Penny, was very safety conscious and knowledgeable about whales in the area.

They even let us take our little dog onboard with us. It was a beautiful sunny day and the Bay of Fundy was awesome.

Almost immediately we saw Minke whales and after searching awhile we finally found a right whale. The right whale is endangered so we knew this was very special. He stayed near the top of the water so we really had a great look at him. He also showed us his tail several times which, according to Penny, is unusual.

It was so exciting to see a whale this close. He was beautiful and very big. He swam around the boat several times and seemed to keep looking at us. We got some great pictures.

He (or she) actually swam beside our boat for 20-30 seconds. It sounds short but when a 90,000 pound (57 foot) mammal is visibly swimming 20 feet away, 20 seconds is a long time!

I would definitely recommend to everyone to go whale watching at Brier Island. The folks there are fantastic and really love showing off the Bay of Fundy. Penny even offered us tea, coffee, hot chocolate and cookies. It can get cool on the boat so the hot chocolate was very welcome.

Make sure you visit Brier Island after your cruise. It is a small and accessible island, and make a plan to visit the 3 lighthouses, you won't regret it. We hiked along the coast, visited the Joshua Slocam monument and saw the Brier Island lighthouse. There is a very cute monument (a special pile of rocks) urging visitors to keep adding to it. Of course, we did!

We also visited the Northern lighthouse which is at the entrance to Grand Passage. A gorgeous spot with great views of the Bay of Fundy. Once you take the ferry from Brier Island to Long Island stop at the Petit Passage Restaurant. A great little restaurant. We tried the haddock burger and it was amazing. There are also local items for sale and stuff to look at.
Join in and write your own page! It's easy to do. How? Simply click here to return to Whale Watching.
Please share this page with your friends.