Castle Rock
...a climb to a super view...
Castle Rock is a gem!  Fantastic views of Mahone Bay, its many islands and the surrounding area.  The panoramic views at the top are well worth the climb.
Before you go to Castle Rock

Directions: If you are coming from the Halifax area take highway 103 west to exit 7 which takes you to route 3; drive south on route 3 toward East River and highway 329.  You'll see the trailhead about 200 meters down the 329.  Take route 3 from Halifax if you want a more scenic drive on the Lighthouse Route.
Apparently there is a new parking lot for this trail.  It is just past the intersection of the #3 and #329 on the 329.  Please use this lot rather than the side of the road
If you are in the Mahone Bay/Chester/Lunenburg area follow highway 103 east or route 3 east.
Distance:  9 km return

Elevation: 428 metres
Time:    3-4 hours
Level of Difficulty:  Easy to Moderate to Difficult.  Referring to the map: the red trail is the easiest; the blue is moderate; and, the yellow is the most difficult.  The last 100m of each option is a challenging climb to the top of Castle Rock.
Food/Water:  Water is always necessary.  Light snacks are also a good idea.  
Clothes/Accessories:  A sweater or light jacket; sturdy walking shoes or hiking boots; and a camera.
Facilities: There is a bicycle rack at the trailhead as well as picnic tables along the first section of the trail.
Okay - Let's get Hiking
This hike is definitely unique. An adventure on a trail that passes by a couple of bridges and a large lake.  It then takes you through the woods to a climb onto an enormous rock outcrop with a view of Mahone Bay and its many islands.
The trail is level through the first section.  It is actually the Chester Connection trail which is part of the much longer Rum Runners trail which extends from Halifax to Lunenburg.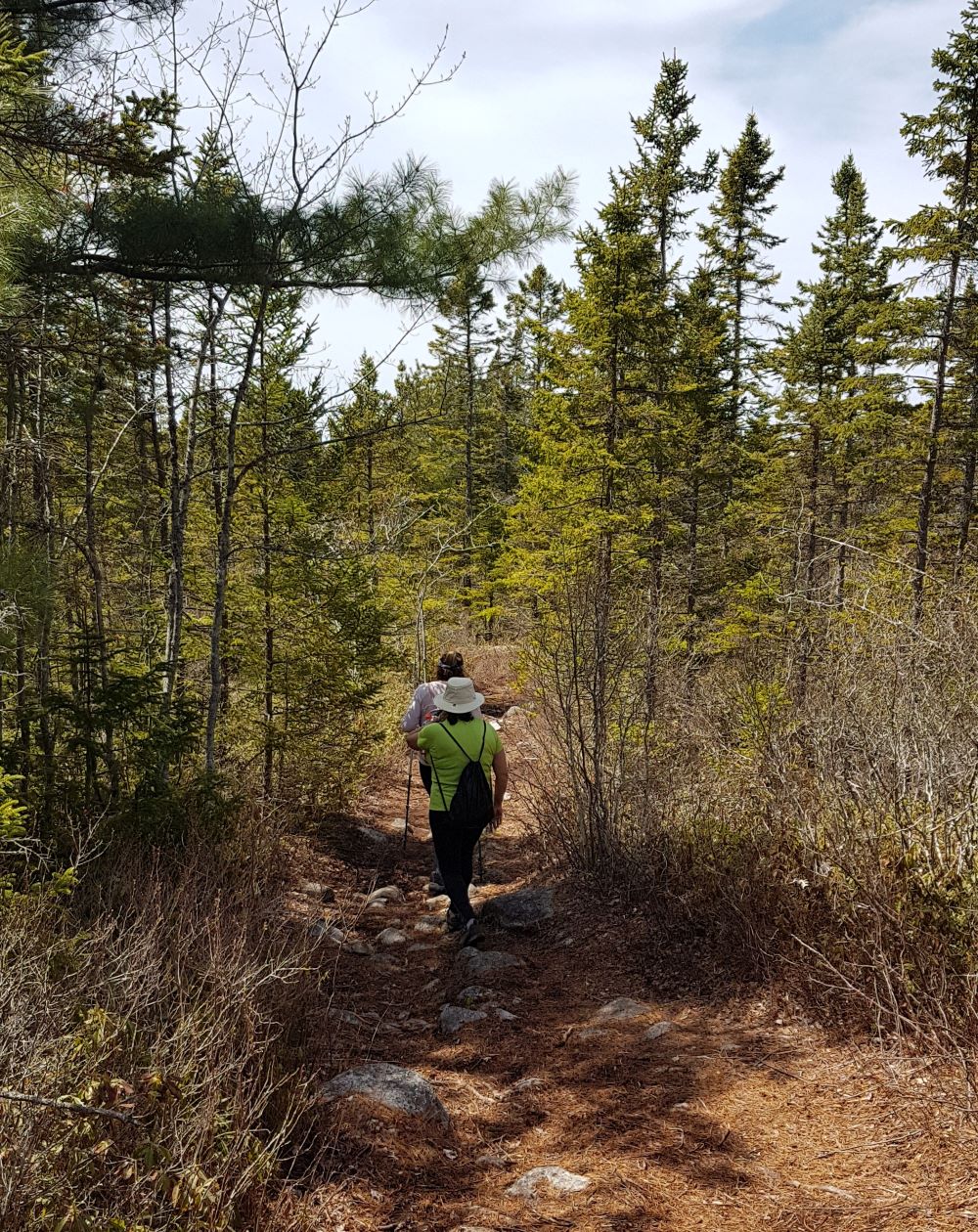 After about 3km you'll come to the trailhead for Castle Rock and a large map. It is here where you'll decide which option you will take.  I took the moderate trail and it was great. 
Choose wisely!  

All of the trails are well-marked and easy to follow.  The trails can be wet at times especially in the spring.  There is a gradual climb toward the ascension to Castle Rock on the 3 trails.
You'll see the top of Caste Rock as you get closer.  As you can see from the picture above folks at the top are clearly visible.
Be careful as you approach the last section to climb.  It is a scramble so take your time and ensure your footing is secure.
Small children should be guided carefully.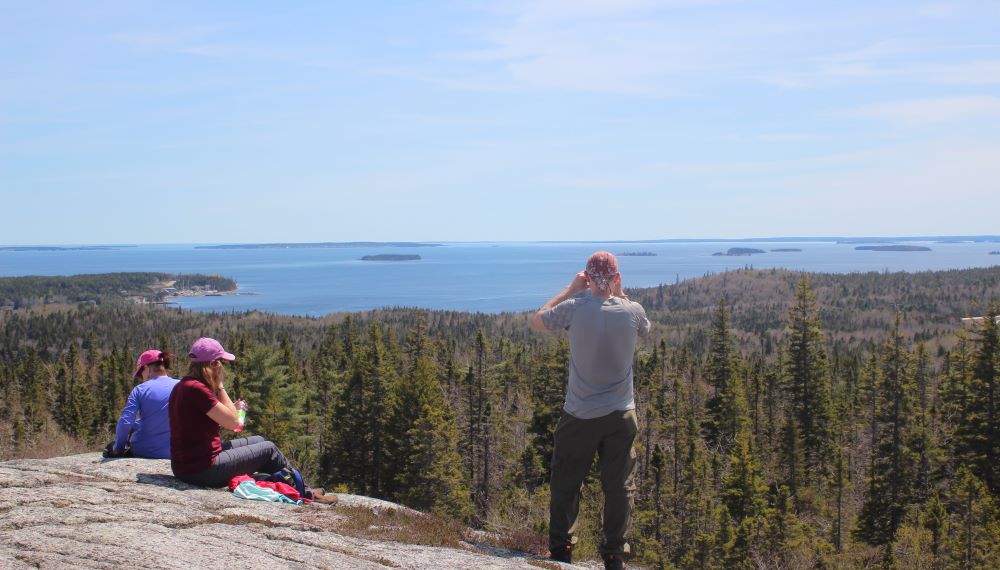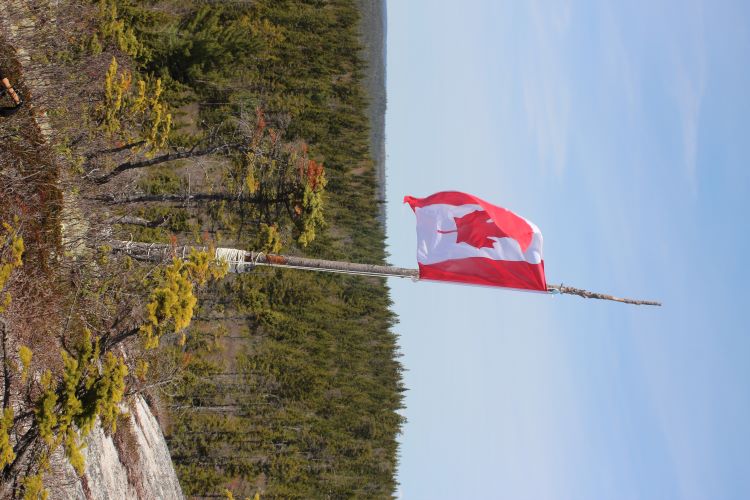 Climbing down the top of the rock can be an experience as well.  Go slow and, once again, watch your footing.
It was a gorgeous sunny day when I was there.  This trail is a delight and is only about 45 minutes from Halifax.
It seems to be quite popular so I would go early in the day or the evening for fewer people.
Accommodations
There are many great accommodations to be found on the South Shore - Lighthouse Route in Nova Scotia.  Check hotels, motels, B & Bs and Inns in Lunenburg, Mahone Bay, Chester, Bridgewater and Liverpool.
There are also lovely vacation rentals in the same areas: Lunenburg, Mahone Bay, Chester, Bridgewater and Liverpool.
These links will also give you choices in smaller communities in the vacinity.
Restaurants
Nova Scotia has a wide variety of places to eat.  From fine dining, family restaurants, pubs and pizza spots.  There is something for everyone.  I suggest you check my Where to Eat page for some tips on how to find a restaurant in your location.
Where to next?
There is lots to see and do in the Mahone Bay, Chester and Lunenburg areas!  Don't miss The Rum Runners Trail, The Ovens, the Gaff Point hiking trail and Blue Rocks.  And, don't forget Peggy's Cove!!

---
---
Have you hiked to Castle Rock?
Do you have a great story about it? Please share it with us!
---
---
Please share this page with your friends.