Celtic Colours Festival
'Buddy's Birthday Bash'
Buddy MacMaster was the heart and soul of Cape Breton fiddling.  Celtic Colours was planning a special birthday bash for Buddy as he was to turn 90 during the festival.  Sadly, this was not to be.  Buddy passed away in a couple of months before the festival.
   
Plans for the birthday bash continued and it would now be a tribute to this truly gifted fiddler.  I was so thrilled to be able to attend the Birthday Bash for Buddy MacMaster in Judique.  It was the most sought after ticket at the festival.

This concert was a true celebration of Buddy, his life and his immense contribution to celtic music and culture in Cape Breton. All of the artists and musicians were hand-picked for this concert and the audience would not be disappointed. 
The Judique Community Centre was standing room only for this Buddy MacMaster Tribute.

In fact, Buddy's daughter, sister and 2 nieces were part of this celebration. As you can imagine, there was a lot of emotion in the air. This was a real family affair.
The MacDonalds of Glenuig had many stories to tell about playing with Buddy in Scotland.  They had a deep musical friendship and played together in Cape Breton and Scotland. It was clear that they were thrilled to be playing at the special concert.
Renowned Scottish fiddler Alasdair Fraser and American cellist Natalie Hass have been performing together for over 15 years.  The magic created when the fiddle and cello are playing together is unmistakable.  They were a perfect compliment to each other.

Alasdair was a young Scottish fiddler living in California was he was first introduced to Cape Breton fiddling. He told the story about when he first came to Cape Breton and was looking for the Cape Breton Symphony.   He loved it because it reminded him of home.  So, he set out to find Cape Breton and its symphony. 
Well, he found Cape Breton and he found Buddy MacMaster who was a member of the symphony at the time.  They would become friends and fellow fiddlers!

A Family Affair at Celtic Colours
Andrea Beaton is a niece of Buddy's.  She probably watched him play fiddle many hours while she was growing up.  A wonderful player herself she has 5 solo CDs and tours and teaches internationally. 
Betty Lou Beaton is Buddy's sister and is a well-known piano player in Cape Breton.  She started to accompany Buddy at dances when she was 14 years old.  
Mary Elizabeth MacInnis is Buddy's daughter.   It was quite special that Buddy's daughter played fiddle in the concert that honoured her father. Andrea, Betty Lou and Mary Elizabeth were fantastic.  I don't think they wanted to get off the stage.

Karen & Joey Beaton are well-known at Celtic Colours.  Karen is a solid fiddle player & Joey accompanied Buddy on piano. Actually, Joey was playing piano for Buddy at the Gaelic College years ago when I saw them.  It was the only time that I saw Buddy in concert. I will never forget that show.
Bob & Jennifer Quinn along with their daughter, Kate, also performed. Jennifer was very happy to tell some stories about her Uncle Buddy and how his nieces followed him to dances even though he was courting his future wife at the time. 
Kate sang My Love, Cape Breton & Me accompanied by Andrea on fiddle and Bob on piano.  Magical lyrics and a magical song.
No Cape Breton ceilidh is complete without dancers.  Harvey Beaton is one of the best!  Folks from the audience actually got up from the seats and moved to the side so they could have a better look at this man dancing.  
Some of the other artists did some dancing too!  Andrea, Mary Elizabeth and Karen couldn't resist the urge.  Joey even surprised the crowd and danced a few bars!  It was wonderful.

The Grand Finale
The closing set when all artists played on stage was very special.  Really, they didn't want to stop playing. The crowd loved it!  They were even changing piano players in the midst of it all.  Clearly, everyone wanted to be a part of this special assembly of talent.
Apparently, one does not come to Judique for a ceilidh without enjoying tea, oatcakes and an array of other sweets after a show.  This is exactly what happened after the Buddy MacMaster tribute.  Buddy must have been smiling!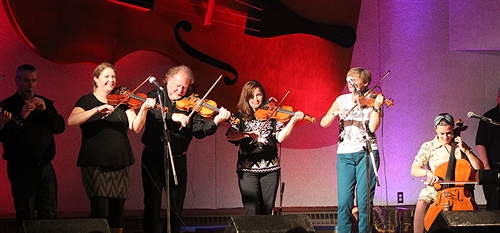 Celtic Colours & Fiddle Lessons!
You might be interested to know that The Celtic Colours International Music Festival proudly hosts The Buddy MacMaster School of Fiddling during the festival each year.  This school will carry forward the mastery of his playing for many years to come. 
The school is held at the Celtic Music Interpretative Centre in Judique every year during Celtic Colours.  Fiddle players from all over come to take lessons from some of the best players in Cape Breton.
I have more stories so be sure to go back to my main Celtic Colours page for more.
---
---
---
Please share this page with your friends.
---