Celtic Shores Coastal Trail
Discover the
Celtic Shores Coastal Trail
The Celtic Shores Coastal Trail is a world-class recreational trail on the west coast of Cape Breton Island. You'll find small fishing villages, pioneer cemeteries, community halls, beautiful beaches with warm waters, a whiskey distillery, a pub, old churches, square dances & lots of fiddles.
This 92-kilometer multi-purpose trail stretches from the Canso Causeway to Inverness.  This trail is actually part of the Trans Canada Trail.  It is a fantastic addition to hiking and cycling in Nova Scotia.

---
This wonderful recreational trail runs almost parallel to a scenic drive on the west coast of the island called the Ceilidh Trail (route 19).  If you want a multi-day hike or bike ride where you can stay at a B&B, small hotel or inn along the way....this is it!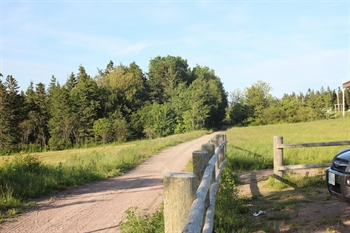 A view of the trail near Mabou
---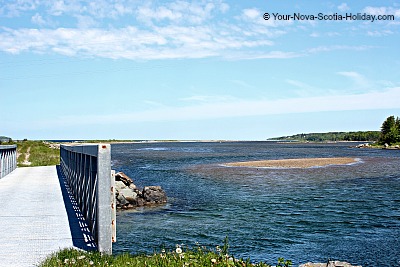 The beginning of the trail near Canso Causeway
Overall, the trail is in excellent shape.  The cover is well-suited for hiking and cycling.  The trailheads offer numerous information panels which tell you about the history of the area.  They are very well done and extremely interesting. 
The community volunteers that built this trail are certainly to be congratulated!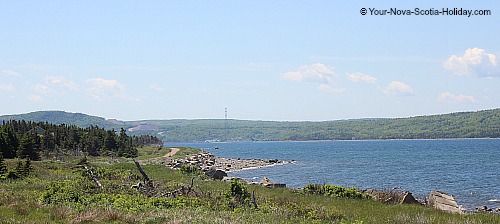 The Canso Canal along the Celtic Shores Coastal Trail
There are directional signs along the trail as well as trail markers. 

There are also signs indicating if there are services such as accommodations or restaurants nearby. 

I find this type of information very useful when I am biking or hiking.
---
This 92-kilometer multi-purpose trail goes through several communities along the Ceilidh Trail (Route 19):  Troy, Creignish, Judique, Port Hood, Mabou and Inverness just to name a few.
I don't know how much you know about the Ceilidh Trail (remember this is route 19 on the road map) but you need to know that this area of Cape Breton is alive with 'live' music all summer long and also all year long. 
Do you know what Ceilidh means?  A ceilidh is a traditional Gaelic social gathering or get-together where there is lots of music and dancing.
I can tell you that there are lots of these on this trail!!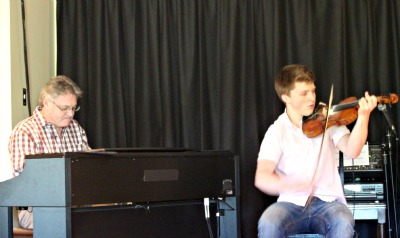 A ceilidh at the Celtic Music Interpretive Centre in Judique
---
There is literally 'live music' almost every night of the week along this coast. It is unbelievable.  Have you ever participated in a square set?  This is your chance.  Check my Ceilidh Trail page and you'll see what I mean!
Ok....back to the trail....
The Celtic Shores Coastal trail is organized into 5 sections and there are numerous trailheads and access points with lots of parking.  This means that you have countless options of where you can start the trail.
I have organized my description of the trail into separate pages for each section.  You will see links to other pages on my site that might help you with organizing your visit.  There are also maps of the 5 trails on each of the pages.
If something is missing please contact me via my contact page. 
1. Ceilidh Coastal Trail - 22 km (12.5 mi)
2. The Judique Flyer Trail – 19 km (11.8 mi)
3. Chestico Trail – 17 km (10.5 mi)
4. Mabou Rivers Trail – 20 km (12.5)
5. Inverness Shean Trail – 16 km (10 mi)
Remember that this is a multi-purpose trail so you might come across cyclists, ATVs, joggers, horseback riding or folks just out for a stroll. 
I guess this is the beauty of the trail………….everyone enjoying their favorite outdoor activity.

Check it out and don't forget to send me a story even if you do bits and pieces of the trail!  Or even better if you do the entire trail!
Happy trailing!!
---
Celtic Shores Coastal Trail
---
Have you hiked the
Celtic Shores Coastal Trail?
Do you have a great story about it? Do you want to become a part of Your Nova Scotia Holiday?
Please share this page with your friends.