The Judique Flyer Trail
The Judique Flyer trail is the 2nd trail on a wonderful multi-purpose recreational trail that runs almost parallel to the Ceilidh Trail (route 19) on the west side of Cape Breton Island.  If you want a multi-day hike or bike ride where you can stay at a B&B, small hotel or inn along the way....this is it!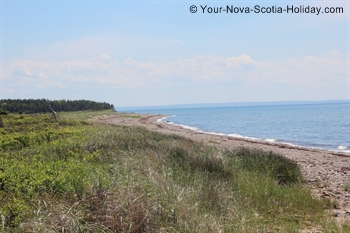 One of the many coastline views along the trail
---
The full trail, called the Celtic Shores Coastal Trail, is organized into 5 sections and there are several trailheads and access points with lots of parking.  This page highlights the Judique Flyer section.
1. Ceilidh Coastal Trail - 22 km (12.5 mi)
2. The Judique Flyer Trail – 19 km (11.8 mi)
3. Chestico Trail – 17 km (10.5 mi)
4. Mabou Rivers Trail – 20 km (12.5)
5. Inverness Shean Trail – 16 km (10 mi)
The Judique Flyer section of the trail starts at Chisholm's Brook (Long Point) and continues for 19 kilometers (11.8 mi) to Little Judique Harbour. 

Check this map of the Judique Flyer trail here for more details. The Province of Nova Scotia has graciously allowed me to use the maps on their Nova Scotia Trails page, however, please read their disclaimer.
There are several access points with parking areas along this part of Celtic Shores:  Walker's Cove, Baxter's Cove, Judique Station, and Michael's Landing.  There are several scenic coastal views along this section of the trail so give yourself lots of time to enjoy the surroundings.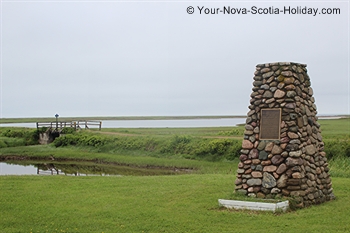 Michael's Landing on the trail
---
Are you wondering about the distance between these points?

No worries since there are trail markers and directions all along the trail.  They are extremely well done!

Note here that this trail is also proudly part of the TransCanada Trail!
---
There are pioneer cemeteries to be explored along this trail, several informational panels and picnic shelters.    Check out the beach at Baxter's Cove.  There is also a wharf so you might get lucky and see some fishermen with their catch.
I explored the trail at Judique Station.  Here you will find a short access trail next to the Celtic Music Interpretive Centre.  This was perfect as I was early for the Sunday afternoon ceilidh so I went for a little hike.  Want to take a little break for some music or a bite to eat.  The Celtic Music Centre is prefect!  I had fishcakes and beans when I was there....awesome!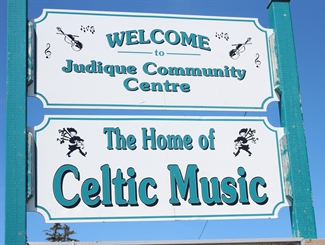 ---
There is still work being done on this section so it was a little confusing.  But I watched very carefully where I was going and made my way out to a beach.
The next day I explored Michael's Landing.  This place is great.  It was grey and somewhat overcast when was there but I loved it anyway.  This is an historic place as the first settlers of the area landed here.  The informational panels along the Judique Flyer trail are great.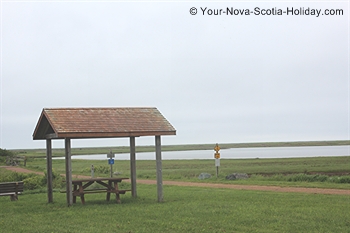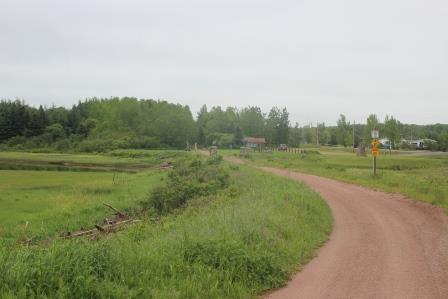 The story of the Judique Flyer is also told in excellent informational panels. 

Did you know that Cape Breton Fiddler Buddy MacMaster used to work for the railway and this is partly how he became known as a great fiddler? 

Stop by Michael's Landing and you can read about it.

These folks are proud of their history and heritage and it shows.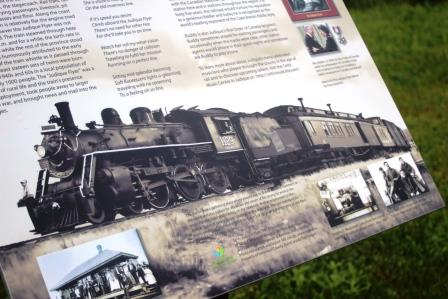 Information Panels tell the story of the Judique Flyer
---
This area is so picturesque.  Even in the mist! 

I could see an Eagle in the distance but could not get near enough to get a close picture. 

But I did get one!!

Bald Eagles are a regular site!
Next stop.........the Chestico trail!
---
---
Have you hiked on the Judique Flyer Trail?
Do you have a great story about your hike? Do you want to become a part of Your Nova Scotia Holiday?
---
---
Please share this page with your friends.
---