Fundy Geological Museum


...discover our dinosaurs...
Do you like dinosaur stories?  Visit the Fundy Geological Museum and learn how they roamed around Nova Scotia millions of years ago.  You'll even see some fossilized dinosaur bones!  This is a great place to visit for the amateur geologist and the kids will love the interactive displays.
This small community-based museum opened in 1993 and has welcomed thousands of visitors.  It all started in 1984 when Eldon George was wandering the beaches at Wasson Bluff located not far from the museum.  He would discover the smallest fossilized dinosaur footprints ever found.  The idea of a Fundy Geological Museum was not far off.
The Fundy Geological Museum will take you on an adventure through the Triassic and Jurassic periods when dinosaurs once roamed.  This was well over 150 million years ago.
Learn how the earth's surface shifted and how Pangea was formed.  Pangea was a supercontinent which formed around 300 million years ago. Learn how Nova Scotia was a part of this ancient world.
Bay of Fundy Time Machine
Check out how Nova Scotia and the Bay of Fundy were formed through the interactive time machine.  See how continents shifted, formed and broke apart.  Learn how ancient landscapes came to be starting with the supercontinent Pangea.  And see the role that Nova Scotia played. 
Remember that the Bay of Fundy has some of the richest and oldest geological features in North America.
The kids love the interactive time machine.  There are lots of buttons to push.  The buttons cause the earth to move and shift in front of them! 
The Fundy Geological Museum has a real moving puzzle showing the history of the earth.
Big Bowl of Rock Soup
Learn about the links between geology and Nova Scotia's cultural heritage.  The Bay of Fundy has some of the world's highest tides so twice a day the tides are eroding the cliffs and constantly exposing her fossils, minerals and rocks.  This makes the bay an ever changing array of treasures waiting to be discovered. 
This area along the bay has been well known for its fine minerals such as amethyst, agate, and zeolites.  The big bowl of rock soup is a hit with the kids so beware that a future geologist may be born during your visit.
Dinosaur Replica
It will be hard to miss the dinosaur replica that sits high on a display in the museum.  This is not one of the larger dinosaurs that would have wondered the earth but, nevertheless, an impressive site. 
Many dinosaur bones have been found in the area but not a full skeleton.  At least not yet!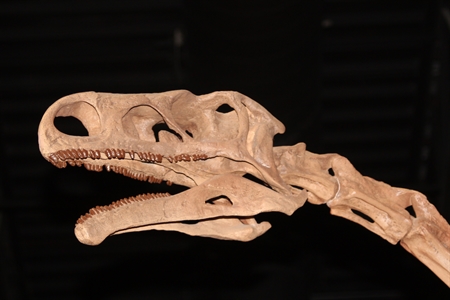 He 'stands guard' in the museum!
Beach Tours
One thing definitely not to miss is a trip to the beach for a guided walk by one of the museum staff.  This is where you see where it all started.  A walk on a beach is always great but this is even better since this is where dinosaur fossils have been found. 
I went to Wasson Bluff and to Partridge Island when I was there.  It was fantastic and you never know what you might find.  Remember that if you do find something of interest you are obligated to inform the Fundy Geological Museum for them to analyze it.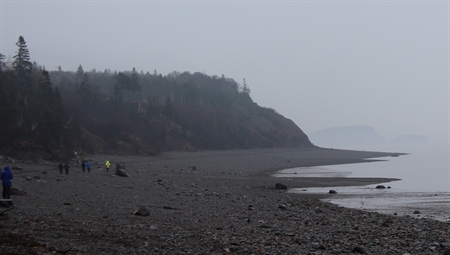 A great view of the beach at Wasson Bluff on a foggy morning
Some advice if you plan to go on a guided beach walk:
-          Call the museum beforehand to ask about the schedule
-          Wear comfortable walking shoes or hiking boots
-          Be prepared for the possibility of rain, fog and cooler weather
Rockhound Roundup
Since 1966, professional geologists and amateurs alike have been gathering in Parrsboro for an annual rockhound roundup.  It is now the Nova Scotia Gem and Mineral Show.  This is one of the oldest mineral shows in Canada and people come from all over.
You'll be treated to gems and minerals, foreign fossils, geological walks, demonstrations and workshops.
The show is usually in August.  Call the Fundy Geological Museum at 1-902-254-3814 for more information 
Bay of Fundy Tides
Make sure you are aware of the tide schedule before venturing close to the waters on the bay. The tides come in quite quickly so it is very important to be aware of the tides schedule.
To check the tides for your area of interest go to this Tides Schedule link.  Enter the location in the search box at the top corner of the map.
I loved my visit to this museum.  It was extremely interesting. I had no idea what could be found along the Bay of Fundy.  The community of Parrsboro is fiercely proud of their area and of this museum.  It may be small but the wealth of information here is wonderful. 
It is a great place for a visit.  Make sure you get to the beach for a tour! You might find something!
Visitor Information

Location:  The museum is located in the town of Parrsboro at 162 Two Islands Road.  There is also a Visitor Information Centre (VIC) in the museum.

Parrsboro is 45.4 km (28 mi) south of Springhill (highway 2 south) and 94.4 km (58 mi) west of Truro (highway 2 north). 


Check the Bay of Fundy map included below to see the museum's exact location.
Museum Hours: The museum is open seasonally April - Oct;
Call 1-902-254-3814.
Admittance Fee:  There is an admittance fee to enter the museum. Family rates are available.
Services:  Wheelchair accessible. The Museum Shop is located inside the museum and carries of full range of books and gifts.
Nearby hikes for beachcombing:  Partridge Island, Wasson Bluff.
Do you love Fossils?  Check out the Joggins Fossil Cliffs.
Accommodations
There are many places to stay along the Bay of Fundy.  Once you decide on your planned activities I suggest that you check their location on my map that I include just above.  Then you can check the closest town and its accommodation options on Trip Advisor.  
Some major spots along the bay include Truro, Wolfville, Windsor, and Digby.
The Bay of Fundy can also be considered a great day trip if you are in the Halifax, Windsor or Truro areas.  These links will lead you to Trip Advisor which is my 'go to' place for accommodations.  

Restaurants
I checked out the Harbour View Restaurant (476 Pier Road) when I visited the museum.  Great lobster rolls!  This place has a great location next to the beach where there is a awesome view of the lighthouse.
There is also a Tim Horton's at 4019 Eastern Ave.  I also had the chance to have a scallop dinner at the Glooscap Restaurant (758 Upper Main St.).  They were excellent.
Nova Scotia has a wide variety of places to eat.  From fine dining, family restaurants, pubs and pizza spots.  There is something for everyone.  I suggest you check my Where to Eat page for some tips on how to find a restaurant in your location.
---
---
Have you visited the
Fundy Geological Museum?
Do you have a story about your visit? Share it with us!
---
---
Please share this page with your friends.