Explore Spectacular
Ingonish Beaches
There are six magnificent Ingonish beaches in the Cape Breton Highlands Park:  4 saltwater & 2 freshwater.
I think they are all equally great ways to spend some time in the water during your stay in the area.  Check out my descriptions and select the best ones for you!!
Ingonish Beach
Ingonish Beach is a great place to spend the day. You'll see the signs for it (on your right) as soon as you pass the park entrance gate.  Check out the Parks Canada map to see its exact location. 
You can swim, you can walk the length of this salt-water beach, or you can simply sit, relax and enjoy your surroundings. This beautiful sandy beach is probably one of the best beaches in Nova Scotia. 
What I really love about this beach is that it is an easy walk from the Ingonish campground.  And everything is here that you could need during your day.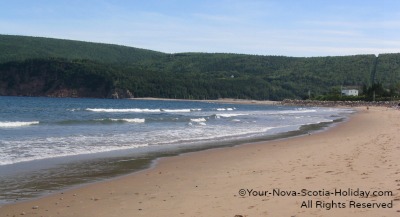 The facilities are great.  Washrooms, a canteen, change rooms.  There is a boardwalk leading from the parking lot to the beach area.  The boardwalk covers an area over very large rocks so this makes it easier to get to the sandy beach. 
A life guard is also on duty during the summer months.  The day use park has plenty of picnic tables, a large open field and a couple of tennis courts.  I played tennis early in the morning while I was camping at Ingonish campground and it was really great.
You'll see Middle Head and the Keltic Lodge to your left and Cape Smokey to your right.  The beach is nestled in South Bay and is protected (to a certain extent) from the wide open Atlantic Ocean.  However, I have been there after a storm and the waves were very impressive.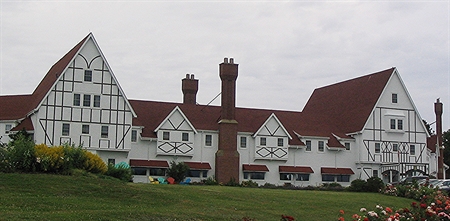 Freshwater Lake Beach
If you would prefer freshwater and you think that Ingonish beach itself is too much for the kids then just a short walk away is Freshwater Lake.  This is obviously calmer than the ocean and is much more pleasant and safe for smaller children. 
It is easy to find.  You'll see the signs just past the canteen building on Ingonish Beach.  Check out my map.

This is a great beach for the smaller kids.  The water is warmer and they aren't as many people.  But you are still not far from the array of facilities at Ingonish Beach.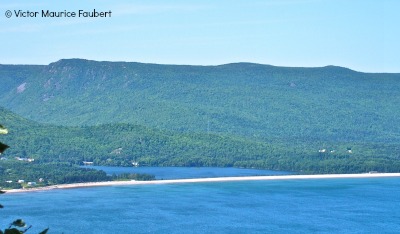 North Bay Ingonish Beach
The beach at North Bay is a bit secluded and many may not even know it is there.  There is a parks operations building in the same area.  You can access the beach just before you leave the park. 
The entrance is just across the road from the entrance to the Franey and Clyburn Valley hiking trails.  Actually, this beach is a great place to cool in the Atlantic Ocean after your hike!
This is a salt-water sandy beach.  Its length is very inviting for a long walk.  The dunes here are quite special and actually protect the sand.  So please look but don't walk in the dunes.
There are washroom facilities in the operations building which you will pass when you enter the beach area.
Broad Cove Beach
This salt-water beach is just a short walk from the Broad Cove campground.  So camping at Broad Cove with the beach only minutes away make it a great option for the family. 
This sandy beach is much smaller than Ingonish beach but it is actually a hidden gem.  It is located at the far end of the campground so watch for the signs.  The washrooms facilities are on the campground. You can see it on this map of the area.
It is good to know that there are surf guards on duty at this beach especially if you bring thre kids along.
Black Brook Beach
This sandy salt-water beach is located past Ingonish not far from Neil's Harbour.   It is not a long drive from the Ingonish area so it makes an easy day trip if you are camping in Ingonish.  I love going to Black Brook. It is not as long as Ingonish but still great. 
I think many people come here when they want to be around fewer people.  So if you are looking for more privacy then consider spending the day at Black Brook. 
If you just want to stop for a picnic or to walk close to the ocean this is also good choice.  It is very close to the Cabot Trail so it's not a detour in the least.  See my map of its location.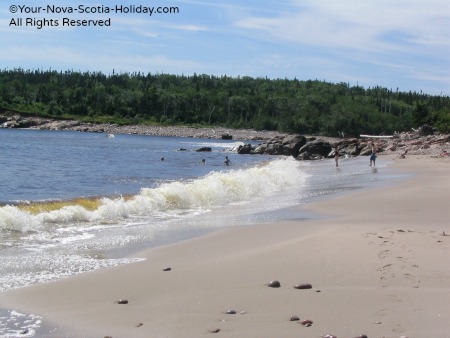 I think of Black Brook as more rugged than Ingonish.  More rocks, more trees and more driftwood.  You can also hike the Coastal hiking trail from here. 
There are picnic facilities, washrooms, change rooms, a kitchen shelter, and a playground.  There are no surf guards on duty at this beach.
Warren Lake Beach
This is the largest lake in the park and it offers a wonderful freshwater beach for the family.  The water warms up quickly in the sun and you can spend the entire day here.  I really like that there is a hiking trail (#21) around the lake.  This is a great opportunity to introduce the kids to hiking!
Picnic tables and pit privies are the extent of the services available here so pack up everything you need to spend the day at Warren Lake. 
You can find Warren Lake opposite the entrance to the Broad Cove Campground on the Cabot Trail.
Where to stay
Nova Scotia offers a wide range of places to stay throughout the provinces.  From 5-star hotels to mid-range motels to country inns to campgrounds.  There is something for everyone.  I hope my accommodations page will help you to find something perfect for your visit.
Where to eat
Like accommodations, there is a wide choice of restaurants in Nova Scotia that will fit every budget.  I love seafood and I am pleased to report that Nova Scotia has some of the best.   Would you prefer a steak, pasta, french cuisine, a cheeseburger or a pizza?  You can find all choices here. 
My 'where to eat' page offers several resources where you can find the best restaurants no matter where you are in the province.
What's Next?
Ingonish is a beautiful area.  There are plenty of shops to discover if you love shopping.
If you want to do more outdoor activities I suggest you check my Ingonish hiking page.  I give a good description of the different trails in the area.  There is something for every different level.
Perhaps you would prefer to go whale-watching??  Look at the whale-watching page and scroll down to the Cape Breton area listing.  On the east side of the island there are tours available in Ingonish, Neil's Harbour and Bay St. Lawrence.
---
---
Have you visited any
Ingonish Beaches?
Do you have a great story about it? Please share it with us!
---
---
Please share this page with your friends.