Explore Ingonish
& the Great Outdoors
Some folks call Ingonish the Gateway to the Cape Breton Highlands. I definitely agree with that! If you love the outdoors then you'll love this area. There is something for everyone here including hiking, swimming, golfing, sightseeing and whalewatching.
Where is Ingonish?
Ingonish is located on eastern side of the beautiful Cabot Trail in northern Cape Breton.    
There are 2 ways to get to here:  by taking the Cabot Trail clockwise or by taking the Cabot Trail counter-clockwise.
If you take the trail clockwise and you are in Cheticamp which is on the west side of Cape Breton and the Cabot Trail you'll be about 106 km (65 mi) from Ingonish.  If you take it counter-clockwise and you are in Baddeck then you'll be about 85 km (52 mi) from Ingonish Ferry.
There are actually several Ingonishes - Ingonish Ferry, Ingonish Harbour, Ingonish Beach, Ingonish Centre and Ingonish.  If you zoom in on the map  in the Ingonish area you'll be able to see the different Ingonishes.

Attractions & Activities
Cape Breton Highlands National Park
The main attraction in the Ingonish area is the Cape Breton Highlands National Park. The several 'Ingonishes' weave in and out of the park so often that you are never really sure if you are in the actual park.
If you driving the Cabot Trail counter-clockwise you'll need to stop at the park entrance Visitor Information Centre (VIC)  in Ingonish Beach to pay for your stay.  The prices are reasonable so decide how many days you will stay in the park and if a single or family price is better.
If you are driving the trail clockwise then you would have already paid your entrance to the park in Cheticamp.
Take the time to visit the park's new Ingonish VIC. They have brochures and maps of the park that will be a great resource for your trip.  They'll also be able to tell about any special activities happening during your visit.

Hiking
There are a wide variety of hiking trails in this area.  They vary in distance and difficulty so you should find something to your liking.  The VIC will be able to give you a map of the park which indicates the location of all hiking trails.
My page on Ingonish hiking trails will give you a great overview of the trails.
Hike the Highlands Festival is held every September in this area.  This is a fantastic 10-day event.  If you love hiking you'll want to check out this festival.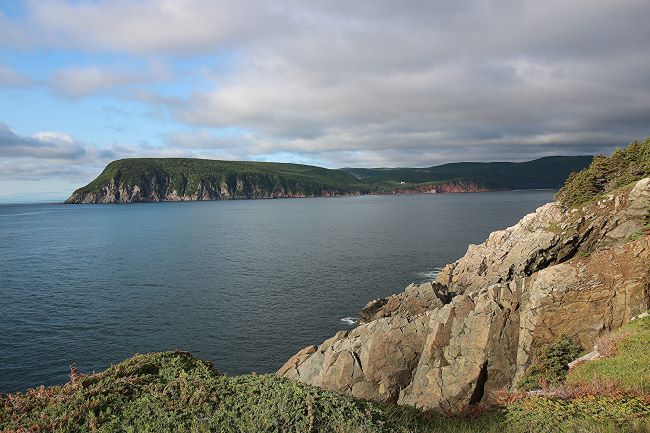 MiddleHead hiking trail looking toward Cape Smokey
Do you want your BEST vacation ever in Nova Scotia?  Contact me about my Itinerary Planning Service.  I'll help you design your DREAM vacation!!
Beaches
The beaches in the Ingonish area are some of the best on Cape Breton Island.  There are six magnificent beaches to choose from:  4 saltwater & 2 freshwater.
The saltwater beaches are:
Ingonish Beach
Broadcove
North Bay Ingonish
Blackbrook
The freshwater beaches are:
Freshwater Lake
Warren Lake
My Ingonish beaches page gives you all of the information you need to explore these beaches and to choose the best one for you.  Freshwater lake and Warren Lake are best if you have little ones.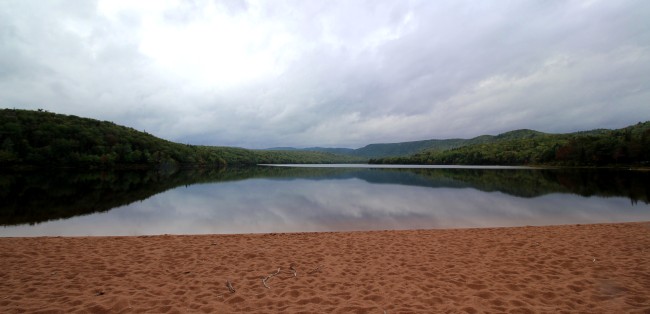 Beach at Warren Lake
Golf
The Highlands Links golf course is located in Ingonish Beach next to the Keltic Lodge.  This is a 18-hole, par 72 world-class course designed by Stanley Thompson. 
It has gorgeous views of the ocean and the Cape Breton highlands. If you are a golfer make sure you take come time to check this fantastic course. Reservations are absolutely necessary.
Whalewatching
Whalewatching is a great summertime adventure for all ages. Northern Cape Breton is a super spot for whalewatching.  Check my listing on my whalewatching page.  There are options for Ingonish and Neil's Harbour.
Neil's Harbour is about 25 minutes north of Ingonish just off of the Cabot Trail.  You'll see the signs.
Or, you can make it a full day adventure and travel to Bay St. Lawrence which is about 1 hour north of Ingonish.  Check out the map I included at the beginning of this page and you'll see Bay St. Lawrence in Northern Cape Breton.
Scenic Look-offs
There are a couple of scenic look-offs in the area that are worth exploring especially if you don't have a lot of time for a couple of hours for hiking.
Green Cove & Lakies Head

Both of these look-offs are located just north of Ingonish and can easily be found on the Cabot Trail. You can also find them on your park map.
These are great places to stop, get on the rocks and feel the salt spray of the ocean on your face.  You'll get very close to the ocean at both of these scenic spots.
Green Cove is actually considered a hiking trail, albiet a short one.  Look for #18 on your park map.
Freshwater Lake Look-off
This scenic look-off will take a little more effort.  It is a short but steep hiking trail that leads to a tiny spot that overlooks Freshwater lake, the Atlantic Ocean and Cape Smokey. 
An awesome view.  It is located just across from the VIC at the entrance to the Cape Breton Highlands National Park in Ingonish beach (#25 on the park map).
Waterfalls
Mary-Ann Waterfalls can be found deep into the highlands.  Follow the road for Warren lake and Broad Cove Mountain then turn right toward Branch Pond (#21 hiking trail) and MaryAnn Falls  You'll see indications for the falls along the way. 
There is a short trail at the falls that will lead you above the waterfalls for a great view.  They may not be big but this spot in nestled in a place far from everything.
Cape Smokey
Cape Smokey has a special place in the heart of many Cape Bretoners.  I could see it in the distance from the town where I grew up.  It was always an event to travel across Smokey.
This beloved mountain jets out into the Atlantic eager to be seen by all.  There is a wonderful picnic park at the top of Smokey. It offers truly spectacular views of the ocean and coastline.
The 10-km Cape Smokey hiking trail, also located at the top, gives a view to the north towards Ingonish.  Truly gorgeous.  Give yourself 3-4 hours to do the trail.  You'll easily find the trailhead and a map near the parking lot.
Many thanks to Victor Faubert for allowing me to use this picture.

The Cape Smokey Ski Resort has a gondola that operates all summer.  Folks can take trips to the top of the mountain and enjoy gorgeous views of the area and the coast.  There are a couple of viewing areas at the top plus a refreshments area and walking area.
Cape Smokey is one of the best ski hills in the Maritimes.  There is also a snowshoeing trail at the top.  A great winter destination.
View of Ingonish from Cape Smokey Ski Resort
Cape Smokey Gondola
Live Music & Events
As you probably know Cape Breton is alive with celtic music year-round and it seems that Ingonish enjoys some tunes as well.  
KitchenFest is a 7-day island-wide festival held at the beginning of July each year.  Check their schedule as they always have shows in Ingonish.

Celtic Colours is another island-wide festival held annually in October for 10 days to coincide with the fall colours.  They too, always have shows in the Ingonish area so be sure to check their schedule.
The Highlands Sitting Room at the Keltic Lodge in Ingonish Beach has nightly celtic music all summer long.  St. John's Parish Hall in Ingonish often hosts ceilidhs during the summer.  And the Thirsty Hiker Pub at the Glenghorm Beach Resort often has summer entertainment as well.
The Broadcove and Ingonish Beach campgrounds offer special events so check the VIC to see if anything is posted.  The VIC may also have unannounced events posted in the area.
Restaurants
There are several options for restaurants in the Ingonish area.  They include full service restaurants, coffee shops, a bakery, take-out spots and a pizza joint.  Check out Trip Advisor to get the full array of choices with customer comments.
Accommodations
There are a wide variety of accommodation options in the Ingonish area. From a camping spot, to a Bed & Breakfast, to a cottage to a high-end lodge.  Everyone can find something for themselves here. 
Trip Advisor is my go-to place for accommodations.  Check out the listings for Ingonish, Ingonish Beach and Ingonish Ferry and see what other folks are saying.
For camping there are 2 options in the Cape Breton Highlands National Park:  Ingonish Beach campground and Broad Cove campground.  

Visitor Services
The Ingonish area is a full service area with a bank, a liquor store, grocery store, restaurants, accommodations, gas stations, and a hardware store.  There are also a couple of artisan shops to visit.  Check out brochures for local businesses in the VIC at the entrance to the park.
Where to Next?
If you are continuing on the Cabot Trail in a counter-clockwise fashion your next stop is Cheticamp as you wind your way through the Cape Breton Highlands National Park.
If you are continuing clockwise then Baddeck is your next stop on the trail.
44 Awesome Things on the Cabot Trail
I have a great e-book called 44 Awesome Things to see on the Cabot Trail (+ 17 tips for along the way) that might interest you.  This book is an awesome reference for touring the Cabot Trail.  I include all of my favorite spots plus much more!
---
---
Have you visited Ingonish?
Do you have a great story about your visit? Do you want to become a part of Your Nova Scotia Holiday?
Please share this page with your friends.