Experience Margaree & 
her famous river
We'll start our tour of the Cabot Trail in the Margaree area.  Follow the Cabot Trail from Baddeck inland toward Margaree Forks.  This is a very beautiful part of the trail:  green valleys, farmland and, of course, the river.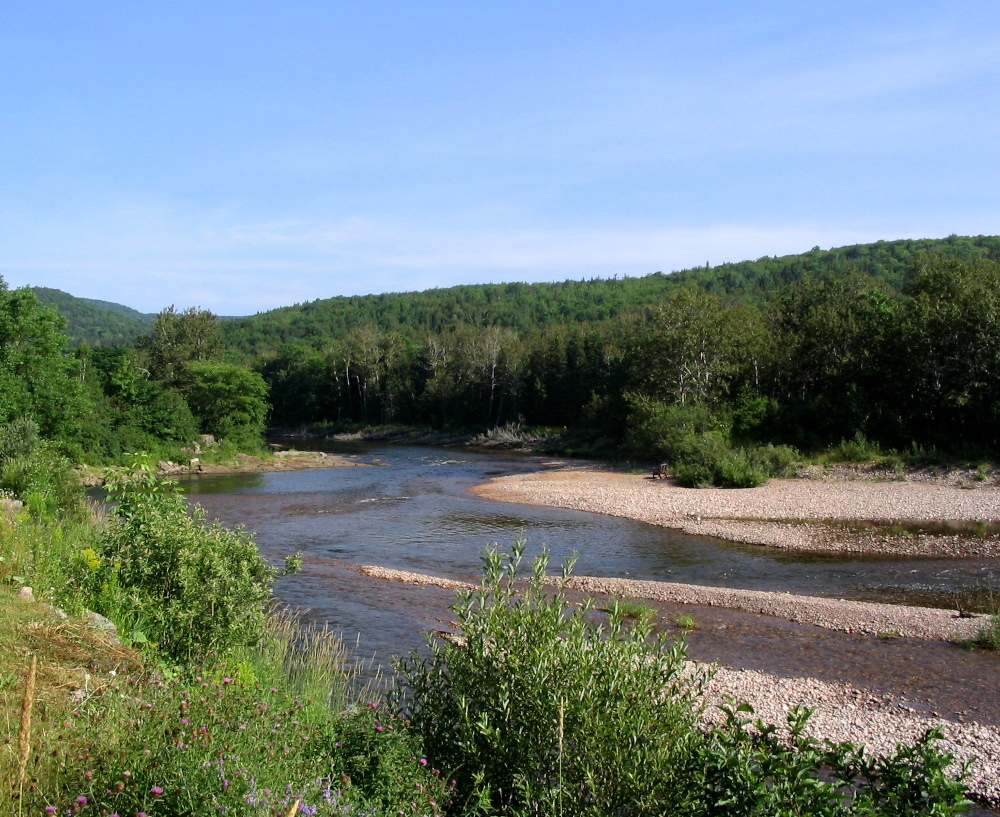 Margaree River
There are actually several Margarees:
North East Margaree
Margaree Valley
Margaree Centre
Margaree Forks
South West Margaree
East Margaree &
Margaree Harbour
They are all close to the river which makes them all very beautiful to visit.  The image below will give you an idea of the area.  Further down on this page you'll see my map of the Cabot Trail and you'll be able to zoom into the Margaree area.
The 'Margarees'
The Cabot Trails takes you toward Margaree Forks where you'll find several services here including a visitor information centre. These folks will certainly be able to help you with any current activities in the area.  
I was there a couple of years ago and heard about a salmon dinner in the local community hall. It was packed and it was delicious. 
Margaree is most famous for the Margaree River. And no wonder since this is a majestic 120km long Canadian Heritage River.  If you love fly fishing then this is the place to be.  By the way....apparently bald eagles are also seen along the river!
If you want to do some fishing in the Margaree River and if you are staying overnight in the area I suggest that you ask your hosts about local guides that can take you to the best pools to fish.  They can even help you with equipment and licenses.
Where is Margaree?
Check out my map of the Cabot Trail to see the location of Margaree and to get directions.
What to see 
There is lots more to do and see here if you are not into fishing.  Just walking along the river is wonderful.  The Margaree Salmon museum in North East Margaree (60 East Big Intervale Road, watch for the signs) is very interesting and talks about the long history of salmon fishing in the river.  This museum was actually much more than I expected when I made a visit....definitely worth a stop!
The Margaree Fish Hatchery in the Margaree Valley (115 Hatchery Road, watch for the signs) is a great place to bring the kids.  The hatchery produces thousands of Atlantic salmon and brook trout in support of the Margaree River.  Their work is necessary to keep these fish in the river. 
The Margaree Summer Festival is a great occasion to get together with friends and family.  The festival features a unique and entertaining event "Anything That Floats" race at Doyles Bridge, judging of floats, canoe race, BBQ and live music. There is an evening concert in Margaree Forks.  Always the 1st Saturday in August!!
Do you want your BEST vacation ever in Nova Scotia?  Contact me about my Itinerary Planning Service.  I'll help you design your DREAM vacation!!
The hiking trail at Eygpt Falls in Southwest Margaree is not to be missed.  This trail is not longer than 15-30 minutes but it can be moderate to difficult walking and there is a steep hillside.
The trail descends through a stand of mixed hardwoods to the beautiful waterfall. 
I have never gone to the waterfall so it would be great to hear from a reader with a story about their visit to Eygpt Falls! Check out the bottom of this page for information on how to do this!!
Three Fiddler Concert & Ceilidh
There are weekly Three Fiddler Concert and Ceilidh Dances at The Barn all summer long.  This is on the grounds of the Normaway Inn in the Margaree Valley.   Every Wednesday night in July and August and every Friday night in June and September. 
The concert generally starts at 8pm with the ceilidh following at 10pm.
Once you are ready to leave the Margarees continue on the Cabot Trail toward Margaree Harbour and the Gulf of St. Lawrence Coast.  This is a beautiful area so get the camera ready and make sure you stop for a bit.
Once you arrive at Margaree Harbour you can continue straight over the bridge and toward Cheticamp to stay on the Cabot Trail. Or, you can turn left on begin your tour of the Ceilidh Trail.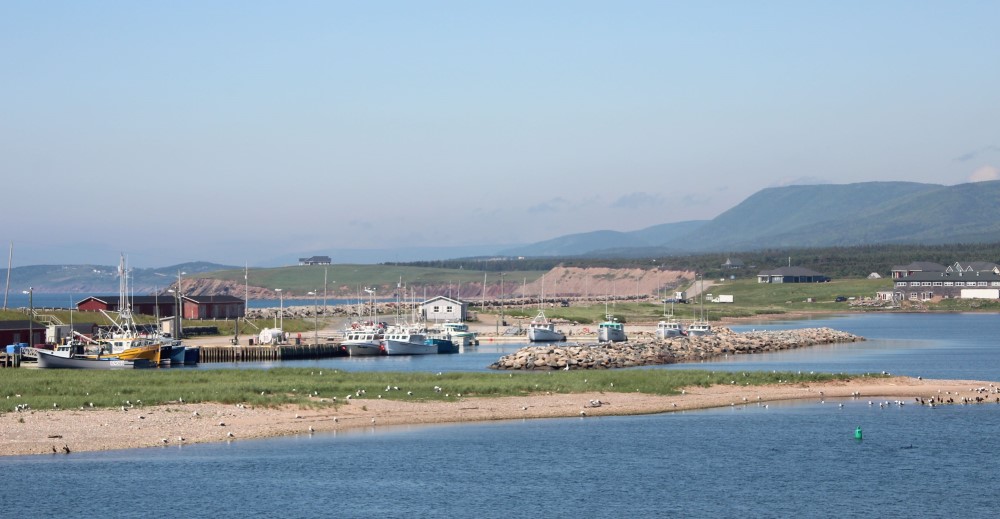 Margaree Harbour
44 Awesome Things on the Cabot Trail
I have a great e-book called 44 Awesome Things to see on the Cabot Trail (+ 17 tips for along the way) that might interest you.  This book is an awesome reference for touring the Cabot Trail.  I include all of my favorite spots plus much more!
Where to stay
Nova Scotia offers a wide range of places to stay throughout the provinces.  From 5-star hotels to mid-range motels to country inns to campgrounds.  There is something for everyone.  I hope my accommodations page will help you to find something perfect for your visit.
Where to eat
Like accommodations, there is a wide choice of restaurants in Nova Scotia that will fit every budget.  I love seafood and I am pleased to report that Nova Scotia has some of the best.   Would you prefer a steak, pasta, french cuisine, a cheeseburger or a pizza?  You can find all choices here. 
My 'where to eat' page offers several resources where you can find the best restaurants no matter where you are in the province.
---
---
Have you visited the Margarees?
Do you have a great story about it?

I would love it if you could share your story with us!
Please share this page with your friends.