Explore Cheticamp & its
Acadian Culture
The Cheticamp coastline is unbelievably beautiful.  I have driven it and I have cycled it and I am always in awe of the beauty and ruggedness along this coastline. There are some look-off spots along this stretch of the Cabot Trail so you can stop and admire the view.  Make sure you stop it is totally worth it!!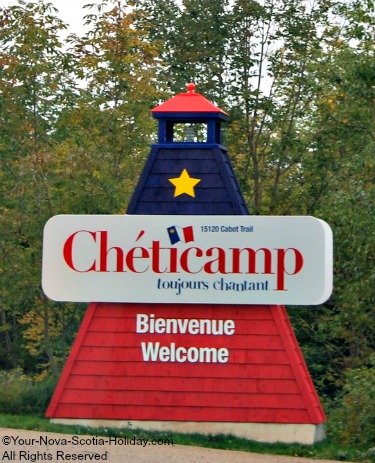 You will come across the acadian communities of Belle Cote, Terre Noire, Cap Le Moine, St. Joseph du Moine, and Grand Ētang before you reach Chéticamp.  The village is about 35 km (21 mi) from Margaree.  If you are just entering Cape Breton via the Canso Causeway it is 144 km (89 mi) from the causeway following route 19. 
Chéticamp is a full service community with restaurants, accommodations, shops, grocery stores and banks.  Chéticamp is an Acadian community and even though they are surrounded by English they have maintained their French language and culture.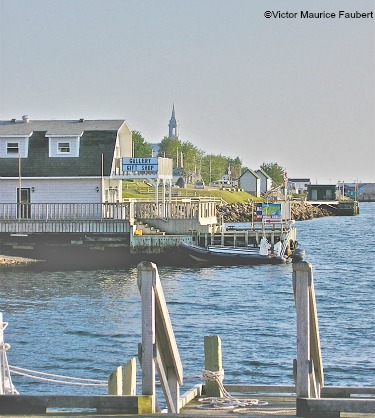 They have been relatively isolated given their location on the island and have been able to maintain unique identity. This is a special place and you are going to love it.
Chéticamp was officially founded in 1785 by 14 original settlers although the area had been used for hundreds of years as a fishing station for fishermen from the Island of Jersey.
Many families settled here in the years following the Acadian Expulsion (1755-1763) by the British on mainland Nova Scotia. Acadian culture, language and music has survived and continues to thrive in the area.
---
What to see
---
Making your way up the coast you'll come across Grand Ētang.  It is here where you will find the Mi-Carême Centre.  Have you ever heard of mi-carême?  This carnival is celebrated in the area mid-way between ash Wednesday and Easter.
This is a very rich part of the Acadian culture and it is celebrated every year.  Mi-Carême is an ancient tradition and has been celebrated in many European communities since the middle ages.
Basically, the idea is that people take a break from the penance associated with the period of Lent to have a party and to celebrate with food, music and drink.   Folks disguise themselves from head-to-toe and go door-to-door and their neighbours try to guess who they are.  They celebrate together once they have guessed and then they go to the next neighbour.
Over time folks have become very creative in their costumes.  Masks have become very colorful and have actually become an art in the community.  The Mi-Careme Centre sprang from this.  New Orleans has their Mardi Gras and Cheticamp has their Mi-Careme.
---
Les Trois Pignons is the local cultural and genealogy centre that tells the story of the area. It also acts as a visitor information centre with everything that you might need to know during your visit.  It is located at the north end of the village.....you can't miss the red roof.
You can also learn about the history of rug hooking in the community and how it became a very important part of the economy.  What was once a cottage industry has become a world-wide cultural export.   Read about Elizabeth LeFort (1914-2005) and how she started it with her special talent for rug hooking. 
She has made rugs in the likeness of the Queen, Prince Charles, Pope Jean-Paul II, Prime Minister Trudeau and Jackie Kennedy.  Her creations have been displayed in Buckingham Palace, the White House and the Vatican.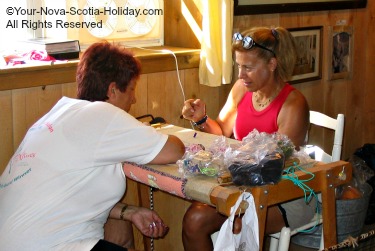 ---
The Chéticamp Hooked Rugs Coopérative Artisanale works to ensure the survival of this trade.  They have a gift shop in the middle of town where you find hundreds of designs and options for souvenirs.  They also have a restaurant and a small museum where you can have lessons in rug hooking. 
I learned how to hook rugs when I was in junior high school.  I think this is so funny since I had no idea at that time how special it was to Chéticamp.
---
St. Peter's Church (Eglise Saint-Pierre) dates to 1893.  You will see it on your right as you enter the village.  It is a beautiful structure built by the community.  It dominates the skyline of this small place and can be seen from afar.......you can see it from the Skyline hiking trail on a clear day.
---
Head over to Cheticamp Island and you'll find a great place to walk and you'll have great views of Cheticamp and the Highlands.  You'll also have a great view of St. Peter's Church and the entire village and waterfront.
The Saint-Pierre Beach & Campground is awesome and offers 144 serviced sites for motorhomes, trailers and tents.  There is a mix of wooded and open sites.  Facilities include a canteen, recreation room, playground, tennis, mini-golf and washrooms and showers.  
This is a great location with a long stretch of open beach frontage. To get to Cheticamp Island turn left onto Cheticamp Island Road just before you enter the village and watch for the signs.
Boardwalk Mathieu in the village is a very nice stroll.  It is not long but very relaxing.  There is often music on the boardwalk so ask the locals if any activities are planned.
Have you ever been whale watching? Check out my options in the area on my whale watching page.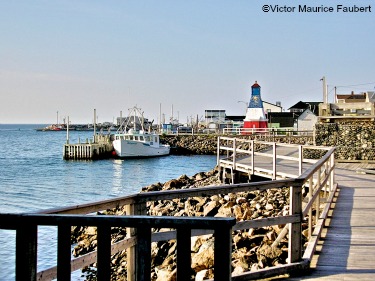 ---
Do you like to golf?  Le Portage is an 18-hole golf course with awesome views of the ocean and the highlands.  There is a driving range, a putting green and a pro shop.  Don't have your clubs?  No problem, Le Portage will take care of you! You can even have golf lessons!
---
Live Music
---
There are many options to see live music in the Chéticamp area.  The boardwalk in the middle of town often has live musicians. 
The Festival de l'Escaouette is in August and has activities with music, song and dance.  This is the best way to experience acadian culture.  Les Trois Pignons will be able to give you complete details of all activities.
There are also a couple of restaurants/pubs in the village that offer not only good food but live music.  Check out the Doryman Pub & Grill, Laurie's House Resto & Lounge and Le Gabriel Restaurant.  These are all located on the main street so they are easy to find!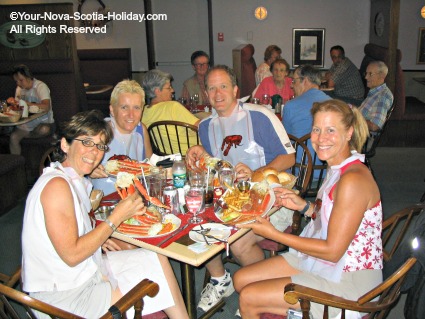 Here I am with some cycling friends (we had cycled from Margaree) enjoying fresh crab in Cheticamp.  I am the one with the bleached hair............it has more grey now!!
Return from Cheticamp to Cabot Trail