Usige Ban Falls
...gushing white water...
Have you heard of Usige Ban Falls? It is a wonderful place for a family hike and picnic.  The woods will treat you to an enchanting display of Cape Breton nature.
Usige Ban is a Gaelic name meaning 'White Water' and we were not left disappointed as a gushing 15-m (50-ft) waterfall was awaiting us.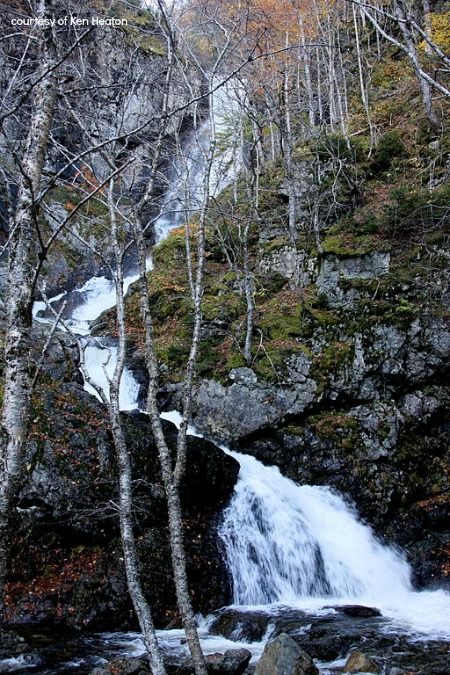 This trail is part of a provincial park so it is very well maintained with picnic and toilet facilities at the trail head, a well-detailed trail map as well as guardrails, wooden footbridges and benches along the trail.

Before you go
Directions: Take Exit 9 off the Trans Canada Highway 105 near Baddeck; you may continue straight or take the first right; either way you will see signs indicating the provincial park which is about 15 kilometres from the highway.
Distance: Each trail is approximately 3.5 kilometres.
Time: Approximately 90 minutes return for the Falls Trail and 1 hour for the River Trail. It should take no more than 2 1/2 hours to complete both trails. It can be longer depending on how long you stay to admire the falls and river.
Level of Difficulty: Easy to moderate; mostly level terrain; suitable for children (although a wagon or stroller may be useful for the return trip) and for older adults who do not have trouble walking.
What to bring: Water is always needed on any type of hike; a sweater or light jacket as it can be cool at the foot of the falls; sturdy walking shoes, sneakers or hiking boots; insect repellent may be needed depending on the time of year.
When to go: Spring, summer and fall; however, be careful in early spring due to the winter runoff from the highlands.
Special Notes: There are picnic facilities at the beginning of the trail. However, you may chose to take your picnic to enjoy at the falls, but this is less comfortable as there are no picnic tables and the terrain is rocky.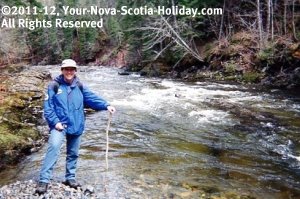 Let's get hiking
Usige Ban Falls is one of the most relaxing hikes I have done in Cape Breton and the best part is that almost any member of the family can do it.
My first trip to the falls was with 4 other adults and 4 children (the oldest being 9 and the youngest 1 1/2). The children loved it (yes, the adults did too) and had no trouble completing the walk.
There are actually 2 trails and I strongly recommend that you do both.  However, you may opt for the Falls Trail along Falls Brook (which is more like a river in the spring) which will guide you directly to the waterfalls.
The second trail called the River Trail takes you along the North Branch Baddeck River and then turns inland where you eventually meet the Falls Trail. Turn right and the trail will take you to the falls.
The trail is mostly level with some moderate uphill climbs. Don't let the word 'uphill' scare you as anyone who does not have trouble walking can easily manage this wonderful walking excursion.

The winter runoff from the highlands was at its best when we were there. We were also treated to a climax sugar maple, yellow birch and beech forest.

Some of these trees are 200 years old.

Spring usually arrives later in Cape Breton so we did not see too many flowers even though many were at the point of opening.
However, we did manage to see a few mayflowers hidden beneath their leaves.  
Walking along a river far from civilization gives us the kind of tranquillity and peace we seem to strive for in our hurried lives.
This breathtaking trail brought me this type of feeling.
I know I shall return to Usige Ban Falls year after year.
I hope this brief introduction guides you there as well during your next vacation in Cape Breton.
I would love to hear about your hike to the falls.  Check out below how you can send me your story and it will appear on this site!!
---
---
Have you hiked to Usige Ban Falls?
Do you have a great story about it? Please share it with us!
---
---