How to get to the
Fortress of Louisbourg
Many roads lead to the Fortress of Louisbourg once you arrive on Cape Breton Island. They are all scenic.
I suggest you get a map of Nova Scotia and one of Cape Breton from one of the many Visitor Information Centres in the province.
The google map below will indicate where the fortress is on the island.  The routes that you can take are detailed after the map.

4 Travel Options to the Fortress of Louisbourg
Option 1:

If you are just arriving in Cape Breton via the Canso Causeway and want mostly highway and faster roads then the best way is to access Highway 105 en route to North Sydney. This single-lane highway (there are some passing lanes) skirts along the western side of the Bras d'Or Lake so it is a very nice drive.
Once you arrive in North Sydney follow highway 125 (divided highway) to Sydney. Take exit 8 off highway 125 once in Sydney and this will take you to route 22.
Route 22 is also known as the Sydney-Louisbourg Highway. Once on route 22 follow the signs to the Fortress of Louisbourg (about 37 km or 23 miles).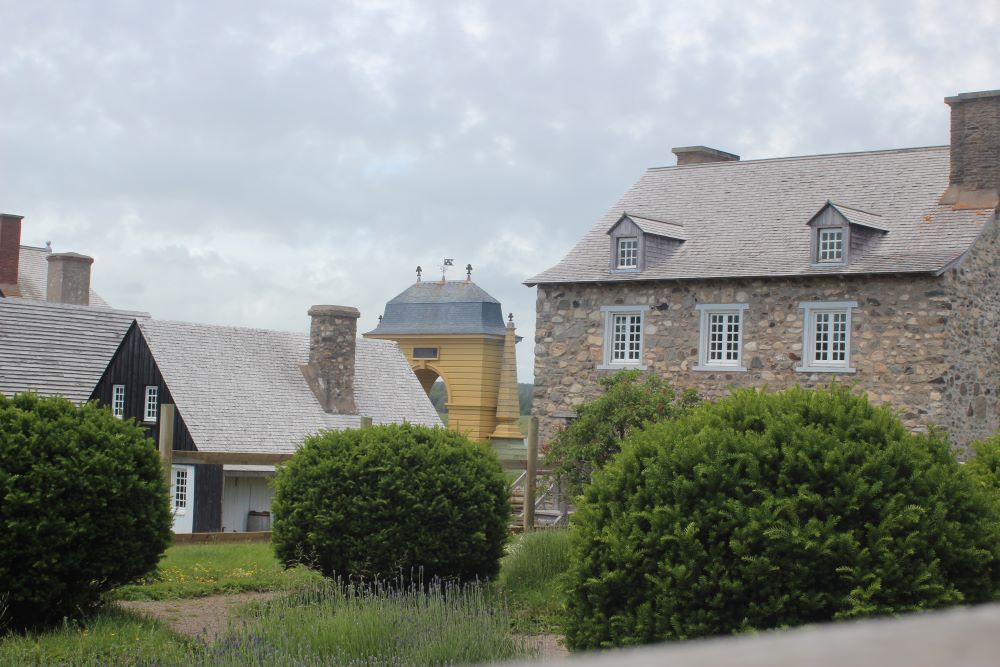 Option 2:

A more scenic route is via the Fleur-de-Lis Trail on the eastern side of the island. This scenic trail starts at the Canso Causeway and ends at the Fortress of Louisbourg, 263 km (164 miles) later.



Take route 4 from the Canso Causeway through Port Hawkesbury until you reach St. Peters. Once in St. Peters follow route 247 to L'Ardoise.
This road, the Fleur-de-List Trail, will lead through small coastal communities along the Atlantic Ocean. It is not a fast road so beware that it might be slow-going especially if you are pulling a camper.
You will travel through communities such as L-Archeveque, Frambroise, Forchu and Gabarus Lake. At Gabarus, the route number changes to 327 and turns north toward Marion Bridge.
Turn right toward Trout Brook and Albert Bridge before you cross Marion Bridge. You will drive along the famous Mira River on this road. Follow the signs to Albert Bridge until you meet up with route 22.
Follow the signs to the Fortress once you are on route 22.
Option 3:
A second scenic route is also via route 4 from the Canso Causeway. Except this time you stay on route 4 and follow the Bras d'Or Lake Scenic Drive. Total distance along this route to the Fortress is 182 km (113 miles).
You will be following the east side of the Bras d'Or Lake and will travel through the communities of Barrahead, Johnstown, Irish Vale, Big Pond and Ben Eoin. This is a very picturesque drive.
However, the road is hilly and full of curves so it is not fast. Follow route 4 until Sydney River, take highway 125 and then exit 8 to route 22 and follow the signs to the Fortress.

Option 4:
If you find yourself in Glace Bay you can make your way to Louisbourg via the Marconi Trail. This trail follows the most eastern coast of Cape Breton through some of the most remote and rugged coastline that you will find in Nova Scotia.
Take route 255 from Glace Bay toward Donkin, Port Morien and then on to Mira Gut. Through Mira Gut you will follow the impressive coastline of Mira Bay.
Follow the signs to Main-a-Dieu and then Little Lorraine and Big Lorriane and finally, to the Fortress of Louisbourg. The Marconi Trail from Glace Bay to Louisbourg is 60 km (37 miles).
However, these are country roads so they are slow and you may wish to stop many times to enjoy the scenery.
Hope this information is helpful!


---
---
Have you visited the Fortress?
Do you have a great story about it?

I would love it if you could share your story with us!
---
---
Please share this page with your friends.