Enjoying a Full Day at
Peggys Cove
Some folks only take a morning or an afternoon to visit Peggys Cove. This is not how I vacation – take your time to fully experience all that this magical place has to offer. My advice is to plan the whole day.
Remember you are on vacation so......slow down and enjoy the beauty around you!
Here are my favorite "7 Must-Dos" when I visit.
1. Peggys Cove Lighthouse 
Folks say that the lighthouse at Peggys Cove is the most visited and photographed in North America.
I am not sure if this is true but I am sure that it is beautiful and worth a photo or 2!
Sitting at the entrance to St. Margaret's Bay, this beacon has been guiding sailors and fishermen since 1868. The current lighthouse was built in 1915 and sits atop massive boulders which is the uniqueness in this special place.
It is probably one of the most recognized lighthouses in the world.
One of the most special things about it is the post office that once operated through the summer months. Visitors loved this! It was quite special to send and receive a postcard 'stamped' Peggys Cove!
Let me know if you ever find one of these. I would love to have a photo for the website.
By the way, I also want to show lots of photos of people in front of the lighthouse so please send them along too!
2. Roaming the rocks
The best memory I have of 'roaming the rocks' is from several years ago. I was visiting my brother, his wife and their 2 sons during the summer. I wanted to go to Peggys Cove. 
I found out later that my nephews were not that happy about going BUT once they got there......they changed their tune!
They loved it! We walked everywhere, they jumped from massive rock to massive rock and we took plenty of pictures.....we had a great time. 
I cannot tell you enough that you must enjoy the rocks. They are quite impressive!! Massive granite boulders worn smooth by the crashing waves of the Atlantic Ocean.
Just sit for awhile and stare at the ocean. I get memorized by the crashing waves at Peggy's Cove.  They are always different, always unique!
Please be careful by not getting too close to the ocean when you are roaming the rocks. Rogue waves do occur and can be very dangerous!
Do not leave young children unattended.
You can take as long as you want to 'roam the rocks' simply because there are so many of them. Enjoy the wind in your face and the ocean at your feet!
3. Viewing platform
There is a new accessible viewing platform at the lighthouse.  This makes it easier for folks with mobility issues to admire and enjoy the area.  It is a great addition to Peggy's Cove.
4. Swissair Memorial Site
I am sure most of us remember the Swissair Flight 111 disaster of 1998. I was actually in Cape Breton when it happened. The people of Peggys Cove and those living around St. Margaret's Bay will be forever marked by this tragic event.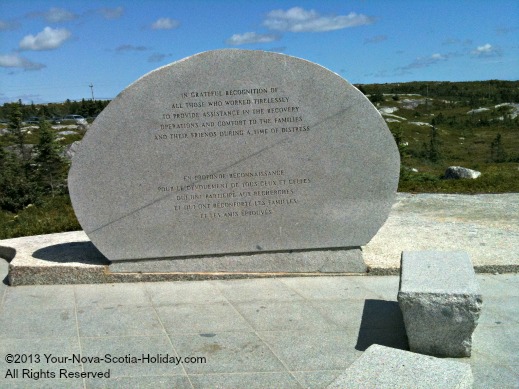 Two touching monuments have been erected in memory of those who lost their lives on that terrible September day.  The first is located about a kilometre from Peggys Cove at Whalesback and, the second across the bay at Baywater. 
I have visited both memorials and can honestly say that I have rarely been so moved by a man-made monument. Simple, elegant and stonic are the words I would use to describe the two sites.
Pictures cannot come close to feeling the emotion of being there. If you can, please take the time to visit.
The monument reads:
In memory of the 229 men, women and children aboard Swissair Flight 111 who perished off these shores September 2nd, 1998. They have been joined to the sea, and the sky. May they rest in peace.
5. Monument to Nova Scotia Fishermen
It would not be possible to go to Peggys Cove and not visit the monument to Nova Scotia fishermen. This is a sculpture like no other because it was carved into a large wall of rock. I just find this notion unbelievable.

Have you ever heard the name, William E. deGarthe?  William was from Finland. He emigrated to Nova Scotia in 1926 and found a new home.
William had a special place in his heart for fishermen and carved this monument as a lasting memorial to those who harvest the ocean. Unfortunately, William died before he was able to finish.
It is a memorial that will last forever. It depicts 32 fishermen, their families, Peggy of the Cove and, of course, St. Elmo who is patron saint of sailors.
The William E. deGarthe Memorial Provincial Park is located in the village. His home is now a museum located beside the monument. The museum displays 65 of his paintings.
The memorial plaque reads:
Fishermen's Monument
by William E. deGarthe, Artist & Sculpture
This work of art is a lasting memorial to the gallant men of Peggy's Cove, Nova Scotia, who harvest our oceans. The monument depicts from left to right: Fisherman's Family; Peggy of the Cove; Fishermen at work.
This monument was donated to the Province of Nova Scotia by Mrs P. Anges deGarthe in 1984 in accordance with the wishes of her late husband, Wlliam E. deGarthe.

6. Explore the Village on Foot
I have always believed that the best way to visit a village is by foot. Whizzing along the streets in a car is not my idea of visiting. Exploring all of the wonderful little places that a place like 'Peggy's Cove' can have is a great way to spend an afternoon.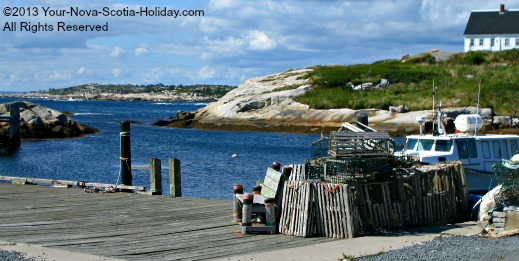 Check out the harbour and the colorful fishing boats. Don't forget your camera. The weathered old buildings are my favorite. The shingles become an old greyish color because of the salt spray from the ocean.
Everyone on vacation loves to shop. The Beales' Bailiwick and Peggy's Cove Gift Shop are little corners where you will definitely find momentos of your trip. The Neil Nepew Watercolour Gallery is also worth a visit.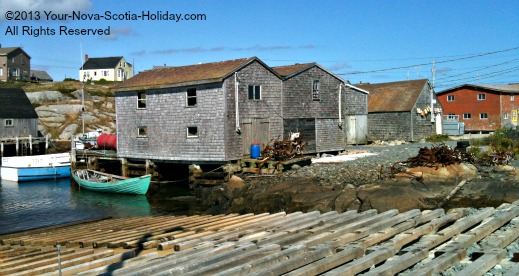 7. Sou'Wester Gifts & Restaurant
There is only 1 restaurant in the village called the Sou'Wester Restaurant & Gift Shop.  They specialize in seafood and it is excellent. I always have a lobster roll when I am there.   
However, it can also be very busy so a little tip is to plan your restaurant stop outside of regular meal times. The Sou'Wester is also open year-round.
The gift shop is probably one of the best that I have explored in Nova Scotia.  There are lots of ideas for keepsakes from your Peggy's Cove visit.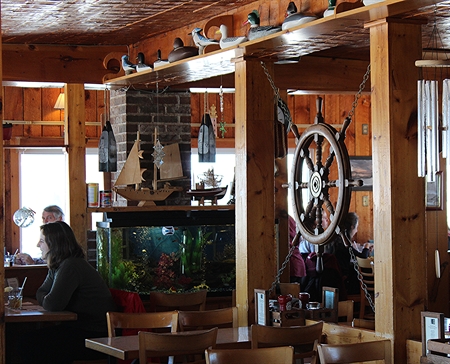 The Sou'Wester Restaurant
Where to next?
Continue on the Lighthouse Route and discover the Lunenburg area, The Ovens, Blue Rocks and the Gaff Point hiking trail. 
Have you visited Halifax yet?
---
---
Have you visited Peggy's Cove?
Have you visited Peggy's Cove?

I would love to hear about it!! Create your own page, add a picture and share your visit with us!!
---
---
Please share this page with your friends.