Pier 21
Canada's Immigration Story
Pier 21 tells the Canadian Immigration story. Located on the Halifax Waterfront, this has become Canada's newest museum, the Canadian Museum of Immigration.
Did you know that 1 in 5 Canadians has a connection to Pier21?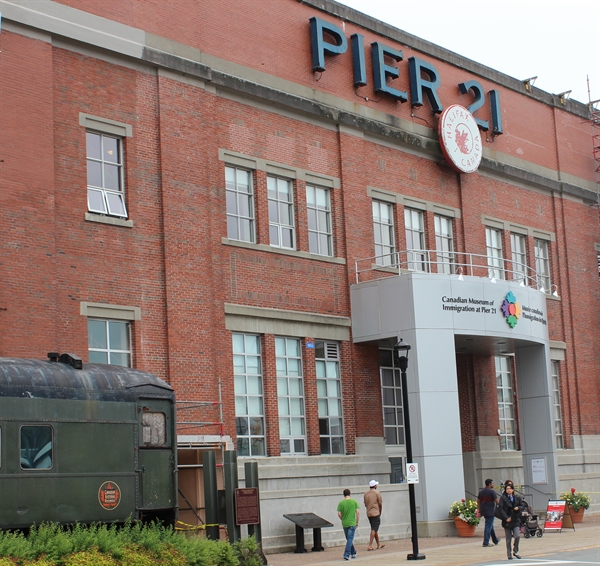 Did you also know that between 1928 and 1971 Pier 21 saw 1 million immigrants and 500,000 Canadian military personnel within its walls? 
This is incredible and the stories behind these numbers are also incredible.  The foundations of Canada were being built and Pier 21 was there to play an important part! 
Canada is a country of immigrants and nation builders and many of them saw Canada for the first time in Halifax on Pier21.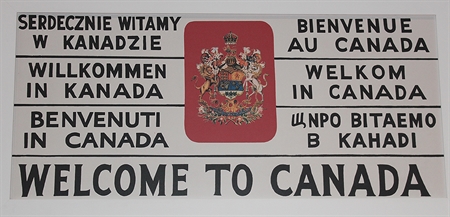 This historical place is linked to Canada's multicultural national identity.  Immigrants included refugees from worn-torn countries, war brides and their children, evacuee children and misplaced persons. 
Most of Canada's troops that went oversees to fight in WWII came through Pier21.
This wonderful place tells their stories.  There are interactive exhibits, multi-media presentations, oral histories, films, displays and photos that recount all of their stories.  I really enjoyed the short film that in shown throughout the day which depicts the Canadian immigrant story.

Evacuee children & War brides
I had no idea that 3000 British evacuee children landed at Pier21 during WWII. 

Britain was in fear of being bombed by the Germans and they wanted to protect their children. 

The difficult decision was made to evacuate and Canada opened its doors. 

I think this is a little known fact to Canadians.

Can you imagine that 48,000 war brides with their 22,000 children came to Canada after the war?  These new Canadians saw Canada for the first time at Pier 21.  This remarkable museum tells their stories and displays their artifacts and pictures.
The wall facing Halifax harbour is lined with large windows so you can see where the ships would have entered the harbour.  I found this to be very poignant and I lingered there a long time. There is a great view of the lighthouse on Georges Island located just across from Pier 21.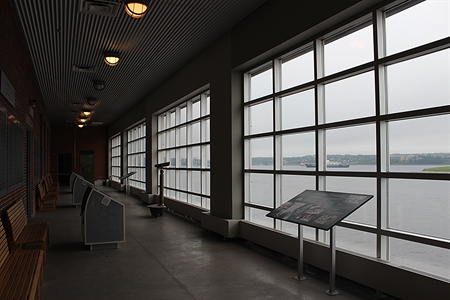 The exhibits throughout the museum are wonderful and give a great sense of what it might have been like at Pier 21.  I enjoyed looking at the photographs of immigrants just arriving in Halifax.  The look of bewilderment in their eyes and excitement at the same time.  
Many of these people, many with small children, were displaced in their home countries and came to Canada looking for a better life.
Thousands of soldiers left for overseas via Pier21.  Many would not return.  War brides and their children would take their place.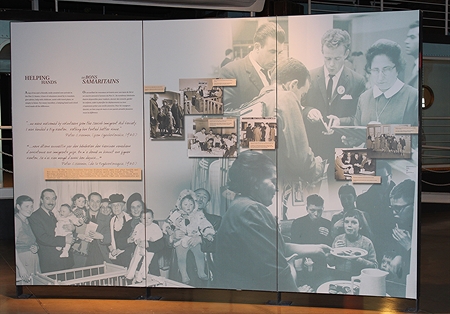 Pier21 Research Centre
The Scotiabank Family History Centre offers services where you can research to find names of immigrants and when they arrived.  The research centre is happy to help everyone who comes through their doors.  You can also make contact with them online.  Lists of ships are available as well as passenger listings.
One of the most fascinating parts of the museum is the online culture trunks section. Folks like you and me can sponsor a trunk and tell the story of a group of immigrants from a specific country.  Currently, there is an Italian trunk, a Netherlands' trunk and a Hungarian trunk.
The museum even has a travelling road show.  They travel the country and send up exhibits in museums.  This is an interesting idea and certainly brings the museum to Canadians who might never get the opportunity to visit Halifax.  Many are probably immigrants themselves.

Your Canadian Immigration story
Pier 21 always wants to hear stories from the public. The museum is dedicated to hearing and gathering stories from Canadians about their family's immigration to Canada. 
If you have an immigration story go to their website.  They definitely want to hear from you.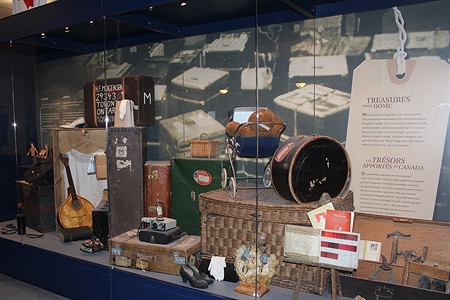 Pier 21 Visitor Information
Location: Pier 21 is located on the Halifax Waterfront at 1055 Marginal Road
Museum Hours:  From early May to the end of October the museum is open 9:30am to 5:30pm
Admittance:  There is an admittance fee for the museum.
Services: The museum is fully accessible and has wheelchairs available for visitors. There is also a gift shop with a wide variety of items.
Pier 21 website:  The museum's website is filled with useful information about Canadian immigration so I would encourage you to browse their pages.  But please come back and see me and write a note about your visit to Pier 21!

Finding Pier 21
My Halifax map will help you to find Pier 21 and to see what else is close by.
Where to Stay
There is a wide variety of places to stay in the city and in the surrounding areas. Check out my Halifax Hotels page!
Where to Eat
You will find many fine restaurants in Halifax. The restaurant scene has grown a lot over the last couple of years and there is something for everyone!
Check out my Halifax restaurants page. There are several resources listed to help you find a great place to eat.
More to see in Halifax - There is lots to do in this awesome city.  Check out my Halifax pages for more attractions.

---
---
Have you visited Pier 21?
Do you have a great story about your visit to this magical place? Do you want to become a part of Your Nova Scotia Holiday?
Please share this page with your friends.