Celtic Colours
International Music Festival
'15 tips'
The Celtic Colours International Music Festival held every October in beautiful Cape Breton is a spectacular festival.  If you love all things celtic and if you enjoy natural landscapes and the seacoast then this is the festival for you!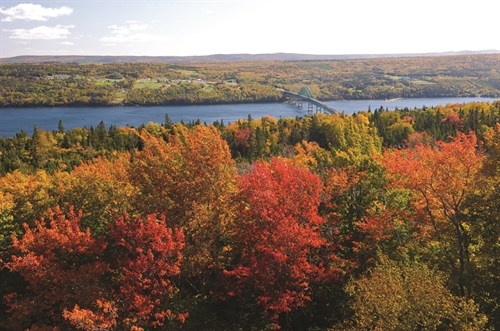 View of the Seal Island Bridge from Kelly's Mountain
And the friendliness of folks from Cape Breton along with their mix of Scottish, Acadian and Micmac cultures will surely pull your emotional strings.
I have put together a list of tips for you when you attend this fantastic festival.  This is 9 days of dozens of concerts and events all over Cape Breton Island so being organized is important. 
I don't want you to miss anything. 
#1 - The first thing to do is to visit the Celtic Colours website.  The dates of the festival are posted on their website well in advance.  The website will also tell you when the artist line-up & schedule will be announced (usually in June) & when the tickets go on sale (usually in July).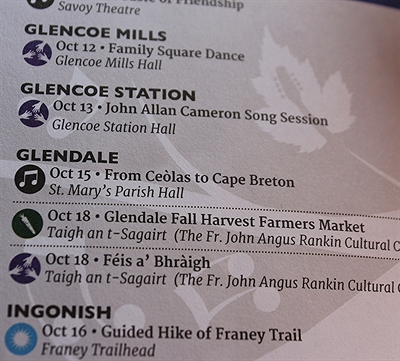 Sample of Celtic Colours Schedule
#2 - Review the artist line-up and schedule and start to make a plan of what you would like to attend.   Also, look at where the events take place.  You don't want to buy tickets for 2 events that are on the same day but are located at opposite ends of the island.  There is a venues map on the Celtic Colours website which should help.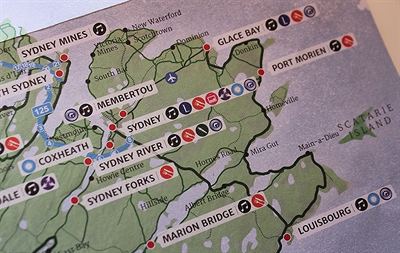 Celtic Colours Communities
#3 - Buy your tickets on-line as soon as possible once you make your decisions of what you want to see.  Some of the venues are small so the small number of tickets could sell out quickly. 
#4 - Book your accommodations!  This is very important & should be part of your planning.  I have a link to accommodations at the end of this page.
#5 - Don't forget to get your souvenir program at your first concert. There will be a map of Cape Breton included.  The program booklet is great because it gives a description of all of the concerts and events.  It also gives contact information for the events.  The map of Cape Breton is awesome since it shows you where all events are located.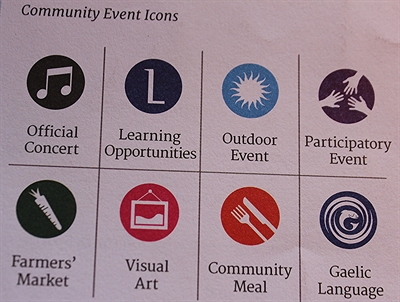 Look for these icons when planning your itinerary
#6 - Make sure you know the location of your events & how long it will take you to get there.  This may seem obvious but I made the mistake of not checking where an event was and arrived just as the concert was starting.
#7 - Do not leave before the end of a concert.  There is always a grand finale with all of the artists on stage and they are fabulous.  Sometimes, the artists will also start to dance even though it was not planned as part of their performance. 
#8 - There is usually an intermission during the concerts.  Often, the local community group that is hosting the event is selling tea, cookies, water, sandwiches.......so the tip is to always have some cash with you.  Supporting these local community groups is a special part of Celtic Colours.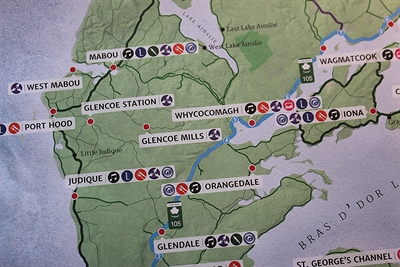 Celtic Colours Communities
#9 - The same thing is true for artist CDs and Celtic Colours souvenirs.  They are usually available to buy during intermission.  You may be able to buy with a credit card but this is not always the case.
#10 - Check to see where the community meals are and if you are attending another event nearby.  Some of community meals include a celtic breakfast; homemade fishcakes & baked beans; haddock dinner with seafood chowder; baked ham & scalloped potatoes; Acadian cuisine; and, of course, lobster!
#11 - Check to see what other events are happening.  I took a fiddle lesson and a guitar lesson when I was there.  It was a small group and it was a lot of fun. 

Dwayne Cote was our instructor. He is a gem and is one of the best fiddlers on the island.  Having a lesson with him was unbelievable.

Dwayne Cote
There are also hiking events, community square dances, lectures on celtic history, and milling frolics, etc.  Your souvenir booklet will have a complete list and there is a list on the Celtic Colours website as well. 
#12 - Go to a non-conventional place to see a concert.  I saw a concert called 'String Fever' in a church with a beautiful wood interior.  The sound was remarkable and the ambience was very special.  The festival has many different choices of venues for their concerts. 
The Fortress of Louisbourg Chapel always hosts a concert.  The Alexander Graham Bell Museum in Baddeck hosts several events as well.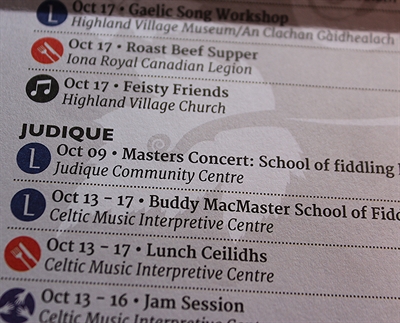 Judique is a hot spot during the festival
#13 - Schedule a night to go to the Festival Club at the Gaelic College in St. Ann's. This starts late in the evening when all other concerts have finished.  It is a pub atmosphere where there is lots of dancing, drink and food.  The artists who perform are by invitation only and are not announced in advance.  This is a wild evening and a lot of fun.  It can go until 3am.
Make sure you keep your ticket stub from the concert you attended that day because your entry price will be cut in half!  There is also a shuttle bus that runs from the hotels in Baddeck to the Festival Club so you don't need to worry about transportation.
#14 - Do you play a musical instrument?  If yes, then bring it with you.  There are JAM sessions in several areas around the island during the festival.  These are generally FREE.  Check the schedule and check it out!

#15 - Make sure you take a day to travel the Cabot Trail or the Ceilidh Trail to see the fall colours.  They are at their height during the festival and are absolutely majestic.  They seemed to get brighter and brighter as the week went on I was there.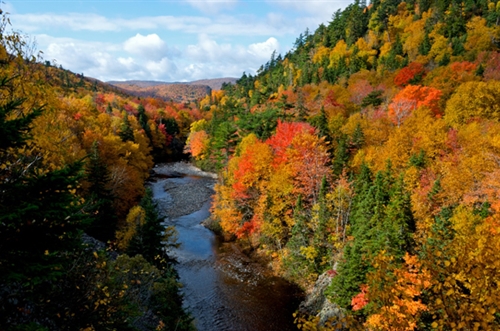 Fall Colours along the Cabot Trail
---
Celtic Colours Visitor Information
Location:  The Celtic Colours International Festival is located on Cape Breton Island in the province of Nova Scotia in Eastern Canada.  The festival events are held in communities throughout the island over a period of 9 days.
Dates & Schedule:  The festival is held each October at the height of the beautiful fall colours.  The official Celtic Colours website posts the dates well in advance and also announces when the event schedule will become public and when tickets can be purchased.
Events: There are dozens of events during this festival.  The vast majority are musical but there are also community meals, learning opportunities, and outdoor activities.
Accommodations:  There are a wide variety of accommodations in Cape Breton.  I advise that you look what is available and your best location to be given the concerts and events that you wish to see.
I have partnered with Trip Advisor to help in your search!  Don't wait too long to book since Celtic Colours is a very busy time of year!
Find the best deal, compare prices, and read what other travelers have to say at TripAdvisor about Cape Breton accommodations.
---
I have several stories about Celtic Colours so be sure to go back to my main page for more.

---
---
---
Please share this page with your friends.
---