The Halifax Town Clock
watching the city since 1803

The Halifax Town Clock is perhaps the second pride of the city after the Halifax Citadel. It towers over the downtown core holding everyone in 'perfect time'. Some folks refer to it as the Old Town Clock or the Citadel Clock Tower.
It has stood over Halifax for over 200 years as a gift from Prince Edward, Duke of Kent. Prince Edward was the Commander-in-Chief of British Forces in North America and was stationed in Halifax for about a year until August 1800.
One interesting note about the Prince….he was Queen Victoria's father!
Upon leaving in 1800 he gave a parting gift to Halifax…..a town clock overlooking Brunswick Street. He was apparently obsessed with being punctual and thought that Halifax needed help in this regard.
Designed by Prince Edward's engineer in 1801, the Old Town Clock is a three-tier octagon tower set atop a Palladian-style building. Its signature timepiece bears the craftsmanship of the House of Vulliamy, a famous family of royal clockmakers based in London.
The clock was completed in 1803 and has stood high above the downtown area ever since. Is wound twice weekly and keeps Haligonians punctual!
It has undergone several restorations over the years and Parks Canada did major reconstruction on the clock in the 1960s. It is especially remarkable that the original clockworks are still intact and work perfectly.
The clock has watched Halifax prosper and grow. It has seen her in good times and in bad! It really is a Halifax icon and can easily be recognized in pictures.
It witnessed the aftermath of the Titanic tragedy, the Halifax Explosion and countless soldiers and sailors leaving the harbour for wars far away! She continues to be here when they return!
Look for the iconic clock when you visit the Maritime Museum of the Atlantic. It is a proud and colorful part of the Theodore Tugboat exhibit.
Finding the Halifax Town Clock is not difficult given its prominence in the city. Once on the waterfront, look towards the citadel and walk straight up the hill. You can't miss the clock once you arrive at Brunswick Street. There are stairs in front of the clock.
Once at the top turn around and you'll have a great view of the downtown area and the waterfront. You can continue further to the top of the Halifax Citadel and you'll have an even better view. Be warned: this is a steep hill!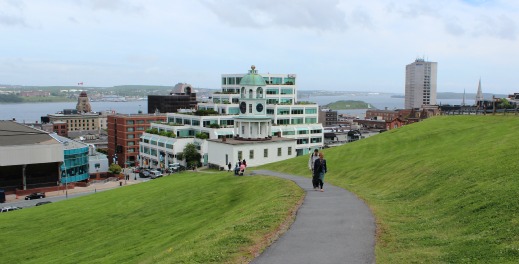 This clock is very special to Halifax and I cannot image a visitor not taking a picture of it! I hope you enjoy my pics!
---
Return from Halifax Town Clock to Halifax
Return from Halifax Town Clock to Your Nova Scotia Holiday

---