The Halifax Harbourfront
...yours to discover on foot...
The Halifax harbourfront is the centre of activities all summer long in Halifax. The harbourwalk is a wonderful 4-km boardwalk that stretches along the waterfront for 10 city blocks from Casino Nova Scotia to the Canadian Museum of Immigration at Pier 21.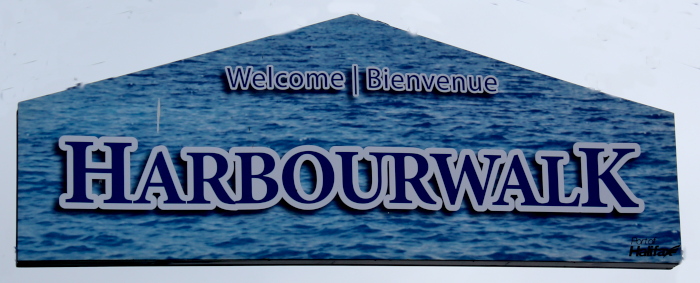 What I especially like about the Halifax harbourfront is that you can visit so many interesting things along the way. Nova Scotia Crystal, specialty wines, unique jewelry, historical photos and rum cakes are just a few of the treats that you'll find along the boardwalk.
Can't forget the ice cream spots, restaurants, shops and terraces. There is even a beach volleyball area set-up! I can literally spend hours strolling along here.
Do you want to go for a sail in the harbour?
Wondering what to do with the kids? 
Need to shop for some Halifax souvenirs?
Want to dine on the waterfront?
Keep reading to see how you can experience all of this and more!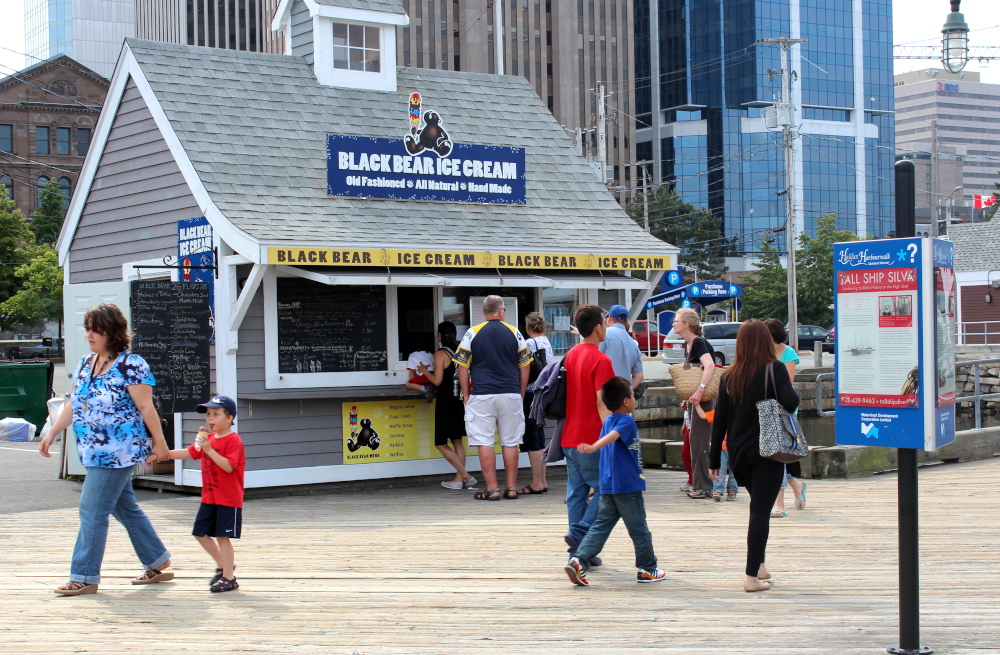 Ice cream on the waterfront
First things first - one of the best things to do before your visit on the boardwalk is to get a map.    
Download this map for free.  It will show you where all the best attractions are located.  It will also show you the location of the visitor information centre (VIC), public washrooms, parking areas and marine services.  The VIC on the boardwalk will also have maps of the area.
And you'll find the map below on display along the waterfront.  The best of both worlds.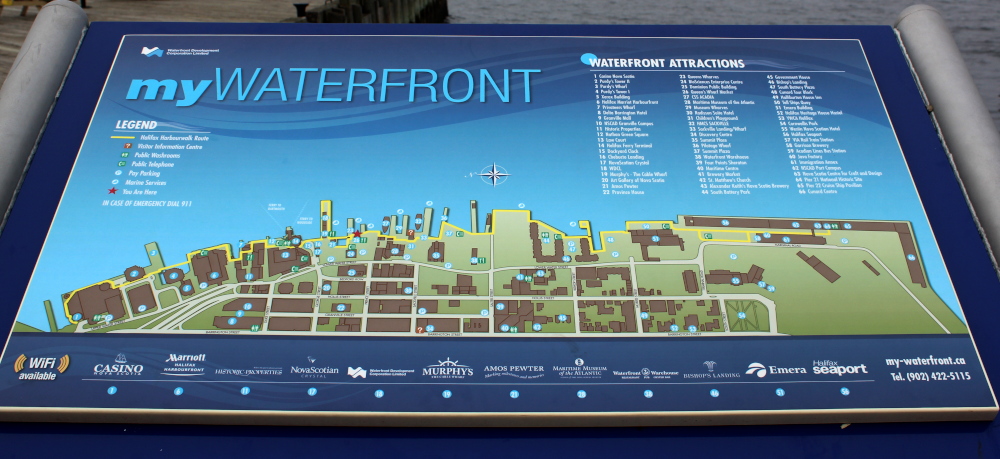 Halifax waterfront map
Halifax Harbourfront Historic Properties
The north end of the boardwalk starts at Casino Nova Scotia and then continues south. The first landmark you'll see are the Historic Properties or Privateers Wharf as some folks call it. This is a special place since the history of the city really started here.
It was built in the late 1700s and has seen its fair share of merchant ships, privateers and navy ships. Halifax seafarers used these buildings to sell and store their goods.  Most of the buildings are now inter-connected which makes it easy to visit.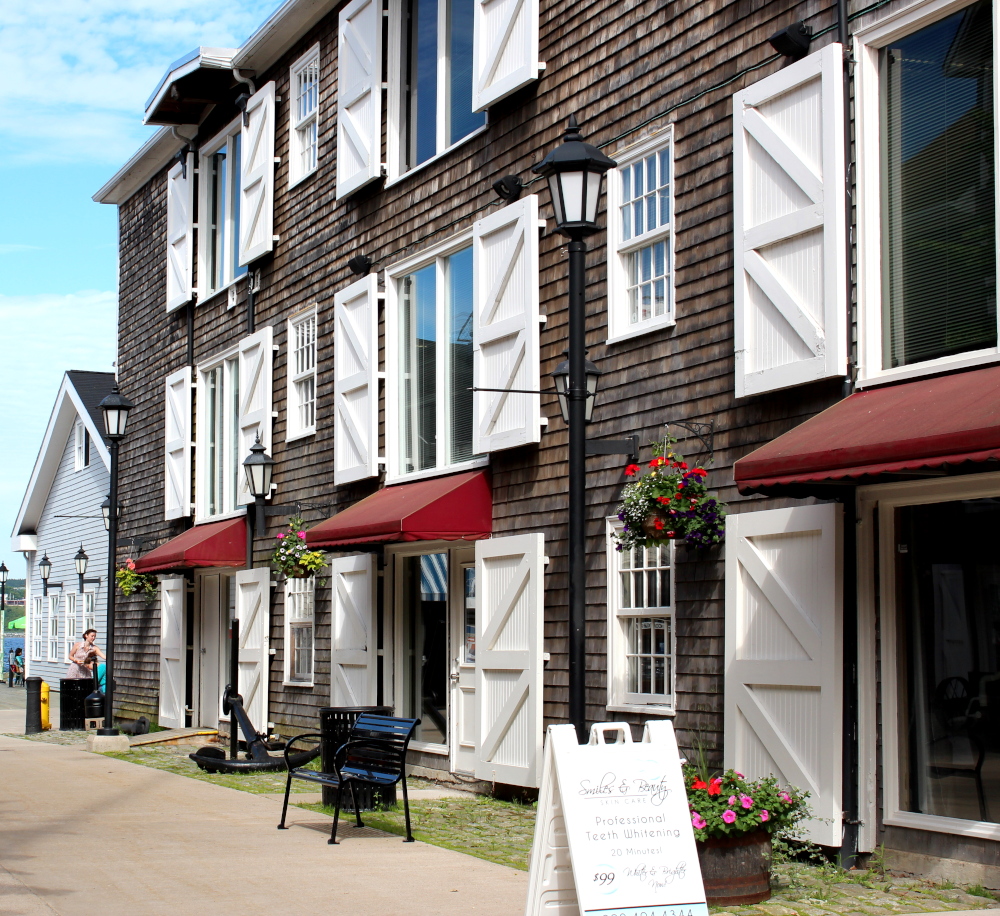 Historic Properties
You will find restaurants, bars, boutiques, coffee shops, a bookstore and even a barber shop at the Historic Properties. I think that many people actually see the historic properties as the cornerstone of the Halifax harbourfront.
These buildings were slated for demolition years ago and some 'forward looking' folks simply would not let it happen. We're glad they did.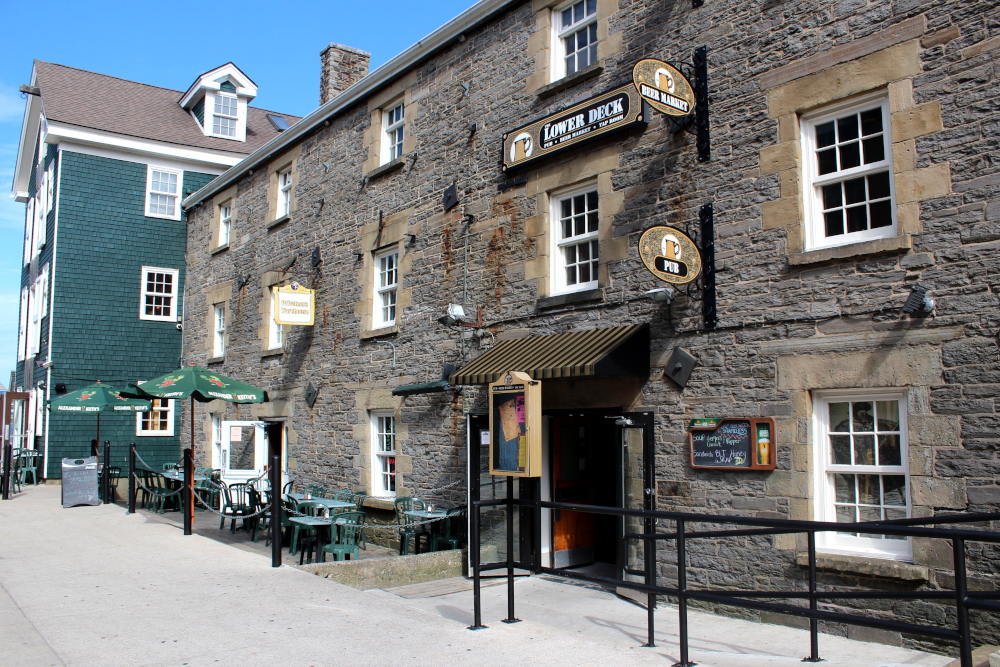 Lower Deck Pub on the Historic Properties
Halifax-Dartmouth Ferry
Chebucto Landing is not far from here and it is here where the Halifax-Dartmouth ferry arrives.  This is a great way to get into the city.  Actually it is a fantastic way since you are arriving directly on the Halifax harbourfront!
This is the oldest continuous running salt water passenger service in North America.  Halifax commuters love it and tourists too!
If you zoom in to my Halifax map you can easily see the route of the ferry and where you can get it on the Dartmouth side of the harbour.  There are 2 locations for the 2 ferries in Dartmouth:  Alderney Ferry Terminal at 88 Alderney Drive and the Woodside Ferry Terminal at 9 Atlantic Street.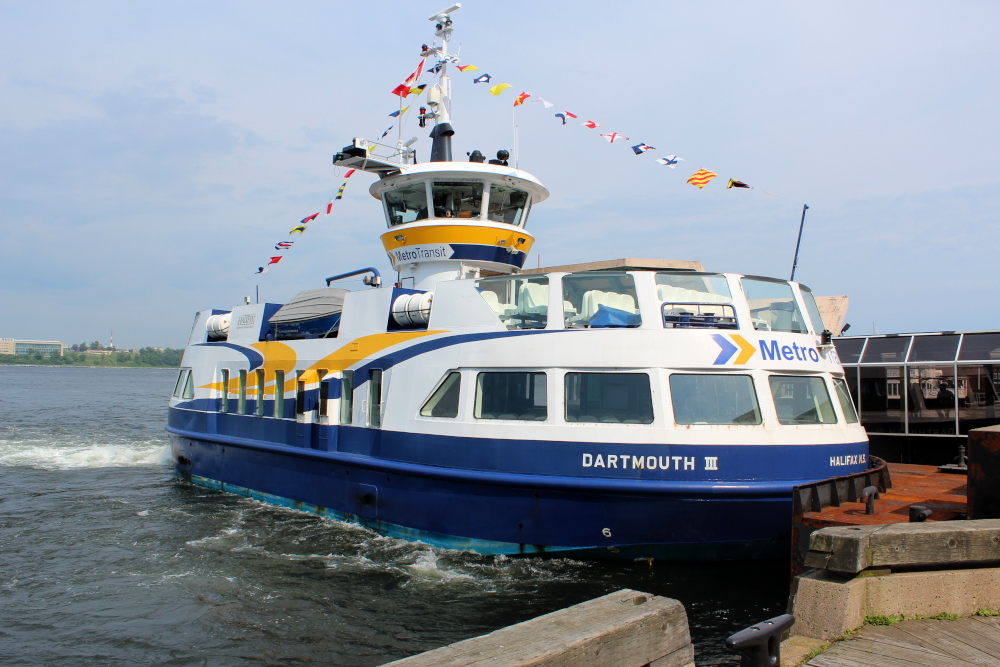 Halifax-Dartmouth Ferry
Essential Information
Fares for the ferry are very reasonable:
Schedules:

The schedules are quite good but change at certain points during the day. I think the best thing to do for the most up-to-date information is to consult their schedules which are online at Halifax Transit.
Park & Ride:
There are also various places for parking.  Some are free and some where you must pay!  You can also access this list on the Halifax Transit site.
The Cable Wharf
The Cable Wharf is next.  This is a great place to check out if you want to go on a tour of the harbour.  There are several choices:
Whale watching
Deep-sea fishing
Tall ship sailing including cocktail cruises and moonlight cruises
Dinner cruise on a 2-story Mississippi-style vessel
Tour of Halifax on land and sea with the amphibious vehicle called the Harbour Hopper
Day sails to Peggy's Cove are also possible here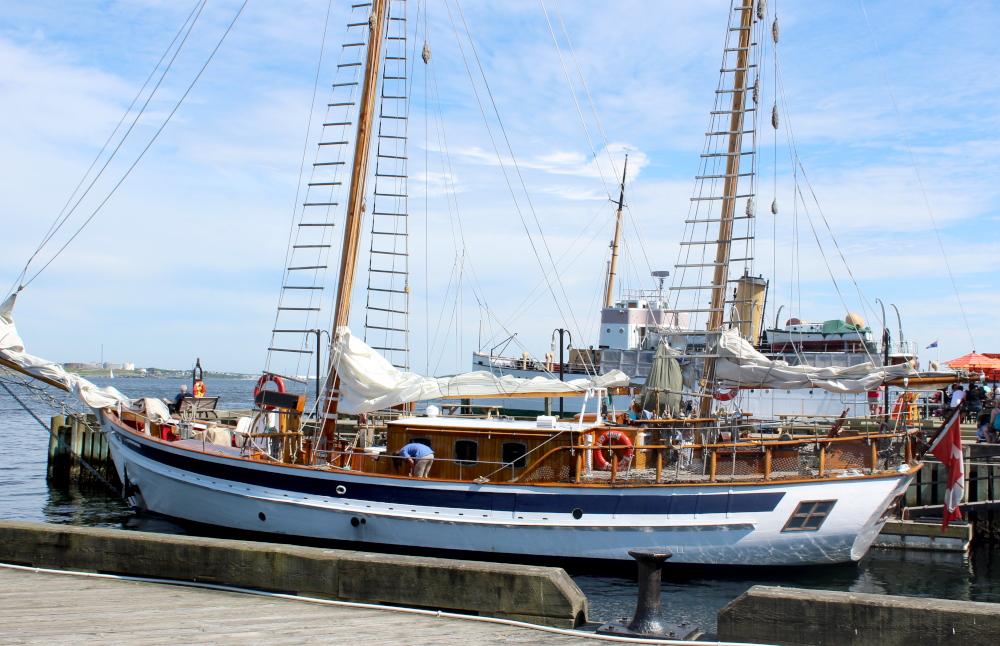 The 130-foot schooner, Silva, also offers tours of the Halifax harbourfront.  She is at Queen's wharf and is ready to take you on an afternoon sail, a Captain's cocktail sail or an evening sail.  She is all set to go with food, a bar & pub services.  If you get lucky there might also be local entertainment.

I have to say here that I was visiting the harbourfront one evening last summer with my cousin.  It got quite foggy very quicky!  I had my camera and my cousin, a children's author, was very interested getting some pictures of the Silva in the fog. 
Check out my pinterest page to see these images………I think they are great!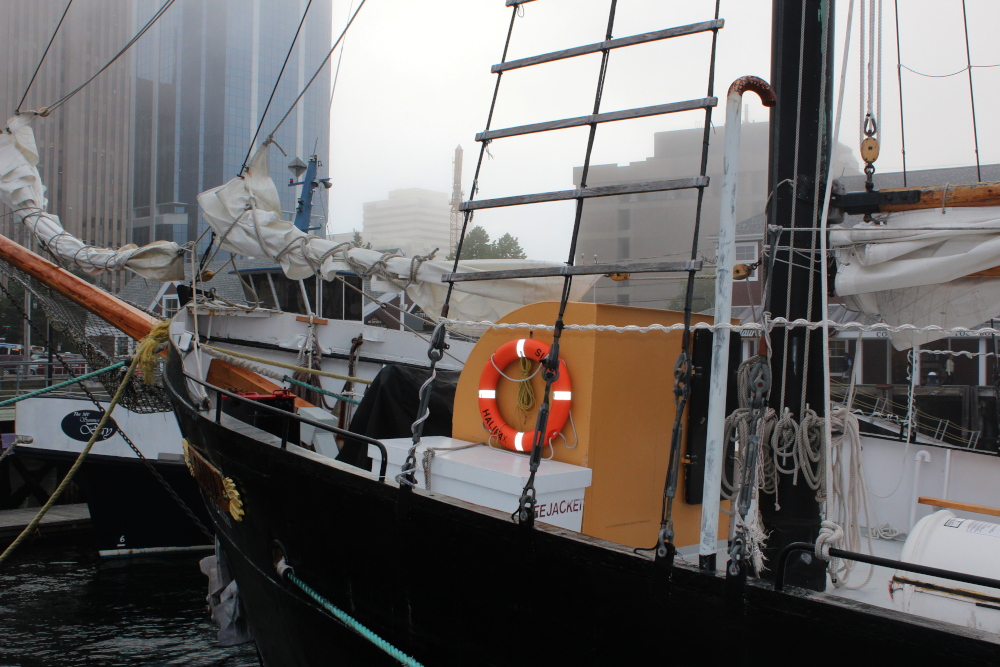 130-foot schooner, Silva
Getting hungry yet?  Do you feel like something sweet instead? Beaver tails are next door and the Black Bear ice cream shop is not far!
Halifax Maritime History
As you can see, the boardwalk really does hug the harbour and is a great way to get close to the maritime history of Halifax. Look toward the downtown core and you might catch a glimpse of the Halifax Citadel and the Halifax Town Clock. Don't forget these spots on your visit to Halifax.
The Maritime Museum of the Atlantic is next on your list along the boardwalk. This is a great museum with lots of interesting exhibits about the sea-faring lifestyle in the Maritimes.
They also have permanent displays about the sinking of the Titanic in 1912 and the Halifax Explosion in 1917. You'll also find a children's playground next door!
The HMCS Sackville and CSS Acadia are docked just outside the Maritime Museum of the Atlantic. These historical ships are open for tours (there is a small admission fee).  The Acadia charted the coast of Newfoundland when it joined Confederation in 1949.  The HMCS Sackville is one of many convoy escort vessels built in Canada during WW II. She is Canada's oldest fighting warship.
HMCS Sackville is Canada's oldest fighting warship
It is very convenient for visitors to the Halifax harbourfront to know there is an excellent Visitor Information Centre (VIC) close to the Maritime Museum. The centre is filled with loads of information and pamphlets that will help you with your visit to the area.
The VIC will also tell you about current activities.  You can sign up for day trips right here - Peggy's Cove, Lunenburg, Annapolis Valley, etc..  They even had multi-day tours available for Cape Breton when I was there.
Bishop's Landing

As you approach Bishop's Landing you'll see that there are numerous specialty shops and unique restaurants to visit. There is a place for you even if you just wish to stop to have a beer while enjoying the view of the harbour.
You may even see a sailboat appear as we did last summer. It was great to watch them get ready to take advantage of Halifax Harbour!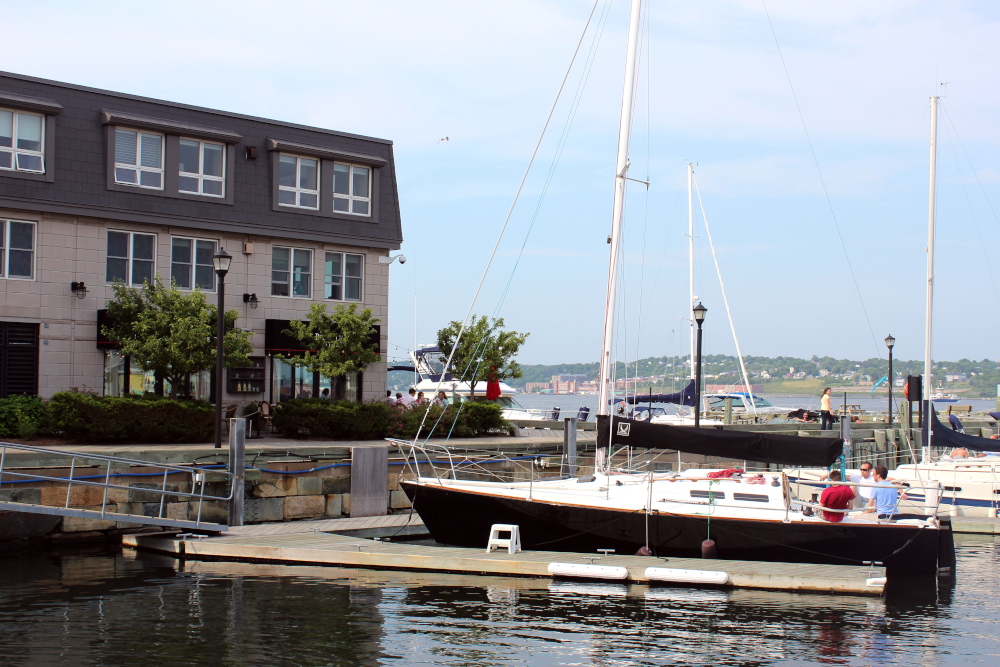 Bishop's Landing
A little detour from the Halifax harbourfront is the Brewery Market.  This little corner is full of history and character.  This is the home of Alexander Keith's Brewery.  Keith's is the BEER of Nova Scotia so it is only right and proper that any visitor to Nova Scotia make a little visit here.
Tours are available.  You'll be guided through the brewing process by period custom animators and they'll share with you how Alexander Keith did it his way!
Afterward, make your way to the Red Stag Tavern complete with old wooden tables, chairs, exposed beams and original brick walls from the 1860s. 
Pier 21
Tired yet?? Maybe you'll need to leave your visit to the Farmers Market and Pier 21 for another day. To be honest this is what I did! But don't forget to come back. There is ample parking available in front of Pier 21.
Arrival at the Canadian Museum of Immigration at Pier 21 marks the end of the Halifax harbourwalk. Pier 21 is a fascinating place. You can feel the past emotions of the 1 million immigrants who came through these doors between 1928 and 1971. I really loved my visit.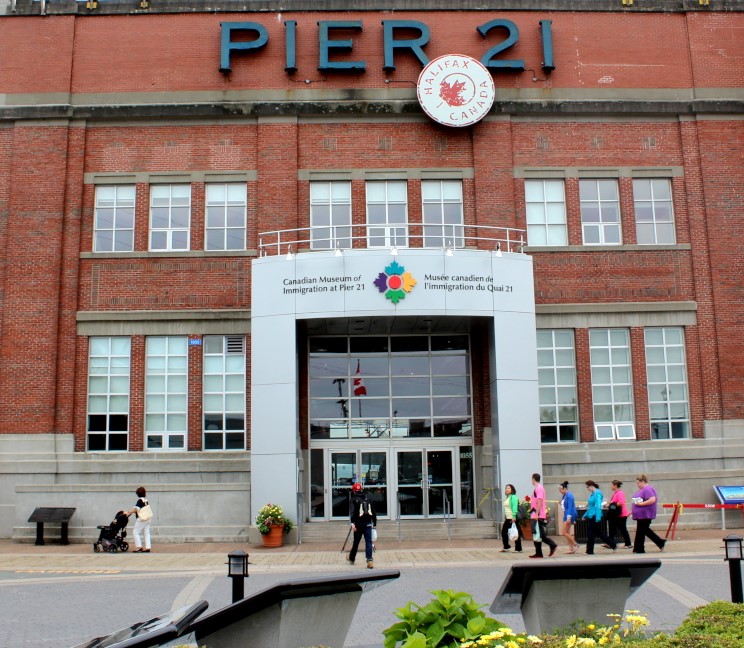 Walking the Halifax harbourfront is really a great way to spend a day.  Whether you are a vacation or if you live in the area.....doesn't matter!  It is one those things that makes Halifax special.
Where to Stay
There is a wide variety of places to stay in the city and in the surrounding areas. Check out my Halifax Hotels page!
Where to Eat
You will find many fine restaurants in Halifax. The restaurant scene has grown a lot over the last couple of years and there is something for everyone!
Check out my Halifax restaurants page. There are several resources listed to help you find a great place to eat.
More to see in Halifax - There is lots to do in this awesome city.  Check out my Halifax pages for more attractions.

---
---
Have you visited the Halifax Harbourfront?
Do you have a great story to share with us?
Please share this page with your friends.